Hack Name: The Missing Plot Demo (V1.0) Demo - 35.4 KB - 10 downloads.
Length: 11 levels
Author: DDM295 - Submitted by: DDM295
Description: Difficulty- easy to medium Compatible With NTSC SMW
This is my first attempt at a hack strong enough for Publishing here. Bowser has stolen the plot to the hack, and it's up to you to recover it back and find out what is going on here..
FEATURES:
- 11 exciting levels to enjoy!
- Varied environments to explore!
- A castle to besiege!
- Witty Infobox messages!
If you find ANY bugs please notify me via PM ASAP. Something may have slipped through my neon claws!
Read the readme file included for more information on the hack.
Reasons for removal:
YOu can see the lava platform falling thought the ground.
Bad File select text pallette
gpahical issue with the hills in the bg
This overworld is horrid and blocky.
At least put an invisible coin block here you I can get back over if I want.
I see what you were trying to do with this by making the player have to run around to the other end to get the p-switch, but i can easily pass though right here.
aw crap, I didn't know THIS is where I needed the p-switch. Now I'm stuck.
There is cutoffness near the back of the pipe. I believe the switch places where build like this from the original SMW, but you can still fit it.
Cut off rope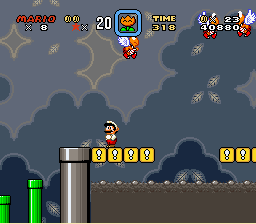 cut off gray lava, which by the way you should never use.
cut off dirt tiles
enable sprite buoyancy.
no.
Another "Oh I should of grabbed that P-switch moment again" unfortunately, its an auto scrolling level, so I'm screwed.
a bit of cut-off
water cutoff
do not use the Unused tiles as actual brick. They look ugly.
Fence missing a bit of tile on the edge.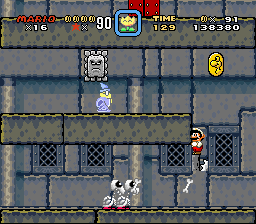 bounce block glitch.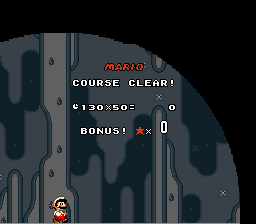 Don't put ground the bottom row in LM, it doesn't look good.
I stopped playing after this. Too many glitches this far into the game, and photobucket would probably kill me for uploading 100+ photos at a time.
Overall level design wasn't too bad. Too many coins in certain places I think and the Bowsers fun land level was way to boring, it was basically just running till you got to the end, tho the trick you threw in was kinda funny.
Layout by LDA during C3.