I started hacking three years ago. Since then, I have scrapped multiple levels while trying to improve my skills. After three years of work, I bring to you:
Download Legend of the Rift - Volume 1: Venus
There exists a mystical land. A land that possess the essence of the four elements. But something has gone wrong...the Earth Seal has been destroyed. The elements are now out of balance, and it is up to Mario and a mysterious informant to stop this evil force. But is there something far more sinister going on?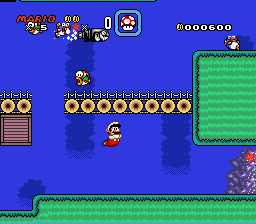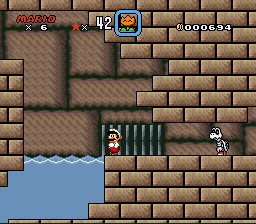 (More pictures on the download page.)
I have dedicated this hack to my father, who passed away on April 29, 2010. He was a key motivator in my interest in game design. When he passed away, I was devastated. I quickly lost my interest in hacking, and pretty much gave up. But about a month ago...I decided I would finish and release Legend of the Rift on his one year anniversary.
I am honestly not sure if I will continue the series. I enjoyed finishing this up in time for today, but whether or not I will continue to hack is still up in the air.
Nevertheless, I hope everyone enjoys playing Legend of the Rift. I had a great time making it, and have a lot of fond memories of my hacking journey.
Probably the most memorable hack release I have ever seen, and easily the best use of the 1000th post this site has ever had. I've been friends with FS4 for several years now, and watching him work diligently on this for so long has been quite inspiring. The fact that he was able to get the hack released on the one year anniversary of his father's passing is .. amazing, to say the least, and it really gives the hack a new emotional turn (especially one particular thing in the hack which made me choke up a little).

Let me stray from this for a bit though, and say that the hack itself is extremely fun. This is probably one of the best stories that has been told in a SMW hack, despite it only being the first part of (what will hopefully be) a larger series. Not only that, the level design feels authentic almost all of the time, barring a few minor issues I have. While you will see some ASM gimmicks and the like, the design relies mostly on classic Mario platforming, which makes it a great experience overall.

I hope everyone will give this hack a play through. Having followed it for so long, I can assure you that you won't be disappointed.
I've had the pleasure of testing and helping out with some odds and ends with this hack. It's been awesome to see the years of progress Foursword4 has made on this project, and even greater to see at least the first volume is finally released. I got the chance to hear the entire story from FS4 himself, and it's quite impressive and mind-blowing. The hack itself is quite well-designed too, full of lengthy and interesting levels. So if anyone's looking for a neat hack with some deep plot elements (luckily, FS4 balanced these elements very well so they're not a heavy burden on the overall experience), then check out LotR! It was great to see this hack grow and finally reach this point. =)
A couple years ago, a fellow named Foursword4 queried me on IRC asking if I wanted to test his hack, Legend of the Rift. Now I didn't know the guy too well, but decided to, and ended up netplaying it with him. What followed was the beginning of quite a friendship, as we got to know each other while his hack progress continued. If it wasn't for him going out and asking me to play, I never would've become good friends with him or SNN, and never would've seen this hack grow.

Ultimately, there's just so much care and love in this hack. The levels are fun and varied, with some really unique ideas that are executed very well (wait until you see a certain town...). On the aesthetic side, graphics and music are pleasant and appropriately selected. It isn't right to walk into the hack expecting mindblowing ASM or ridiculous production values, but what's here shows an immense amount of thought. Nothing shows this more than the story, something surprisingly engaging. I can't wait to see what happens next.

Touching is perhaps too gentle a word for Foursword4 completing this in honor of his father. He managed to take a day that was (and perhaps still is) very somber, yet turn it into a positive and almost magical thing. It's been great to have the honor of testing this and helping out: I'm sure countless people will enjoy your exemplary work. Well done. ssssss
Reading the replies so far, I kind of regret not having gotten to know you too well and not paying too much attention to your hack... at least the latter I will change right now. From what has been said about the hack, it's going to be lots of fun, and I'm really looking forward to playing it.
Also - although I never manage to get things like this to sound heartfelt - I'm sorry for your loss.
--------------------

I made Mario drown. Fuck yes :D
Now, back to playing.
--------------------
My blog
. I could post stuff now and then
As you may have noticed, I just approved your hack; it was probably one of the best hacks I've played in a while. Reading the above posts made me really curios, how good actually this hack is, I'm glad I could have the pleasure to moderate this hack.
The story was great, although it reminded me a bit on Final Fantasy V (maybe it was intentional), but the dialogues and NPC messages were really well made. I also liked the puzzle flavored level design (only the graphics wouldn't be so overused..! - I know it's not your fault though). Some of the custom songs you used were really impressive (especially the credits song with that particular scene...I just loved it).
I'm really happy to see you could finish this hack successfully, especially for the anniversary you mentioned, it was a really generous deed. Well done, and good luck on whatever you plan in the future.
Wow, you know after you kind of disappeared I was sure this thing wasn't going to see the light of day. Then again, A Yoshi's hack eventually got released, and that was just an unfinished demo. I'm so happy that you came back and actually finished this thing. And I had no idea that you were planning more installments. Why, it staggers the imagination as to what may come next.
--------------------
I cannot wait to play this hack. This is the first thing I am doing as soon as I get home next week.

I do not actually know FS4 all that well, but not only does he seem like someone with whom I'd get along well, he was the first moderator to give me a hack removal log.
I saw the playlist with the old Levels...I hope it will be a great hack...
This is one of those hacks I'll actually play, unlike many others I just watch and read about.

I mean, how could I not get emotional by what you said up there. I've never known you in person, but I'm a fan of your work, like "Final destination". This honoring for you father is a very new way of honoring in general, it really touch me. It really proves that you have passion for you work and respect your fathers inspiration to the most.

I'll play this right now and come back with feedback later, I'm very excited to see how your back-story maybe will change my view on this hack which from the screenshots seems pretty regular but nice, except the title screen which is beautiful.
I really enjoy playing this hack, I really do. I just don't know how to get bast the second level, or find the secret exit to the first level. I even looked in Lunar Magic, and... nothing. May I please have a few hints?
The secret exit to the first level can't be reached until later on in the hack, so don't worry about it until later.
Thanks. But I can't make it past level 2!
Where are you stuck at in the second level? The only thing I can think of that might be confusing is that you can climb the trees with lines on them (ladders) to progress.
Ah yes, finally a plot driven hack. I've been waiting for somebody like you to show up. I will download this now and play it (obviously I have not)

I'm really happy to see that there is something else up there in the Top 5 hacks section instead of the usual TSRP or something. From what everybody is saying, this hack is the gold mine. When I play this, I should learn a couple of things or two to help my the developement of my hack. I look forward to reviewing this later Foursword4. Finally, a plot hack.
this looks awesome, i'm going to play it just after submitting this post, but...

some minor cutoff in the BG stars.

anyway , i understand you, my dad is also gone, he passed away in 12 February 2009, and i lost my interest in all when he did... but now i'm starting a hack, and i'm getting the interest in school and all that another time... but is not easy...

| | | |
| --- | --- | --- |
| | | |
| | Thanks Ladida for this EPIC and Awesome layout! | |
| | | |
I am amazed at the feedback this has received. Having never heard of this hack before, I will definitely give it a try. I'll let everyone know what I think.
Extras


I should have something witty to put here (even if it's just to update dated info), shouldn't I?

Advertising Space
I really find myself enjoying this hack a lot though there are some bumps along the way (most of them being personal preferences) and it really does feel like all of the work you put into this hack is definitely paying off. I'm not the type to make extensive reviews of work, so apologies if my feedback feels short. I only played up to the Phantom Castle so far, but if the rest of the game is a good (or better) than what I've encountered up to that point, then I say that you got an absolute winner with LOTR (rather than just a winner). Great job so far.
Though there is
one particular instance that strikes me as odd
.
---
That is quite an odd bug...not too sure how that came about. I fixed it though, so thanks for pointing it out.

I'm glad people are enjoying the hack overall. I know the level design is a bit inconsistent throughout the hack. I hope that is something that will be resolved in any sequel I make.
Forum Index - SMW Hacking - Full Hack Releases - Legend of the Rift - Volume 1: Venus