This isn't a bad level at all, it'd be a great grassland level for a full hack, actually. The only problem is, it's not lengthy enough for acceptation. Keep this rule in mind:
Originally posted by Hack Submission Guidelines
Your hack should be of a reasonable length.

Unless you intend to make your hack contain very long and very high quality levels, demos which are too short to provide any feedback on or be enjoyable will be subject to removal. A general rule of thumb is that the hack should feature at least one complete world with about five levels, or should feature around at least 15 minutes of game time.
And just a few things to point out: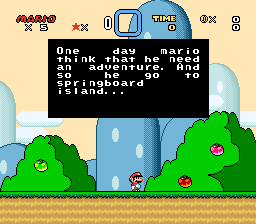 You should fix:
*Mario
*thinks
*needs
*goes
Also, it'd be swell if you translated the whole hack to English.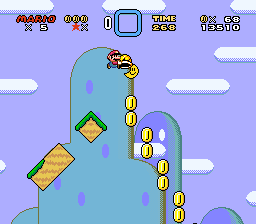 I think this 3UP Moon was a bit too easy to get.