Removed
Hack Name: A Yoshi's Story 2 - 413.2 KB - 31 downloads.
Length: 21 levels
Author: CaptainDazz - Submitted by: CaptainDazz
Description: OK here it is A YOSHI'S STORY 2!
This time there is a map, so no more 1 level boredom

OH! and this time there is a bit of a story to it and not just random running around >.< Anyway hope you enjoy this hack, it took a long time to make.
This hack has custom: music, bosses, GFX, HP bar and lots of there random stuff.
Have Fun
Reasons
I really did not enjoy this hack for a variety of reasons, but chief among them was the level design. It was more or less non-existant.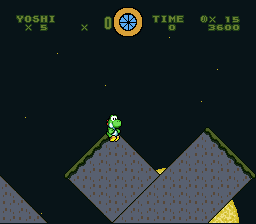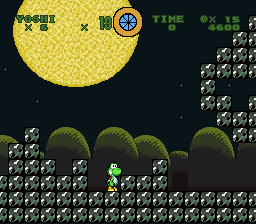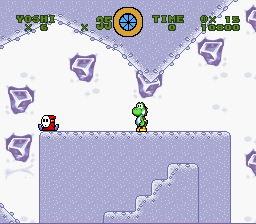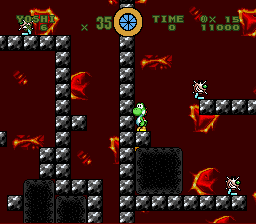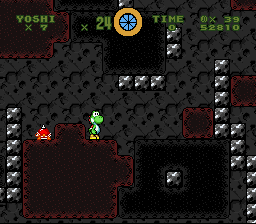 Taken alone, the images above aren't so bad. But consider that each is pretty representative of what most of the screens in each of their particular levels is like. An entire level of screen after screen of the ones above.
All of the levels essentially consisted of: Obstacle A, Obstacle A, Enemy A, Obstacle A, Enemy A, Enemy B, Obstacle B, Obstacle A, Obstacle B, Enemy A, etc.
It seemed like the author would get one idea for a level gimmick, then repeat it about 20 times within the same level. None of the levels had more than three types of enemies as far as I can tell, and most of the time it was two or even one. On top of that, there were many empty spaces where there were no enemies at all.
The boringness of the level design often forced me to just run through levels and spam rewind when I would hit the often annoyingly but still boringly placed enemies that would prevent level runs.
Level design in all of the levels was linear. I don't think any of the levels had sublevels unless it was for an exit. When there were areas the player could get to off of the main path, there would be nothing there.
Absent from this hack (for the most part) are coins, power-ups, and level decorations. Power-ups were few and far between, and they were only Mushrooms to keep health up -- no firepower. Coins only appeared in certain levels, making them essentially pointless.
If this hack had great level design, the following errors would probably not be enough alone to warrant its removal. However, these combined with the abysmal level design are enough to do this one in.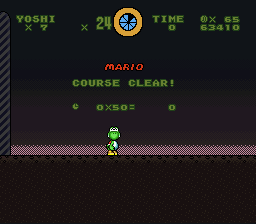 Needs the Fade Fix patch applied, or the BG needs to use different colors. Speaking of which, why is the status bar an ugly Swamp Thing green throughout the entire hack?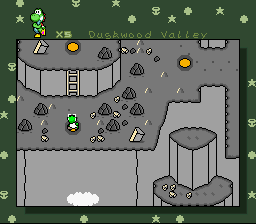 Yoshi's boots are pink in his overworld border walking.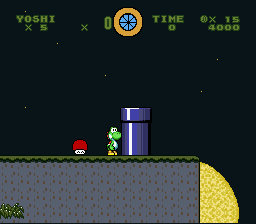 Is it too much to ask for this Mushroom to have shading of some kind?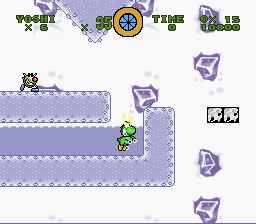 Why are water splash's bright yellow? Is it because the palette choices in this hack are...piss-poor?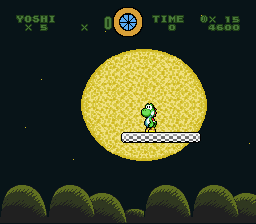 In a level with a BG that does not scroll, it sucks being on a moving platform with no points of reference for where you are.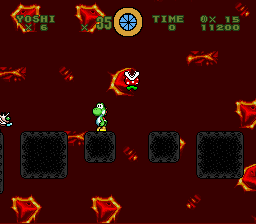 There were a couple of random Jumping Piranha Plants in this hack that appeared from nowhere and just fell offscreen. Why are they here?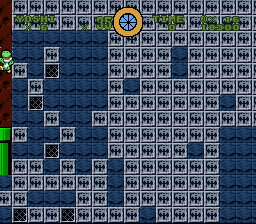 Scrolling generators can be turned off.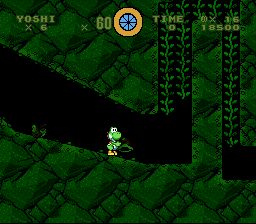 Kind of a neat effect...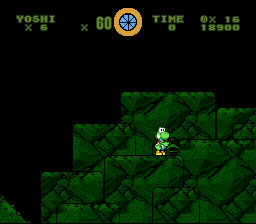 ...but it's not really put to good use. I mean, you have interesting tile arrangements, but what's the point of them if you don't put anything on them?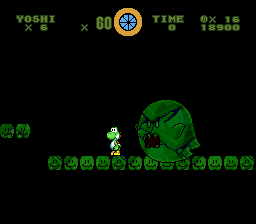 Cloud tiles seem like a strange choice here, but that's just me.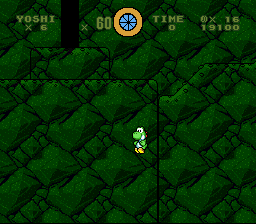 I hate how in a dark, monochromatic, crap-in-front-of-the-FG place like this, a simple misstep at the end of a slope can kill you.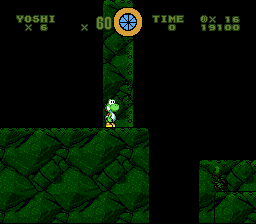 One of those dead-end, "why did I waste my time coming up here and backtracking and doing cool jumps for what I thought would be interesting but ended up being nothing?" areas.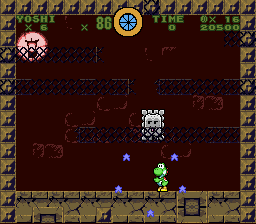 This boss is annoying enough without being able to see Bob-Omb's pre-explosion warning flashes because the sprite palettes are all black or something.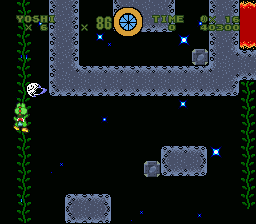 Really annoying to have to climb past these guys when they only move in a three-block area.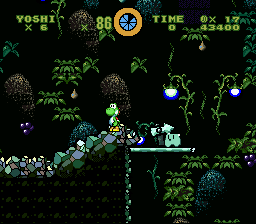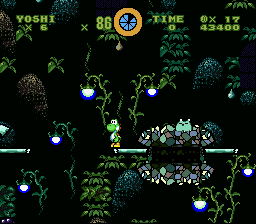 Did these annoying enemies really have to be nearly the same color as the foreground? On a side note, these are my new least favorite custom sprite.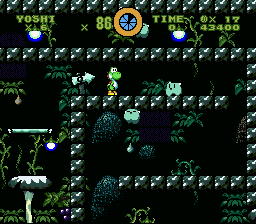 They're even worse when they take up half of a passage! I personally think it's bad level design to ever put enemies in an area this tight.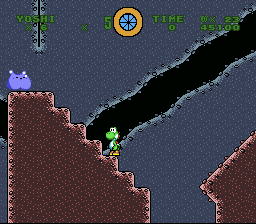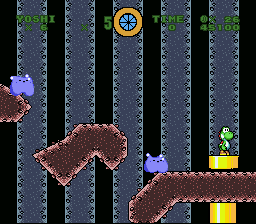 As a general rule, it's usually a pretty bad idea to use foreground graphics for the background, in the same level.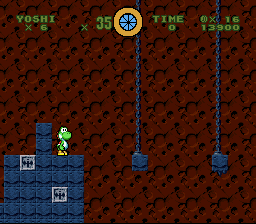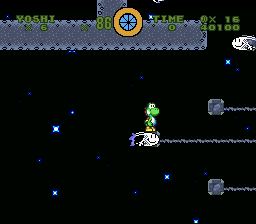 Unless I am a big Cave Story fan, how am I supposed to know these chains/support sticks/whatever aren't solid or climbable?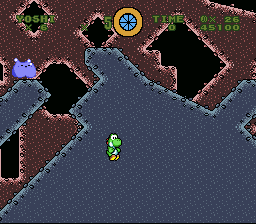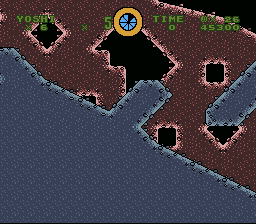 It's really easy to slip through some of these tiles because of the way they are arranged.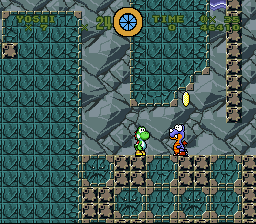 CaptainDazz: "I just realized I could put some Rexes in this level."
*cue Rexes for the next five screens*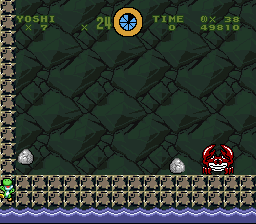 Not sure why, but in about one in three tries if I ride his rocks to the wall, I will die when I hit the wall. I guess Mario is somehow slipping into the wall blocks? Side note: why is Clawglip 8-bit here when his rocks are 16-bit?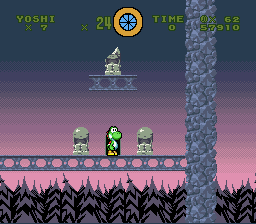 This level wasn't too bad overall. It was the best in the hack, in my opinion. There was some enemy variety, more than a small handful of gimmicks in the level, and it was pretty given the generally limited palettes.
This hack does not meet the following
Hack Submission Guidelines
:
Originally posted by Hack Submission Guidelines
4. Avoid major graphical glitches.
Errors such as garbled sprites/FGs/BGs, message box text screwing up layer 3 items, floating/stacked/cutoff tiles, and general graphical ugliness are frowned upon. Furthermore, don't forget about glitches which involve the sprite memory - the graphics of the sprite will 'disappear', but the sprite will still be there, and can unfairly hurt Mario.
9. Keep the hack at a fair difficulty.
Avoid issues such as death traps after the goal, blind jumps, forced damage, excessive enemies, places where you can get permanently stuck, excessive 3-UP moons, projectile sprites (e.g Bullet Bill) placed directly into a level instead of using the correct shooter/generator sprite, etc.
11. Have fellow users beta test your hack before submitting it.
Your hack should be as good as you can make it before you submit it to be featured in the hack database. A good way to make sure you have a quality hack is have it beta tested. Have your friends play it and give you feedback, or
recruit some beta testers
.
12. Quality level design
Your hack has a much higher chance of being accepted if the level design is fun. Conversely, if the level design is found to be lacking, then small graphical glitches may be enough to push the hack into deletion.
--------------------

[?] Miscellaneous Helpful Hints
If I moderated your hack, there was apparently a 90 percent chance it was rejected.