Originally posted by MrDeePay
Borderline Big Mario discrimination. Not fire, not cape, not w/Yoshi, just regular Big Mario.
I was considering changing that part as well. Perhaps I should replace the fish with a horizontal one?
Originally posted by MrDeePay
Are you talking about an error like this?
Indeed I am. There's a similar one in the vertical part, except the coin is split up into even more pieces.
Originally posted by MrDeePay
I'm not a fan in your execution of the Splitting Bullet Bills. Mostly because you give no prior indication that they can do this while in a controlled environment (read: not an autoscroll level or where they can easily take Mario by surprise). Me? I would go with giving Split Bills a distinctly different cannon such as a different color.
A different-coloured cannon? That's not a bad idea at all. How about this nice red one?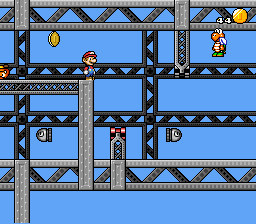 Originally posted by MrDeePay
Persistence + Koopa Shell = This, though I suppose this could be patched out anyway, so...
I'm fairly certain I read that that was going to be fixed with a patch, yes.
Originally posted by MrDeePay
I'm unsure with the Yellow Koopa. On one hand, I suppose you *could* use *all* the Throw Blocks so he'll land on the second/third block thrown, but on the other, it's not quite indicated that the Yellow one will be there until it's too late. Maybe it's just me.
There's actually a really easy way to deal with the yellow Koopa; run under it when it jumps over the block.
--------------------
My YouTube channel
Get the official ASMT resource pack
here
!