I've been doing a fair amount of work behind the scenes. I don't really have much new to show, cause I'm mostly polishing, revising and decorating old levels. But for now, here's a verbal update. Take what you can get ;)
As for the pink BG, it'll be used for the secret level, Horchata Hijinx. It will be the last level in the rejected flavor world, and thus the hardest and longest. Once beaten, it takes you right to the final area, Tang Tower--which floats in the sky above Kool Isle. It's one of two ways of getting there.
Speaking of which: The enemy forces in this hack are called the Tang Gang. They are one of Bowser's elite Koopa units who drank the same bad batch of Kool-Aid at a party during R&R time. Once in Kool Isle, they have built a tower and plotted to gain 100% market share by conquering the land.
They are led by a general. I'm thinking of naming him something along the lines of Zuko, the Kool-Aid competitor mentioned earlier.
As for Tang Tower, I haven't really visualized it yet, since I'm saving the biggest and best for last once I've honed my skills and feel satisfied with the rest of the game. But this much I do know:
--It will occupy 3 submaps! No, really. It will have 3 parts, each consisting of a
single level on an entire submap
. This is the gimmick--it will still be just three levels played sequentially. Repeat: Tang Tower is planned to be THREE levels instead of just one. (I just had to find some use for the remaining submaps!)
--All 4 switches must be activated to reach the final tier. Along the way are message blocks giving you hints on finding these well-hidden switches.
--The graphics, objects and sprites are still vanilla or "choconilla". I may make an exception for "Zuko", as I don't want Bowser or any of the Koopalings in the hack.
--Stay tuned for more. And although I will be designing the remaining levels myself, any inspiration, assistance, contributions or feedback is greatly appreciated. Lost, if you're reading this, please give your $0.50, and send me a PM if you have any progress on your levels.
Biospark88 out!
EDIT: Key Lime Cavern is getting some sweeping changes made. I'm scrapping a lot of the old ideas in it, but keeping the same overall aesthetic. Here's a primitive screenie of a new sublevel: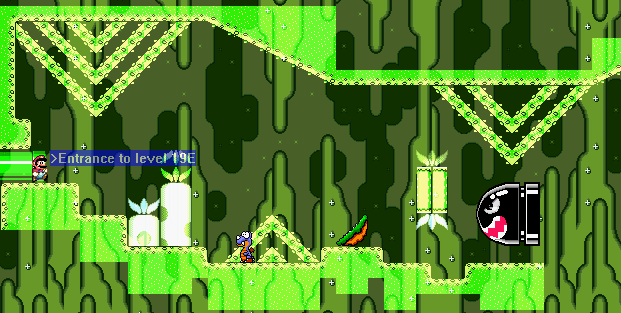 --------------------
"(Z->)90° - (E-N²W)90°t=1"
Supporting:
Current project:
Mario's Kool-Aid Acid Trip