It's been a while I haven't posted updates.
Something else is still being worked on but slowly. So let's take a look at what is left to do:
-Finish the final level
-Make the final boss (and create is design)
-Make the boss of world 3
-Make the secret boss of world 5
-Make the overworld of the secret world
-Make all the levels of the secret world
-Make a plot and create all the cutscenes
-Make people test the game
-Translate the game in english / french
So that's a lot. I would say that the game will be released at the end of the big holidays at best or at the end of the year 2013 at worst.
So no C3 release. I will still do something for C3, like a big final trailer.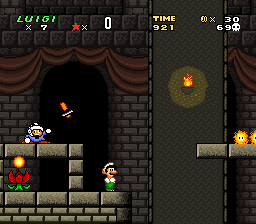 A screen from the level called FINAL CASTLE.
But is it really the final castle?