This is the new SS & V thread, the rules from the old one still apply, of course.
Do Not Whine


-Whining about being ignored in the SS&V thread is a BANNABLE offense. Every post here should either comment on a another's Screenshot or Video OR be a Screenshot or Video.
Be Constructive
-Do not quote images or videos when giving criticism to someones post. Make sure all criticism is constructive.
Keep to the Topic
-This is not for showcasing music or ASM. keep those in their appropriate threads.
Showcase links:
Music
ASM
Have fun.
----------------------
And let me seize the opportunity and (re)post a screenshot: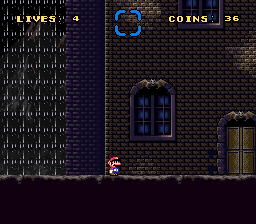 It's supposed to be rain on the left, it looks actually pretty good when it's animated. Comments are welcome.
I like this a lot for reasons hard to describe
It's a little old, and the level itself is almost done.
Edit: @Hadron: Could you make a video/GIF animation of the rain in motion? It looks weird when we can only see a single frame of the animation.
--------------------
aran - Graces of Heaven
Vanilla BG...mostly useless because off using a lot of palette space.
It's looking pretty nice and has very nice colors. It doesn't seem like it uses a lot of colors and hence uses much palette space. It's probably possible to make this BG use one palette row only.
Good job on it though! Will you release it?
Edit: New screenshots thread by Hadron is awesome
--------------------
I play different games on Twitch, currently I speedrun Pokemon Gold or play some other shit, can also include SMW hacks. Check out
my twitch!
Exits done: 45, Overworld: 85%
Play through Taomb Demo 3
Taomb is alive again. For how long I don't know. But it's "only" four more levels to go.
No that would never be possible with using original and not recolored tiles. And I don't know what would be the point of releasing a vanilla Bg.
Hmm... Let's post in the new thread. I'm still making OW for Magiluigi, and the main OW was finished a month ago. Now I'm making the submaps. I had a pretty long brake on making OWs, I hope I didn't get worse. Here's the ice submap:
Ahhh.... I actually think it's worse.
--------------------
...Huh?
@Teo17
What's so "worse" about this? That's actually a really good submap. You've made better ones, but "worse" sort of implies that this is of dubious quality. It's also nice to see that, even after all this time, people are still using Icegoom's graphics.
Anyway, using the ExGFX I have shown in the appropriate thread, I had made a revision to
an old version.
http://bin.smwcentral.net/u/5767/Wol%252C%2BPalace%2Bof%2BGold.png
This is the new Wol, Palace of Gold. Any thoughts?
--------------------
Currently working on
Æther: The Infinite Library
!
Other Submissions of mine!
Deeke: As i said on the ExGFX thread, i liked a lot the graphics. About the level itself, i liked the design, even if it seems a bit bland, it make the area look like a big cathedral, that i liked.
But i feel the palettes don't look that good, it would be wise to play a bit more with them.
Teo17: Maybe the problem is it looks too "generic nice OW", but still is awesome.
Deeke: Wow... the graphics looks gorgeous, it's a shame that in game player can't get enough detail of the shape of the level i guess, also loving the pallete.
I will repost here since S&V 5.0 exploded 5 minutes after i post a preview of my level there:
Click
--------------------

Progress:
not so
NEW
progress! (56.25% done) [18/32]
... Why the first level of like every hack has a shooting pipe.
I also made a submap for Falconpunch's Team Hack (if not his mass PMs, I wouldn't do it, but it's even good that I had to do it, I did a quick revision on how to make OWs as I didn't make them almost month). Anyway, if you want to see some changes from the OW style I have now and the OW style I had one month ago, I actually made the left part of this submap one month ago, and the right part was made several days ago, when I went back to OWMaking:
Are those sides that different?
--------------------
...Huh?
Teo17: Not sure, but i can notice some different from the ice submap, the shape of the cliffs, in the ice submap, all the layers of cliffs (in the left side) form like a single regular form, in this case, is randomized, the cliffs have more curves and you can't put many levels on those things i guess
--------------------

Progress:
not so
NEW
progress! (56.25% done) [18/32]
... Why the first level of like every hack has a shooting pipe.
Well, since I want to draw some attention to my hack,
Yoshi's Mission
(note that pretty much everything before the 8th page is no longer in the hack, but that's a good thing) I'll show a video that I posted there quite a while ago.
Here you go.
Since I know most of you will ask about the graphics, it was TheGamer (now Ludus) who drew them for me. Unfortunately, he had to step down from drawing GFX for me so my new artist is Zero-X, who is currently working on a lot of graphics for the hack. Hope you guys like it!


Everything is Temporary
Not only the condition of the screenshot, but the name of this hack I'm working on as well. Comments would be appreciated. It's been a while since I actually started something new and I need to work the kinks out. Going for something really out there and artsy. I really want to stray as far away from the concept of this being a game as possible. I want it to be an experience. More info coming soon.
Is that darkness? Heh, my level Melancholy Mines has that, but yours looks way nicer.
--------------------
Currently working on
Æther: The Infinite Library
!
Other Submissions of mine!
@zild - That looks pretty interesting.
It reminds me of a level from DKC

---
Anyway, a level I'm working on.
What do you think?
Those line guiding thingies look pretty intricate, looks fun, as long as the level isn't to long.

EDIT:
I might as well show part of my hack.
http://www.youtube.com/watch?v=k7ZzdSJ_onc&feature=youtube_gdata
Oh right sotf stuff.
The only presentable part of my newest level. I managed to take a pic and have a savestate but still lose the level so it has to be redesigned.
--------------------
I'm rather fond of the vanilla brambles etc. It's actually quite nice for a silhoette level. Some similar levels can be slightly annoying, but this looks nicely executed so far.
Hey, as I can't post in my thread, I'll post my newest level here.
Super Mario - New Worlds - Cloudy Clouds A
You might want to read the description.
Things to do
> Add a LevelASM HDMA Gradient
> Add Custom Music
> And Yoshi Coins
By the way, the text is red as Mario is saying it.
Just a small little bit of a level just to show off the pallet. It's vanilla by the way, so no custom stuff.
What do ya think?
Forum Index - SMW Hacking - Works in Progress - Screenshots & Videos Thread 6.5