Originally posted by hotsos120
Not bad! I don't like the FG palette too much though. Is that BG original?
Thanks! I didn't really work too hard on this palette. I just made the FG palette in like a minute >_>
I'm thinking that the FG palette would look better if I was using the cave tiles instead of the grass ones.
But no, it's actually the Castlevania Moon BG, but with a custom palette I made. This is what the moon normally looks like: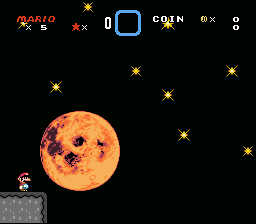 ---
My Youtube Channel
Everything related to SMW goes there. Check it out!