I think the overworld should be a little more non-linear; more alternate paths go a long way to make it more interesting. Looks decent beyond that, and I like the way it's greyscale.
I showed this in my thread, might as well show it here: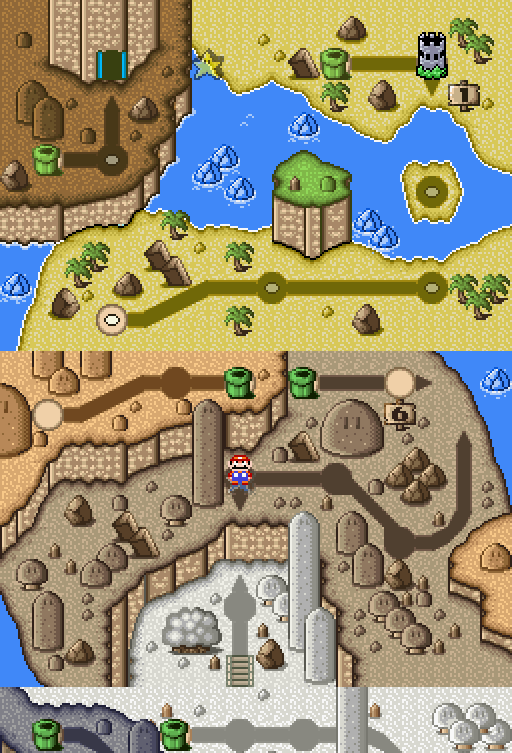 Comments and feedback are appreciated.
--------------------
Putting my YI hack on hold.
@Rykon: Glad to see Stan's graphics be showcased, they're amazing!

As for the world itself, this looks alright. Everything is in place and there's enough variation in the land / decoration to keep it afloat.
Originally posted by B.B.Link
*imgs*
Nice nice nice. Interior houses are a little tough to do but you pulled it off well. Though, I do say lighten the lab's back wall, as I was totally about to comment how it needed one until I looked more carefully.
also cool to see you back in action my man
A fire themed castle for the still untitled hack myself and Draaloff are working on.
https://www.youtube.com/watch?v=uc7HOALX7B0
--------------------
My Youtube Channel
My Soundcloud
@Sockbat Replica: Great job there! I really love it! I like how you made the palettes fit the lava while not being exactly red. Most people just make it a brighter color, but I see the palettes here are actually gray, but have a bit of red in it, am I right? Also nice graphic choices too. They fit each other very well.
Also, man, it's been a long time since I've shared something here..
An unfinished overworld for my hack (I hope I can finish it!)
@S.R.H.:
the overworld is looking great! i'd suggest darkening the top blue part, but that's just my opinion. i really like the perspective of it, and it does look a bit like a tropical area. keep it up! and i'm not sure if the layer 2 path on yoshi's house is cutoff or not...
--------------------
Currently: Starting college!
Updated version:
yes, it's looking a lot better now! is the blue tile on top a bonus level, save-point, etc.? the transition from the beach to the water looks a little strange as well.
but, in general, i like the placement of decorations and level tiles.
--------------------
Currently: Starting college!
The blue tile is a bonus level.
That maybe useful for something, great job! We need more city tileset and backgrounds, and this one definetely is great! Sad to hear it uses too much palettes though.. how many colors, exactly?
Originally posted by Skoda
3 rows of palettes.
wow
WOW
W O W
Now I doubt this will be useful. It can only be useful for eating palettes atm

Maybe if you can use palettes 0-2 (and overwrite the status bar) it can be useful, there is a patch that makes the status bar use it's intended colors no matter what.
@Skoda:
I'm sure there's less than 15 different colors in that BG so it could be conceivably done in one palette row (I'm saying 15 since the first color is transparency and it can't be changed), but amazing nonetheless.
Originally posted by Skoda
Also it eats a lot of palettes.
Great rip, hopefully it'll be used for good.
---
Currently:
Bringing back the footer I had in 2013.
Yea, I posted the new main OW in my thread. Still, comments and feedback are appreciated:
Also, tried removing the flatness as much as I could.
--------------------
Putting my YI hack on hold.
Forum Index - SMW Hacking - Works in Progress - Screenshots & Videos Thread 6.5