I like using vanilla resources in ways the vanilla game never did. Like transparent layer 2 with sprite buoyancy enabled to make Mario-only blocks.
@ Flagpole1up i really like your colours!! the bridge especially is a nice yellow! I'm usually not a big fan of overly detailed character sprites because sometimes features get lost and are hard to decipher as anything but discolored squares, but I think your characters hair and costume look great! Just, the face is a little off...to me, at least. the blocks also look kind of menacing being shrouded in shadow like that lol, but i think they look good!

@ gregor I love that water effect and the tiny little starfishes! beyond that i dont really have anything to say about it :o

@ ft lol you're always so good at coming up with wacky ideas. not much to say because static images can only say so much.

@ waffledoctor87 that slowdown is ridiculous! i cant see how you can play a level with that much slowdown holding you back. i dont really get why the blue lava is there at all if you're also going to use red lava, too. i did like the ending quit a bit though, i didnt see it coming myself heh
---

i guess its kind of cheating to show this off as I have no current intentions of finishing it, but as a vain person i need to make sure more people see it.
It's kind of hard to make a layer 2 + sprite buoyancy level including skull rafts that doesn't have slowdown, tbh

and the idea is neat enough that its worth it for me
SMW Piranha Island 2 Piranha's ReBirth
Level-24 : Boomboom Airship
Video
Wonderful level, PokerFace.
How's the background? (Sea, Hills, Clouds and Moon)
I mean, did you used for layer 2, layer 3 and cluster sprites?

Did you used the Level 24 for your level?
I know that the Level 24 can cause the player go in random areas (Chocolate Island 2).

Did you used a patch or something?
slowly working on a yi styled hack with killroy still
level 1 is finished, the overworld is almost finished, and levels 2 and 3 are very close to being done. might make a thread about it soon.
--------------------
gorillaz is p good, sadwrist too
Bizarre Cave
was a level made in 2016 for a cancelled collab. You can download the .bps
here
, if you want.
--------------------
An 1st level of SMWFan2019 hack
--------------------
Userbar made by Green Jerry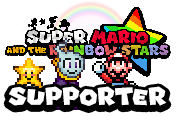 frosty krabby patties
--------------------
buzzy beetles
--------------------
Welp, this thread's pretty dead. Let's try reviving it again...
Here's some screenshots of a level I've finished a few days ago.
https://i.imgur.com/8rO8on8.png
(this one's large)
Originally posted by RussianMan
Looking from the gameplay, this stage looks very interesting; I really like the idea of latching onto hooks and their usage in fast-paced sections is really neat. There are some issues that I do want to point out, though; the graphic used when Mario is on a hook is a bit odd, the paths of the moving hooks could be shown with a graphic, and the stage could benefit from having some enemies to deal with occasionally. But besides these issues, the stage shows great promise. I hope the development of this stage goes well, and that you are able to make the ideas that you have for this stage real.
I'll see you later, and I hope you have a good day!

Quote
the graphic used when Mario is on a hook is a bit odd
it's supposed to look like DKC2 when diddy's on the hook.
Quote
the paths of the moving hooks could be shown with a graphic
i thought of line guides, but i was kinda lazy about it, and i thought they were unecessary. maybe...
Quote
and the stage could benefit from having some enemies to deal with occasionally
in this particular hack levels are build around a set number of mechanics or enemies (usually 2), one is introduced in first part, then another, then they're mixed together in following parts. it may seem limiting, but these mechanics are flexible enough and i'm pushing their creative potential to the max, so i don't use traditional enemies. this just so happens to be the only level to not use living creatures as obstacles, see gifs above.
and mario has back pockets.
Time to get back on topic, friends.
Not sure if this is finished but stil
--------------------
why no work
Originally posted by Midorizou Daze
I already commented this one on discord, but I really like the general design and especially the aesthetic. I think you mentioned that you were still missing a custom sprite on the first half and I can see that as it looks a bit empty right now, but other than that, looking very good. I'm guessing the last bit is a transition for the following level?
-----------------
Got two spanish contest levels for u guise
Forum Index - SMW Hacking - Works in Progress - Screenshots & Videos Thread 6.5