Hack Name:
My.... Mario World - 31.9 KB - 0 downloads.
Length:
7 levels
Author:

JoJo_2001

- Submitted by:

JoJo_2001

Description:
This is half of my first hack and is a first for me so you will recognize old levels but please still try it out thanks!!!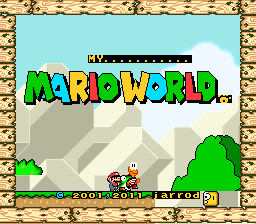 Flying bushes and unended land. Anything that ends this abruptly is called "cutoffness", and we prefer not having it around here.
The title screen isn't the best one I've seen either... the characters with black borders doesn't look very nice outside of message boxes. Replace them with the letters from the left half of the tile selector.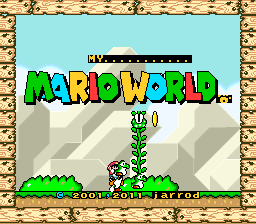 Yoshi + baby Yoshi = ugly Yoshi = no. The vine is a little cutoff too, but it looks better in-game and isn't solvable, so I don't care.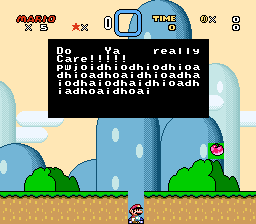 what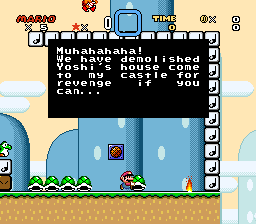 what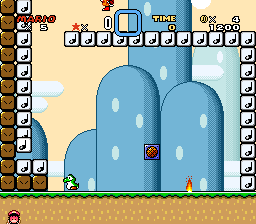 I managed to kill one of the Koopa shells, and now I have to kill myself with those note blocks. Allowing the player to getting stuck like this is a bad idea.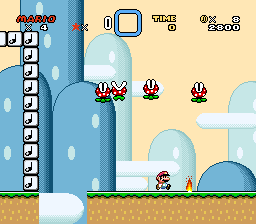 See the difference?
In case you don't, many of the Piranha Plants are gone. This is called "sprite memory limitations". Remove some of them.
Piranha Plants outside of pipes doesn't make any sense either.
Oh, and the large amount of sprites that actually do appear create what is known as "slowdown", meaning the framerate goes below what's needed to keep a steady 60fps.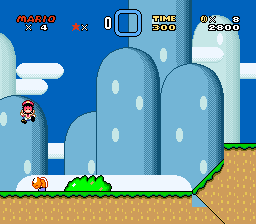 I held Right when I started the level, and got killed instantly. Move that thing a few tiles to the right.
Also why am I heading Bullet Bill sounds...?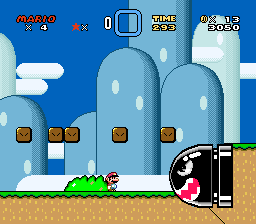 Aha, that's why. How evil.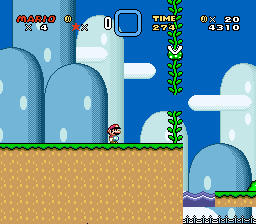 It may look funny to you when the vines shed skin like this, but it isn't funny for anyone else.
Oh, and a tile is missing too.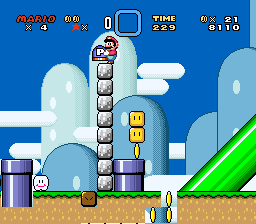 I thought the intended way to get past here was hitting the P-Switch, so I spinjumped the Piranha Plant.
But there was another method: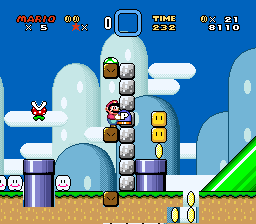 Invisible blocks needed to get further = no thanks.
(And isn't two 1-Ups at the same place is a little too much?)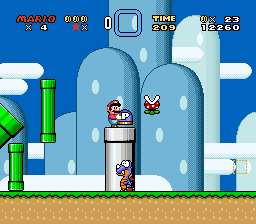 Poor Rex got stuck here and started spazzing out. Get him out of there.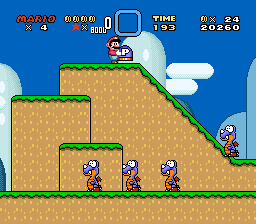 This is called a "blatant level edit", meaning you kept parts of the original game. Hit Ctrl-Delete before starting to edit your levels, everyone here has played SMW already and nobody likes playing the same level twice.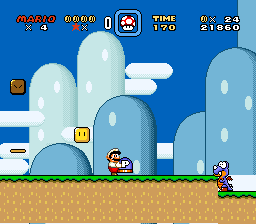 There's cutoff at the bottom row here, there's cutoff beside the Rex, and that turn block doesn't make any sense.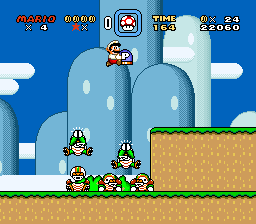 ...are you SURE you need this many Clappin' Chucks?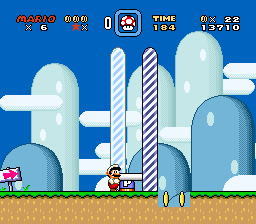 Possible death after beating the level = no.
Oh, and it's cutoff too.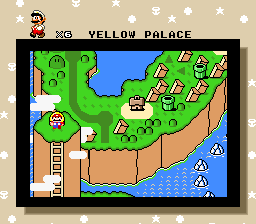 Why did you put an exit tile here? It creates a pointless transition to nowhere.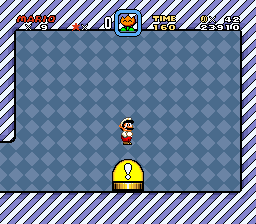 Why does this block exist?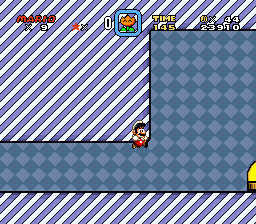 And why does this block not exist? The sprite block is there for a reason: That tile isn't solid in the original SMW, so they solved it by placing a sprite there.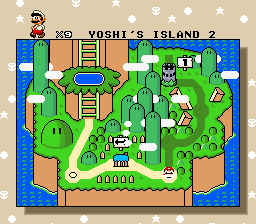 Why can I swim here, and why does the title screen music play here?
I stopped playing at this point. I belive the only cure for this hack is deleting everything and starting over, the blatant level edits and cutoffness seem too deeply rooted in everything to be fixable.
--------------------
<blm> zsnes users are the flatearthers of emulation