I apologize profusely for not getting this done sooner - with all the SMWCP2 stuff going on, I completely forgot about it. D:
NAME:
The Mushroom Factor - Fun Size Edition
AUTHOR:
pablopeach
DESCRIPTION:
This a one world vanilla hack with an emphasis on lateral thinking, skill, nostalgia and retro fun! It's challenging but fair and perfect for people who are familiar with the original.
This is my first hack and I'm planning on making a full length "king size edition" next based on the feedback I get from this one, so please, send me a message or leave a review and let me know what you think!
There's plottage in the readme for those that like that kind of thing.
If you get stuck, you can go back to the trailer, the screenshots and the readme for hints. If you get really stuck, please contact me by private message, email (pablopeach at gmail) or on youtube and I'll be happy to give you a clue!
Here is the trailer:
http://www.youtube.com/watch?v=bjpzYSPWacw
This game is designed to be played without save states.
I really hope you have fun playing it!
---
REASONS FOR REMOVAL: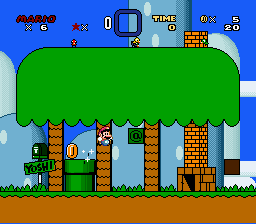 The coin sparkles are messed up all over the hack. Did you do something to tile 83 on the first page of sprite graphics? Also, while not explicitly a removal reason, I am not really a big fan of how you turned most of the foreground graphics pseudo-8-bit by making all the colours the same; it kind of clashes with the all the other graphics, and generally looks kind of bad.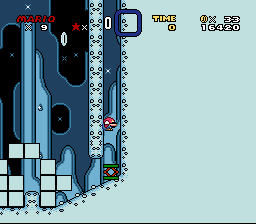 If you try to jump up this shaft with the springboard, you get stuck forever and have to reset, since you can't reach the high ledge. As we shall see, there are quite a few of these spots in the hack; you really need to be careful with creating narrow passages when there are springboards involved.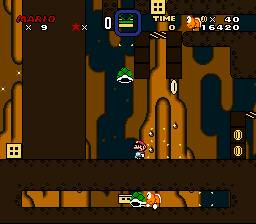 Why would I throw the shell up to the Koopa when I can just hit the block directly? :V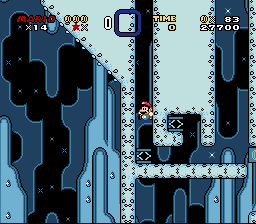 Here's another stuck-forever spot...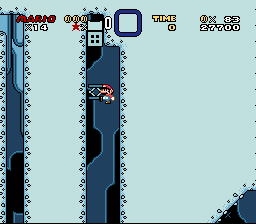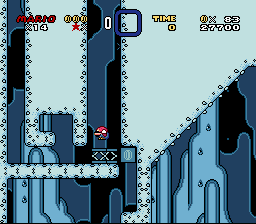 ...in fact, this entire area is one. You're actually being rather mean here: you give the player an extra springboard, but if you bring it instead of the shell from the random Koopa in the room (or you bring neither), there's no way to return and correct your mistake. You really ought to get yourself some testers: since you as the creator already know what to do, stuff like this is easy to miss.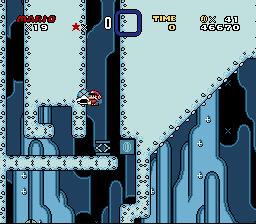 Also, it's entirely possible to get stuck here even if you did bring the shell.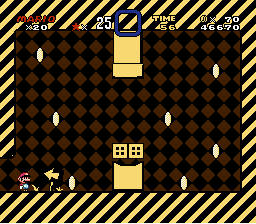 Apart from what I said earlier about your 8-bit palettes, the contrast here is a bit high, don't you think? Toning it down would be most appreciated.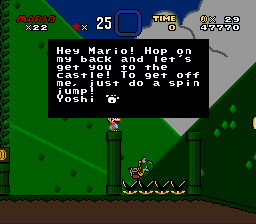 Like quite a few other people, it seems like you have missed the fact that Yoshi's pawprint actually consists of a 2x2 sqare of tiles. You are lacking the upper row.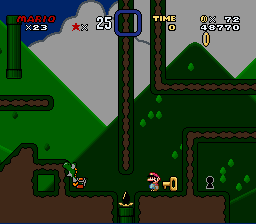 So I killed the Charging Chuck (the natural response of most players, I would imagine), and now I have to commit suicide because it turns out I needed him to get Yoshi under the wall. For situations like this, a way to reset the area would be nice.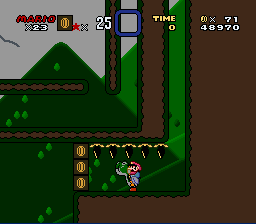 Is having to wait out the P-Switch to proceed to the keyhole really necessary?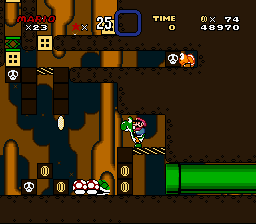 With Yoshi's help you can get mushrooms from the switch blocks in the first level, rendering quite a bit of the early-game stuff either completely unbeatable or really bloody annoying due to the abundance of one-tile-high passages in your levels. You get much the same result if you return to said levels with the powerups you get later in the game.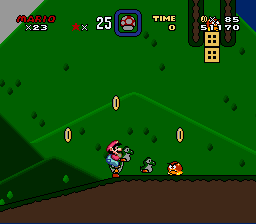 This is why placing a baby Yoshi out in the open in a level you can enter with Yoshi isn't a very good idea.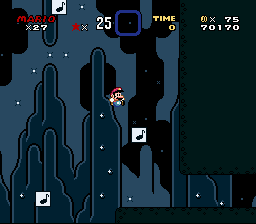 I saw the shaft after the goal, and jumped down here to investigate. Some way for me to get back up would have been nice.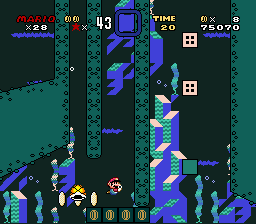 Taking the leftmost passage in the underwater part of this level always seems to lead to a forced death; even with tool abuse, it seems impossible get the key to the keyhole before running out of time.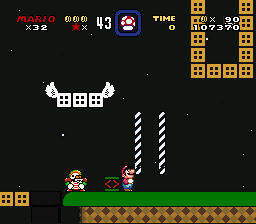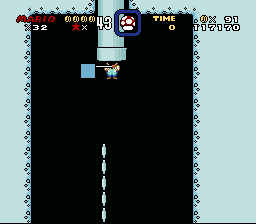 ...any particular reason why the actual midway point object isn't located between the midway bars?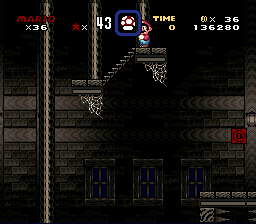 Those cobwebs are supposed to be attached to both a wall and a ceiling; they just look strange placed like in this screenshot. Also, the palette here isn't the best either, again due to way too high contrast between colours.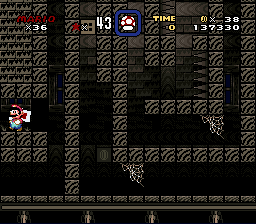 It seems like you forgot to place the side exit sprite, so now I'm stuck again.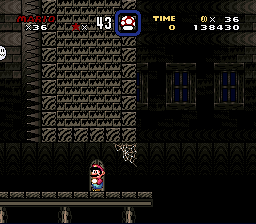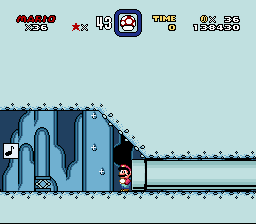 I somehow doubt that's where the door is supposed to lead, given how a) it's part of another level and b) it allows you to bypass the entire second half of the ghost house.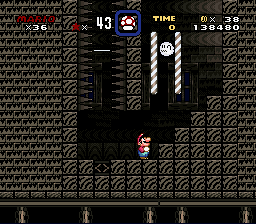 Again with the weird midway point placement.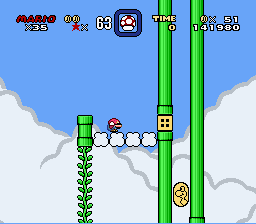 ...
now
you tell me I needed that shell one more time? Well, time to suicide.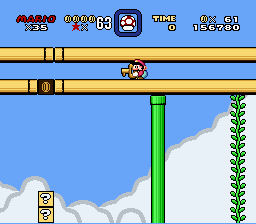 Giving the player two mushrooms right before a tiny passage like this is just mean.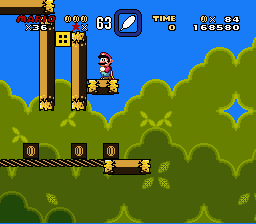 So that key way back at the beginning of the level was important after all. *sigh*
And then it turns out that if I try to continue bringing the key with me to the right, like I've had to do to get to this point, I die. Seems like I somehow was supposed to know that flying with an object wouldn't get me enough distance to get to the next area.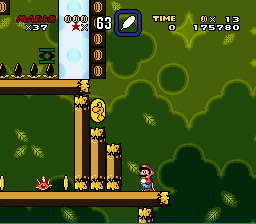 Jumping down to get this dragon coin before getting Yoshi once again results in getting stuck and being forced to suicide. This kind of seems to be the running theme of the game.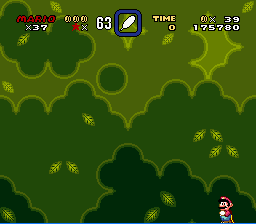 ...why the hell are there four tiles of floor here, twelve empty screens to the right of the rest of the level?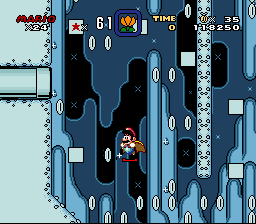 It's really not very obvious that these are ice blocks, given how they look exactly like the cement blocks.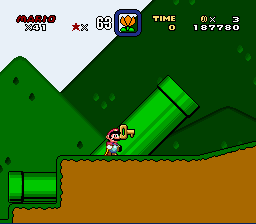 Since you placed ground over the slope connector tile beneath the pipe and didn't block off its left side, I can get inside it like this.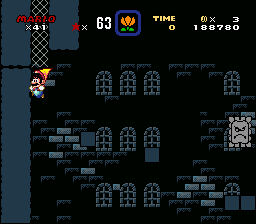 This climbing net is almost completely impossible to grab onto as any form of big Mario. Could you please lower it a tile? Also, those nets would look quite a bit better if you gave them proper edges.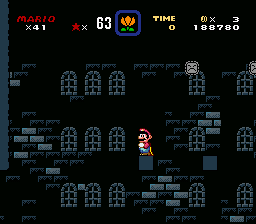 Where's the floor? I have no idea, since it's below the screen at the moment. Gotta love those blind jumps.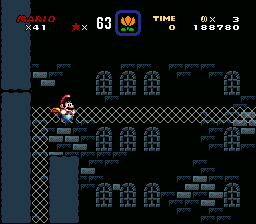 And then this one horizontal climbing net is physically impossible to grab onto if you aren't small Mario.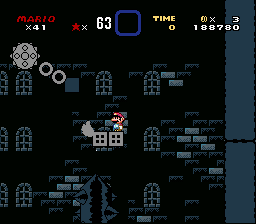 The castle also has what seems to be the only instance in the hack of sprite memory issues. Try setting 0E.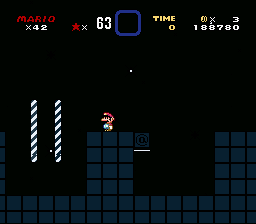 And finally, there's one last case of weird midway point placement.
---
I'm not going to lie: you have quite a few interesting ideas going on in this hack. However, your execution is lacking, mostly due to what seems to be a lack of proper testing. I would very much recommend getting some people other than you to test the hack as well, for the reasons mentioned earlier: they don't already know what to do, so they are more likely to try things you wouldn't.
--------------------
My YouTube channel
Get the official ASMT resource pack
here
!