Removed
Hack Name: Legend of the Four Switches - 708.7 KB - 326 downloads.
Length: 85 exits
Author: J.J.W. Mezun - Submitted by: JJW Mezun
Description: Bowser has locked his castle away using the four switches and only by hitting them all can Mario and Luigi regain access.
This hack is easier than most hacks--although still much harder than the original Super Mario World. You also have unlimited lives and save prompts after every level.
This game has some explicit language, but nothing else is too explicit.
Reasons
I actually really really enjoyed most aspects of this hack. It has an enjoyable approach, including genuinely funny message boxes and many interesting level gimmicks. Overall, the graphics are really well used. Music is good too. This is head and shoulders above the majority of hacks that we receive.
All that said, however, there are a number of things that are currently holding this hack back.
One thing right off the bat:
Originally posted by LOTFS_readme.txt

- You can hold two items at once by throwing one of them above you while next to another and grabbing the item on the ground as the other item falls back to you. This timing will require some practice.
Your hack is interesting in that it requires exploitation of glitches in order to beat it. However, it is not a Kaizo hack. That said, though, our general policy in the past has been to reject hacks that require the exploitation of glitches to beat them. Unfortunately, I am currently holding your hack to the same standard, which means that I will be rejecting it. That said, though, I think that if some of the other issues (which I will describe below) are cleared up, we could reach some sort of happy medium here.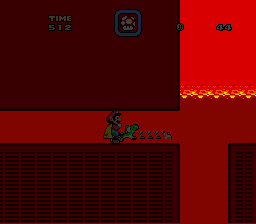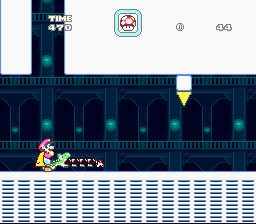 If you are going to allow Yoshi in a level, make sure SP3 is set to something with Yoshi's tongue and neck-muscles.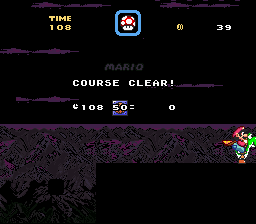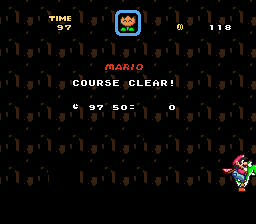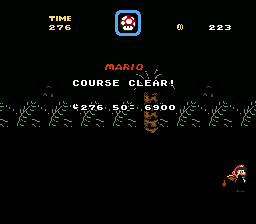 Please apply the Fade Fix Patch.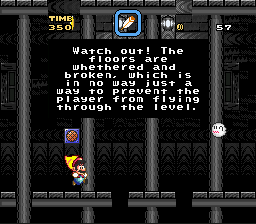 I can't say you haven't warned me, but I don't like how the player can fall through the floor where the farthest left pillar is. Plus...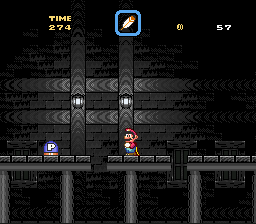 ...I was STILL able to fly up there.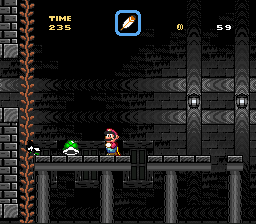 This Koopa has a really nasty palette.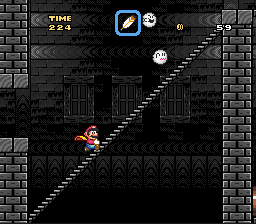 Did you use the No Sprite Tile Limits Patch in this level? My held items kept disappearing.
I made it past this level, but am I supposed to be able to go down this pipe for some reason? I only ask because it's sort of misleading and very difficult to guage your position off-screen. Just an observation, nothing wrong here.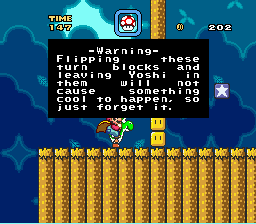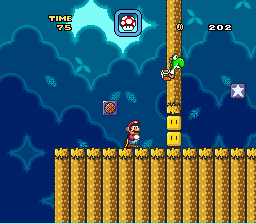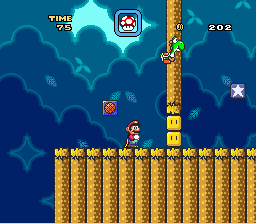 This was really interesting, actually.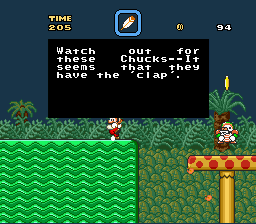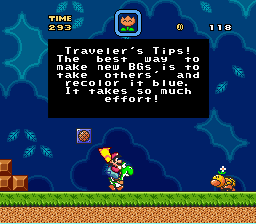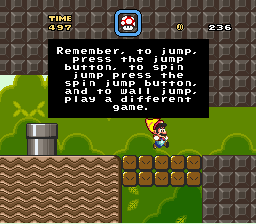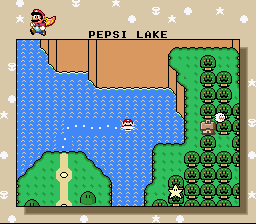 LOLOLOLOLOLOLOLOL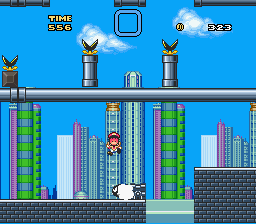 Fuck this Bill Blaster.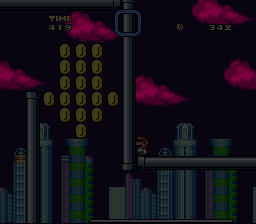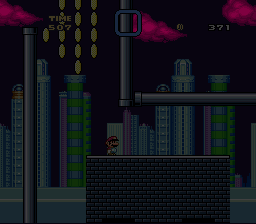 The arrow makes you think everything is okay, but this is sort of a blind jump.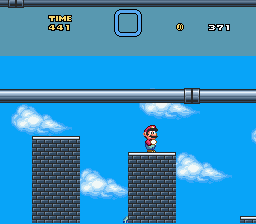 What happened to the BG?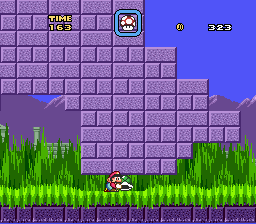 At first, I didn't like that if you come to this level with a power-up, you have to be hurt and lose it. However, I get it. The level was sort of fun in the end.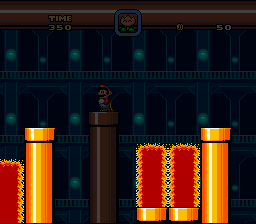 The palettes in this area were sort of obnoxious. I'm not sure if you're trying to illustrate the lava's glow by having the pipes next to lava be bright, but it's not really working, at least not for me. Again, not a reason for removal on its own.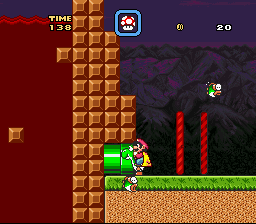 This is what happens when Blurps are in raised pools of water. Again, not an outright reason for removal, but glitchiness nonetheless.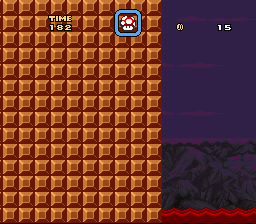 This wasn't a common issue in this hack, but there are several places where the player can walk across the top of the level and get stuck and/or lost in certain spaces. Not a reason for removal, but something to be mindful of.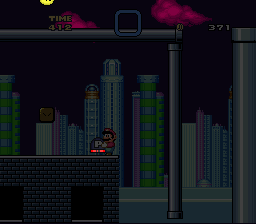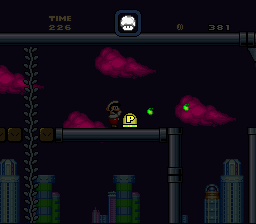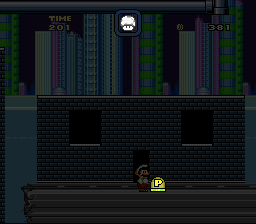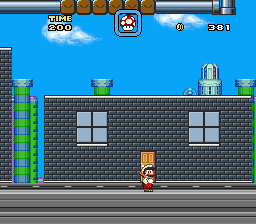 What's up with the palettes? Aside from that, this is how far I got in this hack. I could not figure out how to progress farther. I played this level several times and I was still stuck. Maybe I'm missing how to beat it, but are you certain you included everything necessary to beat it? I just want to be sure. From what I can tell, I'm supposed to carry this P-Switch back to daytime, but I can't carry things through doors (which I think is what I'm supposed to do).
In any event, I do think this is a really good hack. I personally never hit an area where I had to use glitches to pass (unless that's what was involved in the last level) but I am worried about whether it would be accepted under those circumstances. Keep that in mind when resubmitting a fixed version of this (which I hope you do, because it's a pretty cool hack).
This hack does not meet the following
Hack Submission Guidelines
:
Originally posted by Hack Submission Guidelines
4. Avoid major graphical glitches.
Errors such as garbled sprites/FGs/BGs, message box text screwing up layer 3 items, floating/stacked/cutoff tiles, and general graphical ugliness are frowned upon. Furthermore, don't forget about glitches which involve the sprite memory - the graphics of the sprite will 'disappear', but the sprite will still be there, and can unfairly hurt Mario.
9. Keep the hack at a fair difficulty.
Avoid issues such as death traps after the goal, blind jumps, forced damage, excessive enemies, places where you can get permanently stuck, excessive 3-UP moons, projectile sprites (e.g Bullet Bill) placed directly into a level instead of using the correct shooter/generator sprite, etc.
11. Have fellow users beta test your hack before submitting it.
Your hack should be as good as you can make it before you submit it to be featured in the hack database. A good way to make sure you have a quality hack is have it beta tested. Have your friends play it and give you feedback, or
recruit some beta testers
.
--------------------

[?] Miscellaneous Helpful Hints
If I moderated your hack, there was apparently a 90 percent chance it was rejected.