Removed
Hack Name: warp mario Demo - 276.2 KB - 241 downloads.
Length: 29 levels
Author: kks227 - Submitted by: kks227
Description: warp mario hack Completion!!
To reach Bowser Castle stage, all should be clear.
Reasons
This hack wasn't a terrible hack at all really. The biggest issues throughout were graphical cutoffness and crappy palettes.
The way the hack itself is set up is actually pretty interesting -- you warp to different worlds from a hub rather than going through the hack in a linear fashion.
Several levels have really good level design -- some of them are somewhat lacking, though. The desert levels and grassland levels from the first two worlds were somewhat repetitive, both graphically and design-wise. Having this beta-tested by some of your peers is highly suggested to iron out the kinks.
Now, onto the specifics...
Several of the levels' backgrounds were just poorly assembled: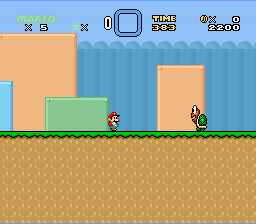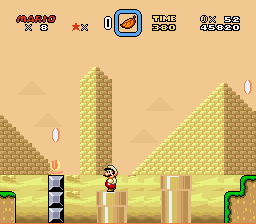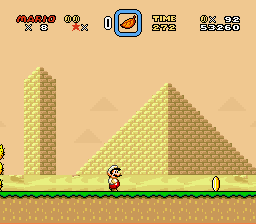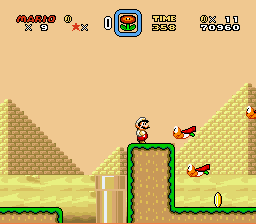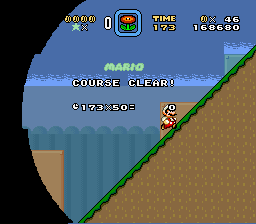 The status bar had palette issues almost throughout the hack. Palettes in general seemed pretty slapdash, as though you just used the default palettes available with the graphics and didn't bother to adjust anything to make them fit -- that's why you've ended up with pipes that look like solid lumps of poop, question blocks and coins that looked like they have been soaking in the bottom of a urinal, and lava that doesn't look intimidating. My suggestion is to make use of custom palettes more, and change your Map16 to take advantage of palette freespace instead of overwriting colors for important objects.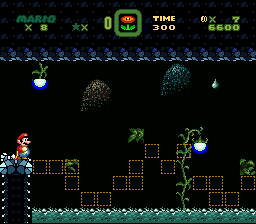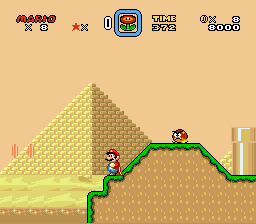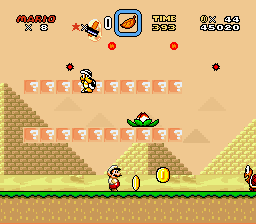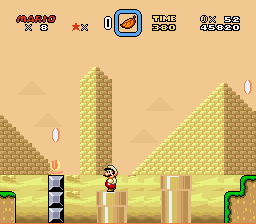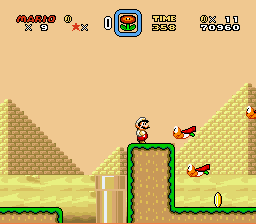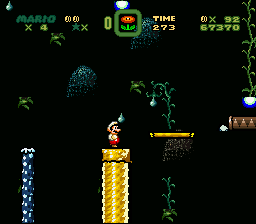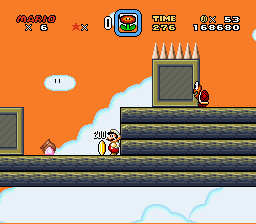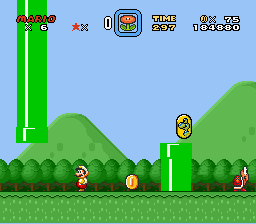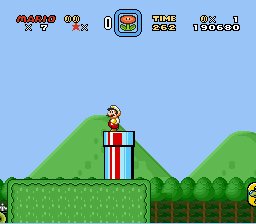 I didn't really understand the way you made level goals/endings in this hack -- it's like I would just reach an area full of invisible walk-throughable level end blocks...it's just sort of anti-climactic. Also, please fix your palettes/anything that palette flashes/excessive sprites (I mean, it's the end of the level, so do we need to be slammed with all sorts of enemies?) so these things don't happen: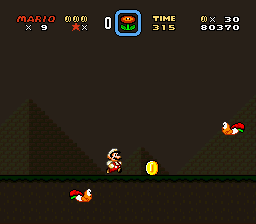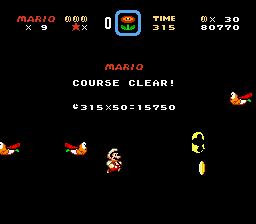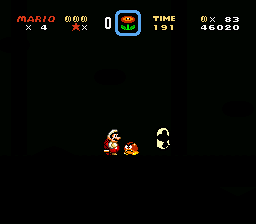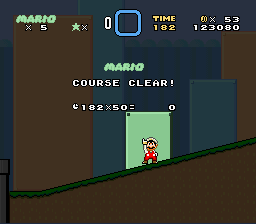 Some levels had "think fast" start problems -- enemies that are just too close to the player at the beginning of the level. Here are some examples: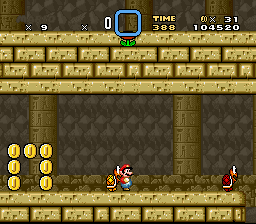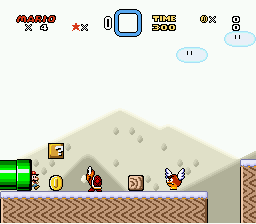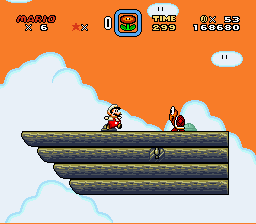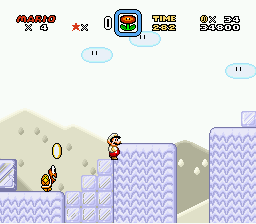 This ledge-edge isn't solid, so I can walk off these ice blocks and easily die -- I hate level design/palette use/graphic choices like this -- the ledge looks MORE solid than the ice blocks, since it has a harder/darker outline.
Don't design an entire level around the player needing to be small Mario, or else it's annoying. Also, I wouldn't put enemies that can walk off of ledges into a level like this, with tiny one-block-wide pits. Also, the Pirahna Plants look sort of weird behind the ice, since their stems look cut off on the bottom -- especially the one that comes out of the block that has nothing underneath it.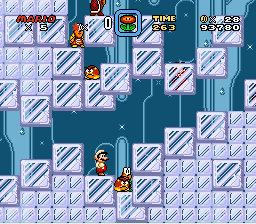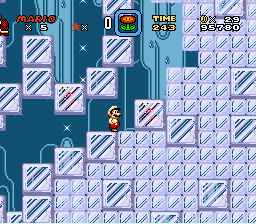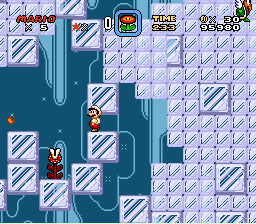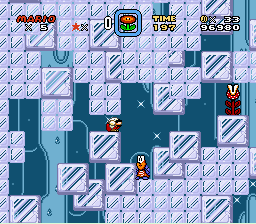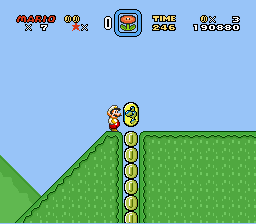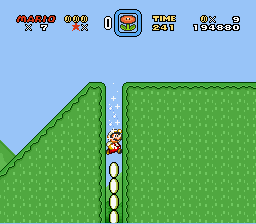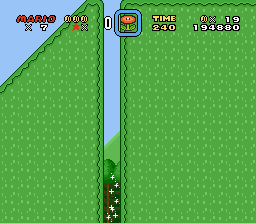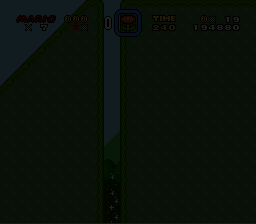 These coins just tease the player into dying. It's sort of unfair/misleading.
Minor cutoffness (not a reason for removal, but still):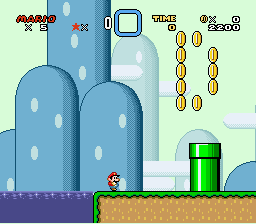 Just sort of boring: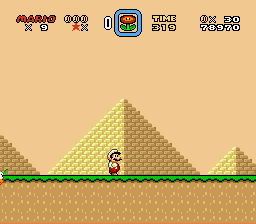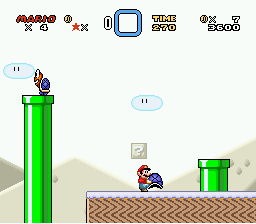 Not a reason for removal, but did you mean to have this question block in the background? It looks okay, but it also looks like a mistake.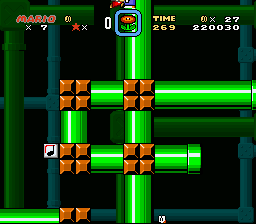 Don't forget that the player can jump over the top of the level (unless you use the Ceiling Generator custom sprite).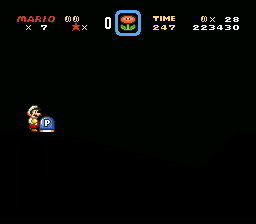 Here's where I stopped. For some reason, when I took the P-Switch above to this level's goal, it locked up the level ending/goal sequence. That's a bug I've never seen before...congratulations?
So yeah, there's quite a bit that should be done here. Luckily, most of it is cosmetic. Still though, please get some more feedback from site users before submitting this again. Thanks!
This hack does not meet the following
Hack Submission Guidelines
:
Originally posted by Hack Submission Guidelines
4. Avoid major graphical glitches.
Errors such as garbled sprites/FGs/BGs, message box text screwing up layer 3 items, floating/stacked/cutoff tiles, and general graphical ugliness are frowned upon. Furthermore, don't forget about glitches which involve the sprite memory - the graphics of the sprite will 'disappear', but the sprite will still be there, and can unfairly hurt Mario.
9. Keep the hack at a fair difficulty.
Avoid issues such as death traps after the goal, blind jumps, forced damage, excessive enemies, places where you can get permanently stuck, excessive 3-UP moons, projectile sprites (e.g Bullet Bill) placed directly into a level instead of using the correct shooter/generator sprite, etc.
11. Have fellow users beta test your hack before submitting it.
Your hack should be as good as you can make it before you submit it to be featured in the hack database. A good way to make sure you have a quality hack is have it beta tested. Have your friends play it and give you feedback, or
recruit some beta testers
.
12. Quality level design
Your hack has a much higher chance of being accepted if the level design is fun. Conversely, if the level design is found to be lacking, then small graphical glitches may be enough to push the hack into deletion.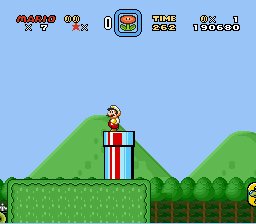 This pipe is having its period.
--------------------

[?] Miscellaneous Helpful Hints
If I moderated your hack, there was apparently a 90 percent chance it was rejected.