This hack will be released in 2013
now i finally fixed all problems.
I start the Beta Test again.
from to day
download here
http://bin.smwcentral.net/u/812/New%2BVersion%2Bof%2BSuper%2BMario%2B2D%2BLand.zip
2 New Videos BTW
https://www.youtube.com/watch?v=G1ls1jpCa44&list=PL2v-BR6plC3GdSZ95tMej2d2mwYPDk5Zc
https://www.youtube.com/watch?v=kSNNDMdqUr0&list=PL2v-BR6plC3GdSZ95tMej2d2mwYPDk5Zc
follow this link to see the TV PROGRAM Monday kl 21:30-22.30 (Norweagen Time) Direct.
http://www.direkte.tv/
I HAVE SOME GREAT NEWS.
SUPER MARIO 2D LAND WILL BE ON TV. AND I TOLD ABOUT SMW CENTRAL AND THIS WILL HELP SMWCENTRAL TO EARN MORE PEOPLE FROM NORWAY TO JOIN THIS.
THAT CHANNEL HAS OVER 1000 VIEWERS. AND I WILL TELL ANYONE ABOUT THIS.
THE VIDEO WILL BE LUNCHED ON YOUTUBE, AND I WILL PUT A LINK TO IT IN THIS THREAD. BUT THE VIDEO IS IN NORWEGIAN .
IT IS FOR THE DFEKT RETRO GAMING AND DFEKT LAN.
HAPPY NEW YEAR
GODT NYTT ÅR
It is released for BETA TEST
Just check your PM now, I send it to everyone on this list
1. Cheat master 30
2. Mrdeppelman
3. Oh hell no
4. Eddy Cartoon
5. XImseiken3
6. Dahnamics
7. Negativestar
8. SMW King 2000
9. Neidave
10. Mes
Just give me replies when you have download it.
Progress:
All Levels is completed. 82/82
100 % completed hack.
It's only the Beta Test left. But it will start 10 January. Because its Christmas now, so I want to take a little break, I only want to fix some errors, if I find them.
i will never tell about that!
Until you play it.
Overworld: 100%
World 1 to 9 ar 100 % completed.
3 NEW
Screenshots:
</div></div>
World 1 Grassland
World 2 Underground
World 3 Ice
World 4 Mushroom
World 5 Canyon
World 6 Sky
World 7 Forest
World 8 Bowser's Castle
World 9 Final
2 new videos
Video 1
World 1-4 and World 1-Fortress
http://www.youtube.com/watch?v=jThBrxN88eI
Video 2
World 2-1
http://www.youtube.com/watch?v=5FOcD4dvl8s&feature=youtu.be
The OW is completed!
NEW SCREENSHOTS
NEWS: This team hack is canceled, but i will make a small hack with the levels i have left.
i don't know what i'm going to do with Master Quest 2,3 and 4. I can upload them as bonus future when i'm releasing my last hack (that's an idea).
i think i'm going to renumber the Master Quest series,
The new name is: Super Mario 2D Land
New screenshots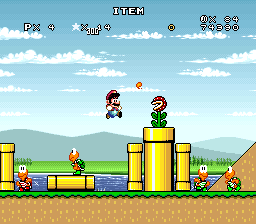 --------------------
Current game playing: FarCry 6 (PS5)
Last game completed: Life is Strange: True Colors (PS5)
Work in progress:
Newest Release:
Super Mario World Master Quest Reborn
Super Mario Bros 2: Mega Mario X
Download Super Mario World Master Quest Reborn here
https://www.smwcentral.net/?p=viewthread&t=105940
Alex No's Hack Collection
https://www.smwcentral.net/?p=viewthread&t=94705
Game Trailer
https://www.youtube.com/watch?v=_fPdeCep5DM&lc=z23udtjo0vadvfdulacdp433vduwlk5ygsmwjbdh1plw03c010c