Aloha! I've finally found the time and blown the dust off my old wooden laptop to start hacking again

To keep things short and sweet, I've basically started with custom GFX to get back in the swing of things and it definitely helped! So now I'm doing other things to build up a brand new hack. I'm going to keep some original smw gfx as I find they fit with some of my custom GFX.
Screens: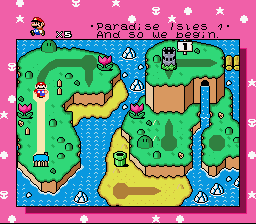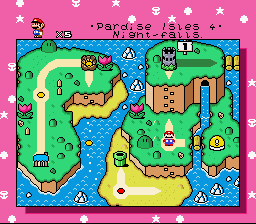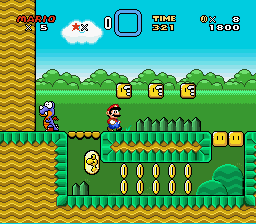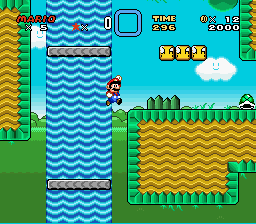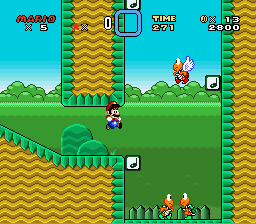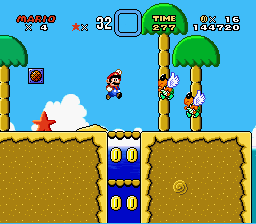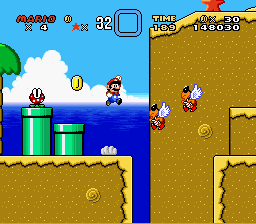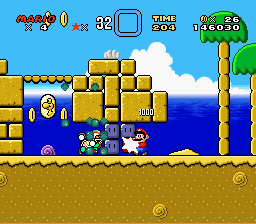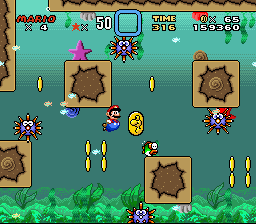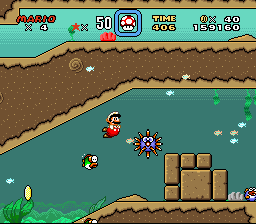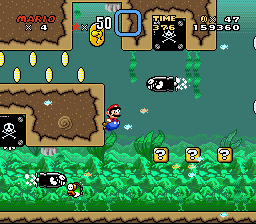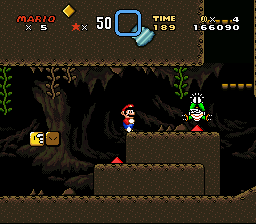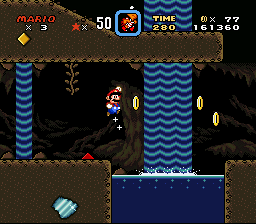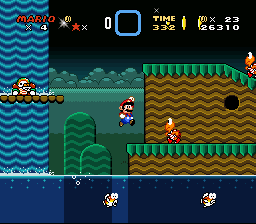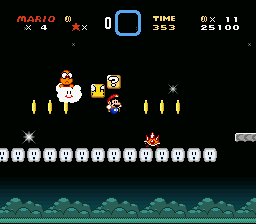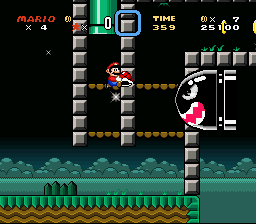 Videos:
Paradise Isles 1
User bar for supporters, use this link to post in your footer, it would really help me out!

Code:
Feedback would muchos be appreciated! Thanks

--------------------
Creator of:
Super Mario: Buried Treasure
The Haunt
Jigsaw's Test
Your graphics look great. They look simple, but effective. I especially like your waterfall and its splash (which I assume are animated), and the darkened water where it overlaps with land. However, if you're going to use these graphics, I highly recommend using a non-vanilla background, as they seem to clash with each other in my opinion.

Can't say much about the level design from these few screens, but the last picture looks quite fun.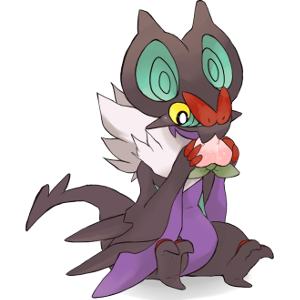 Dude that looks awesome, great job, pretty much what TRS said haha, simple but awesome looking, I wonder what the finalized version of this will look like, but eh only time will tell =D
Thanks, I'm going for that style 'simple, yet effective'

Yes, the splashes are animated along with the eyes in the holes and various other things to give the levels a little bit of 'feeling' if you will.
I see where you're coming from, TRS, with the BG's clash, but I kinda liked the look of it on the last screen, even so, I'll give a few ripped BG's a go and see how the look.
--------------------
Creator of:
Super Mario: Buried Treasure
The Haunt
Jigsaw's Test
So nice to see you back on hacking, this looks very promising so far!

OW: I notice the light differences on the ledges/ cliffs, its something i think ive never seen before, really neat! Great palettes overall.

Level: I really like the FG you got going there, nice to see you care for the cutoff the waterfall would make on the bridge thingy.

Bg: I think you could done something here, maybe bring the wavy pattern from the FG hills to the BG hills. Maybe some hdma, fake or not.

Looking forward to more updates=)
Thanks Uhrix, I'm happy I finally got the time to start hacking again

I'm glad you noticed the bridge thingy, I'm very OCD when it comes to even the slightest unnoticeable cut off, even though I could mention a few I see that are just pixel sized :p (I'll get around to fixing them). The BG will be replaced with a ripped one as I suck at making them =(.
--------------------
Creator of:
Super Mario: Buried Treasure
The Haunt
Jigsaw's Test
The graphics remind me a lot of Sonic for some reason, but great work!
--------------------
soundcloud
/
bandcamp
/
twitter
/
battle of the bits
/
buy our album
The OW looks amazing, expecially because of those cliff with different colors and the palettes.
Your ExGFX looks pretty good, I like that animated waterfall splash and those holes in the ground, also the shadow effect on ledges is great.
I really like your graphics. I never saw the idea of giving some shadowing to the cliffs. That's a really cool idea. Keep up with the good work!
really diggin on this one. i was a big fan of buried treasure. your level design structure is more, classic, than most people these days and i admire that. the graphical style you put on this one seems to really work in your favor; lighthearted and laid back, but still confident. i look forward to seeing more developments. :)
--------------------
Thanks for the great feedback guys!
Just a small update here, I have found a nice BG that seems to fit quite well IMO, I've also played around with the palletes for future levels within this 'Paradise Isles' area.
Day: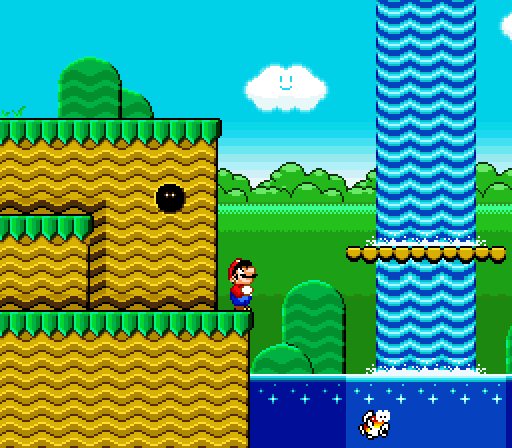 Afternoon/evening: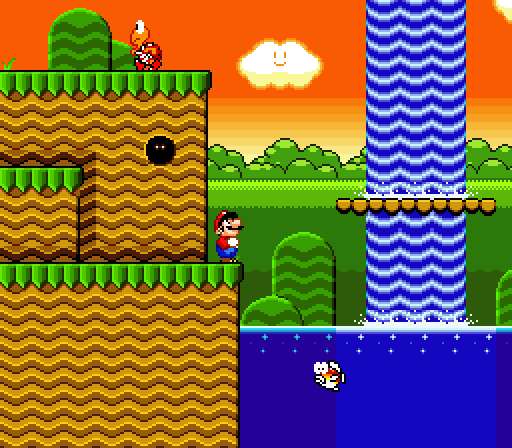 Night:
I also recolored Mario to fit with the vibrancy of the levels themselves.
--------------------
Creator of:
Super Mario: Buried Treasure
The Haunt
Jigsaw's Test
I saw these graphics in the SS&V thread and they look awesome. Also, I'm loving the palettes!

Those palettes are great and the BGs fit pretty well.
So happy to see that this is being made. I love those screenshots there, and the palettes for the day/evening/night areas look pretty spot-on. I'm really digging your graphical style this time as well.

Keep it up!
Thanks a lot guys! those comments are definitely building up my motivation and strive to work on this hack.
I've just spent the last 30 minutes or so designing a main OW on paper, I think I'm gonna use this planning method when it comes to level design also as I've noticed with the OW, it helps a lot in the long run.
--------------------
Creator of:
Super Mario: Buried Treasure
The Haunt
Jigsaw's Test
It's so great to see you back, Kc - and back to hacking too, at that!
What you've shown so far looks mighty promising - the graphics you drew look pretty professional (kind of reminding me of some Kirby and/or Sonic games), and I really like the... vibe they give off.
Here's hoping your hack will be as fun to play as Buried Treasure was - and so far, the things you've shown aren't giving people any reason to doubt that. Keep it up!
--------------------

Thanks WYE! That means a lot! =D
Here's a very beta detail-less main OW screen: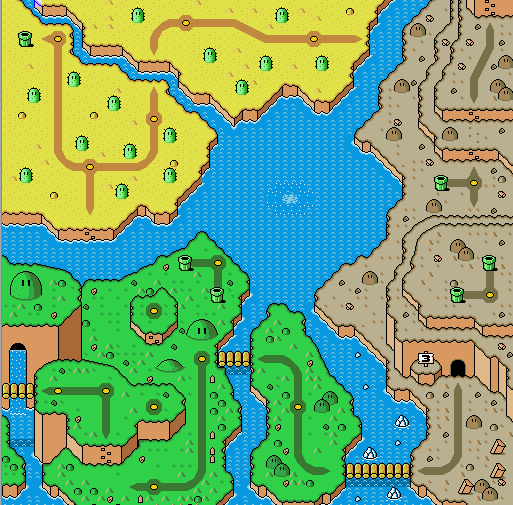 (Some things that look odd on there e.g. the 3 sign are just things for me for reference)
--------------------
Creator of:
Super Mario: Buried Treasure
The Haunt
Jigsaw's Test
Great looking OW, you sure do like deserts ;)
I like those cacti hills there as well!
Haha deserts are my thang! I can't not have a desert area in here! =D
Next update will be either the submaps or progress on the first couple of levels, watch this space. =P
--------------------
Creator of:
Super Mario: Buried Treasure
The Haunt
Jigsaw's Test
Looks pretty great! Looks like desert worlds are like um.... nevermind. Nice work!
Forum Index - SMW Hacking - Works in Progress - Super Mario: Pipe Dream