Removed
Hack Name: Mario Wants His Coins 1.1 Demo Demo - 179.8 KB - 30 downloads.
Length: 6 exits
Author: msi810 - Submitted by: msi810
Description: New version 1.1
Reasons
This hack is actually not that bad, overall. The level design is generally decent, aside from a few minor issues.
In terms of level design, I would say the biggest issue is that the difficulty from level to level is very uneven -- the very first level features a lot of hard-to-make jumps over long pits with enemies in the way, but then the castle at the end of the first world is like, maybe, about eight screen longs. Try to make each new level a little harder than the one before it. Try to take out things that make a level too hard (given that this is only the first world in the hack).
I would advise having some beta testers try this out too -- they might have some good suggestions for you, as well.
In terms of specifics, it looks like you didn't correct some of the things mentioned in the previous removal log. Please make sure you correct these before you resubmit this hack, or it will be automatically rejected.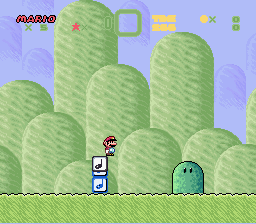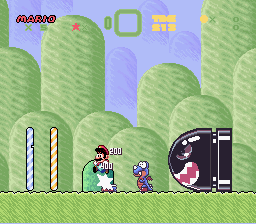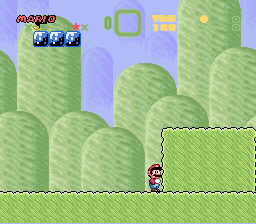 This level has lots of palette issues. Please make sure your FG/BG do not use the status bar palettes -- normally, I'm not a huge stickler on this sort of thing, but you can't even read the time here. Redirect the FG/BG to use different palette rows. Also, all the sprite palettes here are sort of off -- that's why you have Banzai Bills with bloodshot eyes and Note Block bounce blocks that don't match the other Note Blocks (or vice versa). Those stone blocks are also fairly ugly with their current palette. Please redo the palettes in this level so they match the rest of your hack.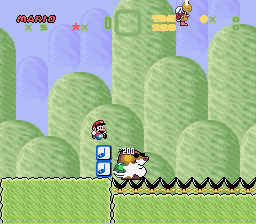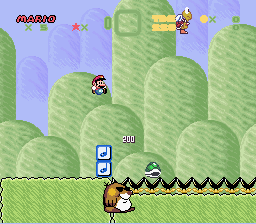 It was moderately easy here to kill the Mega Mole here that I need to cross this gap -- you might want to remove the Koopas entirely here, since they just make things harder than they need to be.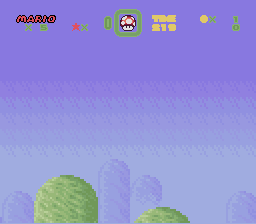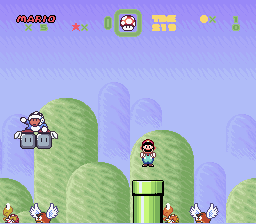 You're using some bad FG/BG start settings here.
Use this diagram to help correctly set up your FG/BG start settings:
Also, make sure Mario is coming out of the pipe at the right place. He's a tile or two too high here.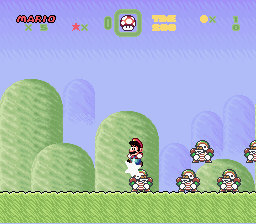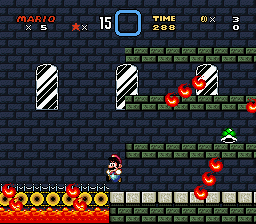 There are too many enemies in these screens. This is leading to: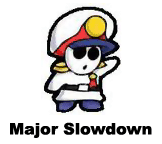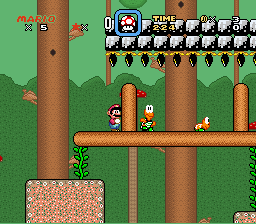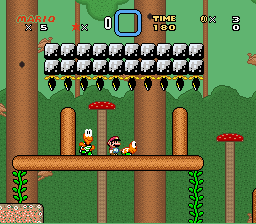 Maybe I missed it, but I could not find out a way to get through this area without taking a hit on those ceiling Munchers and running through as Small Mario while I was invincible. Please make sure you don't force the player to take damage to continue through a level.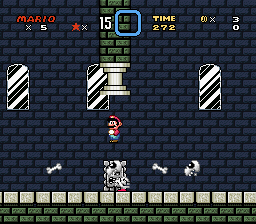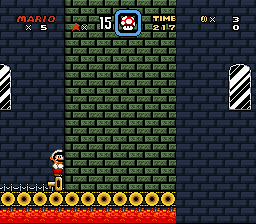 Uh oh. Cutoffnessman strikes again!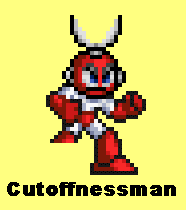 Make sure you are using the correct Sprite Memory Settings in your castle -- that should prevent your Dry Bones from disappearing. You might want to also apply the No More Sprite Tile Limits Patch. Also, make sure you end a level at a screen boundary, otherwise, the lava/wall/bridge gets cutoff as you can see above.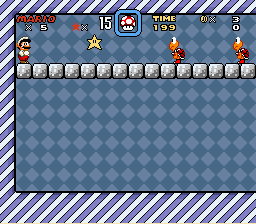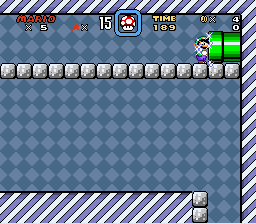 I have to say, it's nice not see another Yellow Switch Palace here. However, this is a blatant Green Switch Palace edit. Please make a new and unique Green Switch Palace for your hack.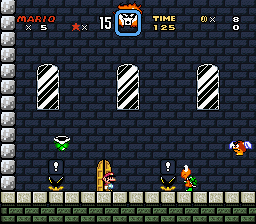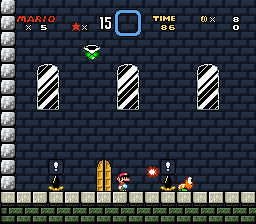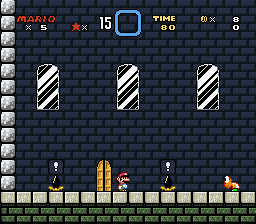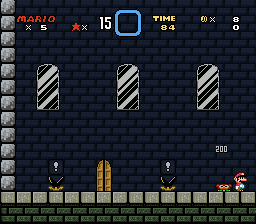 I really did not like the Fryguy battle. Here are some of my reasons:
• Fryguy looks like he was pooped out of an NES
• the Green ! Blocks (I assume) are dark blue and blend in with the BG
• the Munchers can still hurt you even if you have the Green ! Blocks on
• you have to use EVERY throwable object in this room in order to kill Fryguy, or else you have to reset (why do P-Switches hurt him?)
• if you are Fire Mario, it's too easy to toast every single throwable enemy in here
• whereas your first version of this battle was apparently too easy, this one is way too hard
• it's anticlimactic to have to kill a Beach Koopa to end the level after killing Fryguy
I would suggest just making some obstacles here, maybe making the room two screens wide, and having the player have to throw Throw Blocks or something similar at Fryguy. You could even have an enemy generator that generates enemies by a pit so they don't accumulate. Just some suggestions.
Anyway, I have to reject this for now. I do think you're off to a good start, though. Please take the time to read over the
Tips Of The Day
. You should play through some of the site's
Featured Hacks
to get an idea of what you should be aiming for. Last but not least, replay some of the classic Super Mario games to get inspiration for good level design.
This hack does not meet the following
Hack Submission Guidelines
:
Originally posted by Hack Submission Guidelines
2. Minor edits of existing SMW levels will not be accepted.
Use Ctrl+Del to remove old SMW levels. (104, C5, C7, and 3 are exempt from this.)
4. Avoid major graphical glitches.
Errors such as garbled sprites/FGs/BGs, message box text screwing up layer 3 items, floating/stacked/cutoff tiles, and general graphical ugliness are frowned upon. Furthermore, don't forget about glitches which involve the sprite memory - the graphics of the sprite will 'disappear', but the sprite will still be there, and can unfairly hurt Mario.
9. Keep the hack at a fair difficulty.
Avoid issues such as death traps after the goal, blind jumps, forced damage, excessive enemies, places where you can get permanently stuck, excessive 3-UP moons, projectile sprites (e.g Bullet Bill) placed directly into a level instead of using the correct shooter/generator sprite, etc.
11. Have fellow users beta test your hack before submitting it.
Your hack should be as good as you can make it before you submit it to be featured in the hack database. A good way to make sure you have a quality hack is have it beta tested. Have your friends play it and give you feedback, or
recruit some beta testers
.
--------------------

[?] Miscellaneous Helpful Hints
If I moderated your hack, there was apparently a 90 percent chance it was rejected.