Removed
Hack Name: SMW:Megaman Legends 3:Getmeoffthemoon (Updated Version) - 581.3 KB - 145 downloads.
Length: 20 levels
Author: Roberto zampari - Submitted by: Roberto zampari
Description: I created that hack because for save megaman legends 3
Join to facebook:
http://www.facebook.com/GetMeOffTheMoon
UPDATE:Removed jeptak(Illegal) and the some bugs and glitches fixed...
Go to the Hack Thread...
http://www.smwcentral.net/?p=viewthread&t=52199
Reasons
First off, let me apologize for taking a while to complete this removal log. I claimed this quite a while back and did not get around to getting all of my screenshots until just recently.
However, there is absolutely no excuse for PMing and querying me and several other staff members constantly and incessantly about your hack. You PM'd me twice and queried me at least 15 times regarding your hack. Have some patience in the future.



One big issue I have with this hack, in principle, is this:
Originally posted by roberto zampari
I created that hack because for save megaman legends 3
Join to facebook:
http://www.facebook.com/GetMeOffTheMoon
Sooo... does that mean that you only created this hack as a way of promoting the campaign to resurrect
a cancelled video game sequel
? If that is the case, I think that's a really terrible reason for making a hack. It's not a reason for rejection, but it causes some problems for this hack:
1) If the idea behind this hack is to save Mega Man Legends 3, why is Mario the main character here? What does Mario have to do with anything? I could not understand the storyline well enough to understand why Mario is involved. I'm not trying to be rude, but I'm just not sure a hastily-made SMW hack is the best way to promote a failed Mega Man title.
2) If you want to save Mega Man Legends 3, aren't there better ways you can contribute toward the campaign than submitting a hack here that seems to have just been made in order to raise awareness of the issue? Heck, even making a thread in the video games discussion area encouraging people to support saving MML3 would probably be more effective.
On a similar note, having never played Mega Man Legends 1/2, your plot made absolutely no sense to me. If anyone is ever going to make a game that is a sequel to anything else, it really needs to assume that the audience has not played the other games and give them a summary of the previous games and how this new one ties into the old ones. If you did that, I did not understand the connection between the old games, and I definitely was not told anything about the old games. I don't know what "Get Me Off The Moon" means.
It would be like if I made a movie called Star Wars 7 that told what happened to all the characters after Return Of The Jedi but didn't explain anything about what happened in Return Of The Jedi.
Anyway, on to specifics.
Level 105
Level 106
Level 103
The level design is one of the big things that brings down this hack. It seems like most levels were the same shapes repeated over and over and over with the same enemies placed here and there. There was little or no variation. I found myself running through them just to beat them and move on. It's also not a good idea to be like "Ah cool, I just inserted these neat custom sprites -- now let me spam 50 of them into this level" or to be like "I'm using GFX02 in SP4 here -- let me use every single enemy from that tileset!"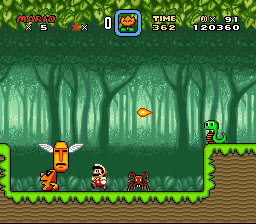 Case in point -- I'm guessing you inserted the Super Mario Land sprite package right before making this level? It's great to see those sprites being used, but this is not a good way to use them. Build your levels to take advantage of enemy behaviors -- don't just stick a hodgepodge of enemies together.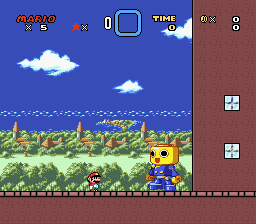 YIKES!
These giant Lego robot graphics clash with the rest of your graphics, since they are displayed from sort of a 3D angle. See how one of the feet is planted on the ground but the other is raised? That only would look good if there were 3D ground behind the foot. I hope that makes sense.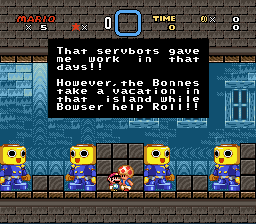 More of the same. Again, these robots clash with your other graphics. Also, this is just one example of the boring/repetitive/uninspired level "design" present in this hack. (A lot of it seems to involve copy-and-pasting the same section of something over and over and over and over and over and over and over and over.)
Also, I know English is not your native language, but this really made no sense to me. You might want to either leave it in your native language or have someone translate for you.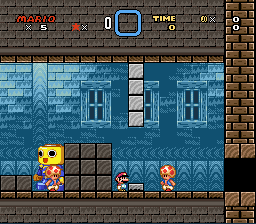 For some reason, I could not walk back to where this Toad was. Something was blocking me. No explanation was given. That makes no sense.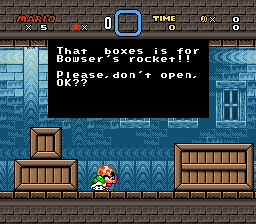 WHICH box? Those big wooden crates? Or some other box I should be looking for? In any event, this entire house/room served no apparent purpose, or at least none that I could discover. It would be like if the Top Secret Area in SMW had no Question Blocks or power-ups and just an NPC saying "Watch out for Reznor!" I don't get it.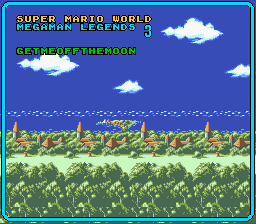 If you're going to have a static title screen, you might want to remove Mario's actions, since you can hearing jumping and such behind the music even though the player is invisible. This isn't really a reason for removal, but it's worth "fixing."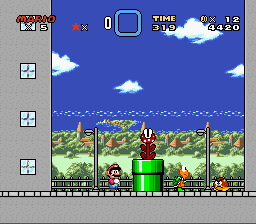 Use the
Piranha Plant Fix Patch
to prevent red Piranha Plant stems from causing OAM or VRAM or Mode 7 HDMA errors or something.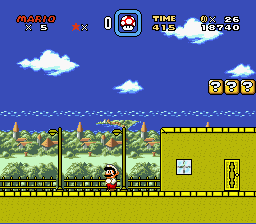 Not a reason for removal, but this is not the prettiest of FG palettes.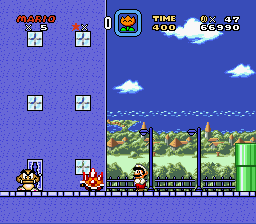 You might want to try using custom palettes for that Grand Goomba and some better ExGFX for that Giant Spiny. I know those are the default graphics that come for it, but they're really objectively God-awful.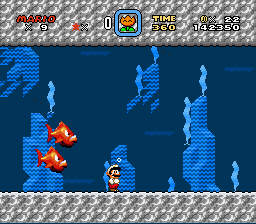 Clashing graphical styles and boring level design.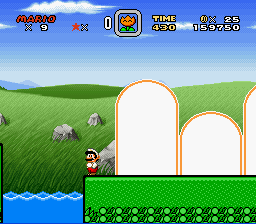 I actually really enjoyed this level much more than several of the others. It was pretty well-made. Were it not for those big ugly boring orange Kirby-ish things here, it would be great.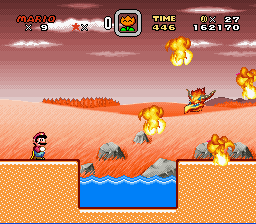 You said you had Carol's permission to use his sprites, but remember that using custom bosses this specialized to one person's hack (in this case, Brutal Mario) just makes your hack feel much less special and unique. It's also completely irrelevant to both Mega Man or Mario.
Also, is this thing from Labyrinth or what?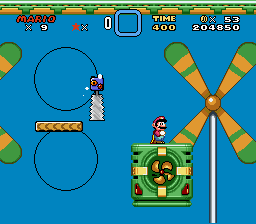 Very minor, but your ExAnimations are off a bit here. To fix this, make sure that any animations meant to go together are placed at intervals of every eighth slot (e.g. use Slots 0, 8, 10, and 18).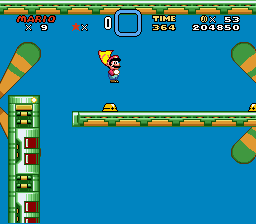 I know Mega Man can't step on these things, but shouldn't Mario AT LEAST be able to spin-jump off of them? They don't look like they should hurt to step on them. These seem sort of badly coded (no offense to whoever made them).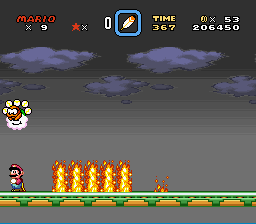 Just a suggestion, but you might want to place this guy one tile up and/or lower the floor one tile down -- it's easy to hit him with your head when jumping over flames, which makes this a bit more unfair than it should be.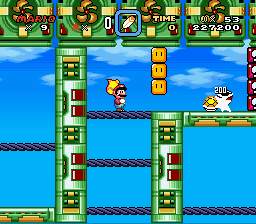 Here is where I quit. This level is actually very ingenious and creative and I would love to see it made well (like, if the shells were killed when they hit the blocks, or if they destroyed multiple blocks). The idea is to destroy colorful blocks with shells of the corresponding color. Right now, though, with the way this level is built, it's just way to easy to accidentally kill the next Koopa you need when throwing a block through a wall. When I explained this to you in one of your 50 jiggawatts of queries, you suggested
this playthrough
as a solution. I'm sorry, maybe I'm too picky, but I just can't be assed to throw a shell 10 times at a block wall while duck-sliding through the wall to quickly save the Koopa on the other side before the shell I just threw goes through and kills it. If you see someone rewinding this many times in a playthrough of your hack, it should tell you the difficulty is a bit off. I could rewind, but in theory each time that Koopa I need dies, I'm supposed to go back to the reset pipe at the start and redo everything I have already done. That's just really annoying in a level this tricky.
Overall, this hack needs a LOT of work before it will be up to SMWCentral's standard of quality. Please take the time to read over the
Tips Of The Day
. You should play through some of the site's
Featured Hacks
to get an idea of what you should be aiming for. Last but not least, replay some of the classic Super Mario games to get inspiration for good level design.
This hack does not meet the following
Hack Submission Guidelines
:
Originally posted by Hack Submission Guidelines
4. Avoid major graphical glitches.
Errors such as garbled sprites/FGs/BGs, message box text screwing up layer 3 items, floating/stacked/cutoff tiles, and general graphical ugliness are frowned upon. Furthermore, don't forget about glitches which involve the sprite memory - the graphics of the sprite will 'disappear', but the sprite will still be there, and can unfairly hurt Mario.
9. Keep the hack at a fair difficulty.
Avoid issues such as death traps after the goal, blind jumps, forced damage, excessive enemies, places where you can get permanently stuck, excessive 3-UP moons, projectile sprites (e.g Bullet Bill) placed directly into a level instead of using the correct shooter/generator sprite, etc.
11. Have fellow users beta test your hack before submitting it.
Your hack should be as good as you can make it before you submit it to be featured in the hack database. A good way to make sure you have a quality hack is have it beta tested. Have your friends play it and give you feedback, or
recruit some beta testers
.
12. Quality level design
Your hack has a much higher chance of being accepted if the level design is fun. Conversely, if the level design is found to be lacking, then small graphical glitches may be enough to push the hack into deletion.
--------------------

[?] Miscellaneous Helpful Hints
If I moderated your hack, there was apparently a 90 percent chance it was rejected.