I only see really 2 small issues.
1. In the pic that RN showed, there is a piece of grass that is to the left of Mario that looks like its floating by a pixel and...
2. In this pic: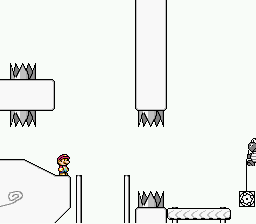 on my first play through, I was not aware those platforms fall, so I ended up jumping off and made it pretty much impossible for Mario to get past without taking a hit (or dieing in this case). Maybe moving the whole spike structure up 1 one tile may help a bit
Other than that, I see no other issues with it.
Layout by LDA during C3.