Well, I don't like the cement blocks used here. Instead of them you could use SMB3 bonus FG or other bonus FG's. Cement block spam is bad.
Any comments? (Blue Coin is P2 btw)
Edit: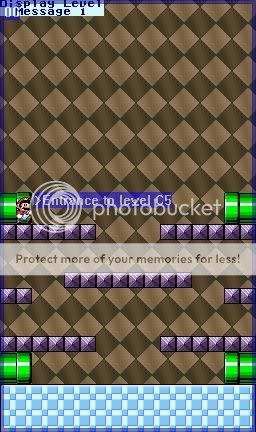 Would this be a good intro level? I think it is!
For me the intro level is fine. I don't see anything wrong with it.
Preview of Thwomp Tower Entrance:
Those are NOT real thwomps, they're part of the ExGFX.
if those thwomps are actual sprites don't put on right over the entrance it's dickish and not good design
The main high point I see from the screenshots is the palettes. The levels also seem good from what you've shown so far. The title screen seems incomplete (no demo it appears) but I'm fine with the design at least.

And yeah, placing enemies extremely close to the entrance is not good level design. I thought those Thwomps were enemies until I read that they were foreground.
You hear dice being thrown...
My SMW ROMhack: Super Market Roll Drums is active once again!
Second 2014 C3 Demo Here
(
[thread]
[demo]
)
Lunatic Lolo, an Adventures of Lolo 2 hack: 20/54 Levels (
[C3 thread]
[demo]
)
Good that those Thwomps aren't sprites. It would be very cheap and unfair to do like that. Will there be any background instead of only fake HDMA?
I have to agree with Best Video Gamer on the intro screen the design is good but it just seems to be missing something and is there a reason to enter into the Mario Bros game zone? I mean this hack is looking good design wise but there seems to be random bits from a lot of games and don't seem to be tied together at all.

And out of curiousity if you play as a coin what do you collect cause collecting other coins just seems kind of out of place.
The reason I chose the mario bros. bonus was because the coin just escaped from mario's clutches, and is in his sewer factory. I'll instead use ExGFX only in castles/bonus areas and go for vanilla in normal levels.
About the coins though, I'm thinking about collecting either diamonds, or star bits and changing the status bar to match those. The yoshi coins will be replaced by berry coins.
e:
I've renamed this to the pear coin.
Just an OW palette test.
#1 is now known as goomba plains,
#2 is now known as dusty forest,
#3 is strawberry cave,
#7 is now known as sky palace,
and #0 is undecided.
And yes, i know this is the 2nd edit I've made. I believe I have fixed everything now.
Yoshi's Island: Looks very generic. I don't see changes except that the water is lighter.

Bowser's Valley: Hmm... I'm not sure about this palette. I think it's too brown for me and doesn't feel like a dark world level. Perhaps a bit gray in the colours?

Vanilla Dome: That's very gray. It looks fine but don't you think it's a bit too gray? Some people would think the palette is a bit boring since it's lacking colourfulness.

Special World: I don't see to many changes there. I see that only the stars are red instead of blue. They look fine to me.

Forest Of Illusion: Hmm... are there any palette changes? I don't see them (maybe it's just a little darker?)

Star World: It looks fine. You don't need to but this submap also lacks some colourfulness.
I know it's the "pear coin" now but having a coin collect another coin just seems odd, if you are coing to change the normal coins to diamonds why not make the big coins large diamonds?
I see you did some changes to the old OW palettes. Well, they look better but still not the best:

Yoshi's Island (Goomba Plains): It looks better that the palette is changed. The brown is fine so I don't have any complains.

Bowser's Valley: Looks much better than the orange world. Looks like a fire/ice world. Well, the icy ground (not the grass or rocks here) doesn't look best for normal ground (at least for me). I think you should give it another palette row and change it. Remember that you can disable the fade effect to make palettes 0-3 editable without any issues.

Vanilla Dome (Strawberry Cave): Cool that it looks more colourful but the pink and light red is a bit eye searing. It's too light. Especially the pink. Make it a bit darker and I bet it will help with many people's eyes. Not sure if the gray fits there. I think it looks a bit out of place if it's a strawberry land. Change it to um... brown or dark red-brown. You can also make the water dark red or pink-ish to look like stawberry juice but it's just a suggestion. Not necesarry.

Special World: It looks fine for me. Not necesarry but the "Coin W9" would look better centered. It's not necesarry though.

Forest of Illusion (Dusty Forest): It looks fine for me but the ground could a little bit darker.

Star World (Sky Palace): Looks fine. I don't see anything wrong. Not necesarry but you could make the sky black and blue around the moon and stars to something dark too.


Also, are you going to make new OW's? Blatant OW edits aren't acceptable. (at least I saw that in some removal threads)
Goomba plains:
Thanks!
Bowser's Valley:
I was going for a bit SMW-ish: Rocky area below, Ice area (Donut Secret 2) at the cliffs.
But I could manage to make more palettes.....
Strawberry Plains:
I thought you'd say that. (It is very hard to find good pinks, so they'll be changed) Thanks for the suggestions!
W9: Nothing terribly custom here, just gray paths.
Dusty Forest:
Perhaps I'll change that.
Sky palace:
To add on to that, I could cause the lightning effect here.
OW:
I find making OW's to be time-consuming, but yes, I will have a custom Overworld.
.....????
Treasure Chest:
This is the replacement of the Yoshi coin. I plan on having this rise up in the air, and then disappearing in a puff of smoke.
Quote
After what seemed 100 years, Mini_Coin decide to show some progress...
Okay, what I'm about to show you is a level I like to call Seasonal Drift. This level consists of 4 levels with 4 themes, Winter, Spring, Fall and Summer. So far I have completed 2 of those themes, and this one is the Winter theme.
This is the entrance of this theme. It looks pretty much the same as level 10C because, this level follows it after that exit-enabled pipe.
Just showing off Bowser's bowling ball. Is the palette weird?
Nearing the end of the level. If you are big Mario (as shown above) then you can crush the turn block and grab the final chest.
The end level. This is subject to change.
And with that, I also present you level 10E right
here
.
Any comments?
TRIPLE POST!
Continued from my original idea, I've made a neat addition to each level. As i said before, i was making a level called seasonal drift, with 4 levels each themed as a season. Here is the summer sublevel:
As you can see, I've changed the coins' GFX! Hooray!
Anyway, I've added in a nifty intro screen that appears before each seasonal level. Here's the summer one:
This is only part of the level though, so don't get disappointed:
What you saw above was a tiny puzzle with rhombus-shaped parts of land leading upwards so you can get a.....
....1-UP!
Any comments?
You can test the updated hack (V0.3)
here
by the way.
My only compliant is that the grey blocks should be a little brighter and should have outlines around them. and the hills in the background (the brigher ones) should have less satured shadings. Other than those, it looks pretty cool. In any case, you have the choice.
--------------------
My deviantART
My Youtube channel
My avatar
Watch, i made a Super Mario 64 level
Well, this one is looking pretty cool. The berries are coins, right?

--------------------
A beautiful wish. But there will be no future. Not for you.
@Dinomar
1. I don't quite get what you mean by "outline"
2. Ah yes, they do seem too bright, don't they?
@miguel21450
Yes, they are coins. The yoshi coins are treasure chests, not bigger berries.
Outline is the line around the tile - heh I cannot explain it better.
*playing demo* Okay, this demo is full of errors, as the Layer 2 priority with certain sprites in the second part, the use of the question block with nothing inside... Eh, I'll tell about the screens...
This hack is looking good so far, but there are some strange palettes, as the strawberry OW, and the gray question blocks... Anyways in general it's looking good, just your palettes aren't the best.
--------------------
Forum Index - SMW Hacking - Works in Progress - M&C: SU!