Hack Name: Goombobs race tournament
Length: 4 levels
Author: mr.luigiman9089 - Submitted by: mr.luigiman9089
Description: my first hack. has some glitches but gets harder every level. not for beginners. hope you enjoy.

---
Reasons
First of all, submitting your first hack is generally something you should think twice about, especially if it
Originally posted by mr.luigiman9089
has some glitches
.
Also: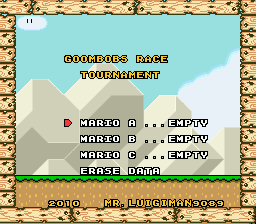 Various texts in the game still say "Mario".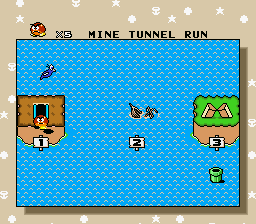 The overworld is... decent enough, I suppose. Still, you might want to fix the slightly cut-off tiles on the top edge of the leftmost island.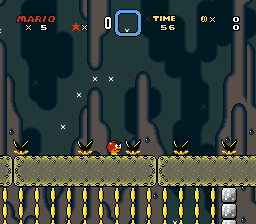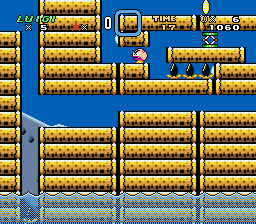 Your levels aren't exactly empty and bland, but they're far from fun either. Try building more creative obstacles involving more types of sprites instead of relying on munchers, mazes and one-tile gaps too much. The latter is especially annoying - the jump seen in the second screenshots took me several tries to do right. Not a whole lot of fun.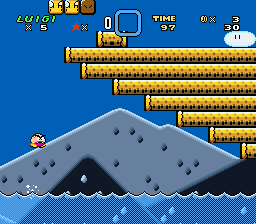 I'm not sure if you want a second player in this game, as his palette is rather messed up and he's still called Luigi.
(Also, once you fall down here there's no way to get up, leaving you no option but to commit suicide.)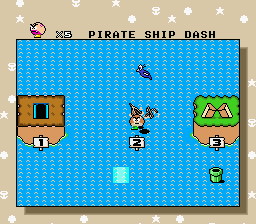 Some events are slightly messed up.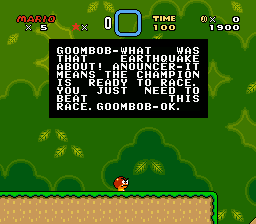 I don't see the need in writing everything in capital letters here... sounds needlessly aggressive if you ask me.
Also, *announcer.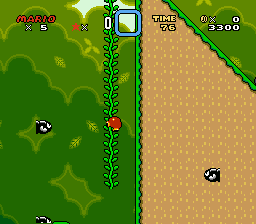 Might want to draw a tile that fixes the cutoff at the end of the vine. Minor issue though.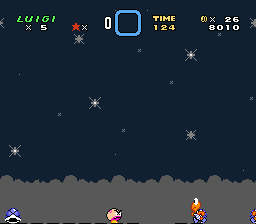 Invisible ground isn't as fun as you might think - players won't know the level as well as you do, and I'm pretty sure the bottom row of pixels (which sometimes is the only indiaction for where there's ground) isn't even visible in more accurate emulators.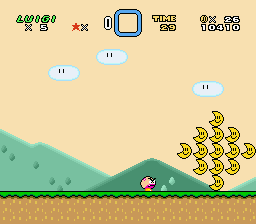 This bunch of moons is reasonably well-hidden, but there's no need for having so many of them. One would have been enough, and the one at the start could be replaced with a 1-up.
---
So yeah, you aren't quite there yet. You might want to practice a bit more before submitting another hack, and I believe reading the
Hack Submission Guidelines
and watching
this video
will be of help with that.