Description: Take 3!
Alright here is MALDJ Ep. 1: Above Ground with (I hope) all the bugs fixed. I'll add them to the log.
Orginal Description:
Well since my first hack I put up here (Super Mario World: Season Mix-up), I've learned a lot. I learned how to use addmusic, make gfx, and use exgfx. Please note this IS vanilla, so I only used Lunar Magic 1.82/1.92. ere's a log of changes:
Changes from version 0.0/Demo 1:
1. Intro palettes changed to be more fitting
2. No scrolling enabled from the Intro Level
3. Made edges between the ground and the pipes in Level 1
4. Lava/Water tile changed
5. Got rid of dirt cutoff next to Lava in Level
6. No longer are Yoshi Coins Blue Blocks.
7. Changed the way to get to Level 2's submap and the submap itself, removing the cutoff.
8. Level 2's submap is now a normal underground area, removed cutoff.
9. Can't fly over the pipe with the exit to Level 2 because you can't get capes anymore (explained later) and if hacked, still can't.
10. Added candles to Castle #1
11. Removed candles in underwater parts.
12. Continued the ground forward in door 3/the exit in Castle #1 due too cutoff.
13. No longer do you go to world 2 when beating Castles #1 or moving up above Yoshi's House (explaining #9).
Changes from Version 0.1/Demo 2:
1. Added "Episode 1" to the title screen
2. Fixed the palette for the text on the Title Screen
3. Pipe from Yoshi's House removed
4. Edited Yoshi's House message
5. Note blocks turned normal
6. Changed the type of platform in the Sub Area of Level 1 and let the lava spread around it.
7. Can't take a leap of faith and now need the green switch to get the yellow switch
8. Removed lava at the start of Level 2
9. Yoshi Coins are back to normal
10. Spelling error in "Mixed Castle" changed
11. Fixed Sprite Memory issues
12. Removed dirt cutoff in the Half way sign in "Mixed Castle"
13. "Killer" Bridge's palette changed.
14. Pipe no longer glitches and sends you to the right place.
15. Can't skip all of the levels in World 2.
16. Added pipe at the exit of the Levels
Anyways, if you want a semi chocolate hack of this, coming soon is "Mario and Luigi Deep Journey: Releashed", including custom music (by our "Soundtrack Producer", MarioStarLuigi when he's not busy with requests) and redrawn gfx (If you want to become our Graphic Designer, tell us in the forum post), and the ablity to choose 3 different stories (Mario, Luigi, Sonic, or Somari) and different styles of gameplay.
Also, I give credit to cyphermur9t and Hadron for telling me some things to change.
Enjoy the Demo!
---
Tip: you don't have to list every single change you made in the description. It just makes the description unnecessarily long. You can still log your changes in the readme.txt or something.
Well, I see you fixed some stuff but unfortunately a lot else remained unfixed. Maybe you didn't follow the last removal log enough carefully...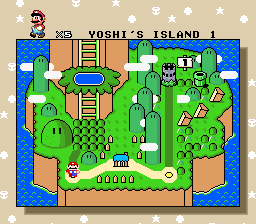 The layer 2 event is still messed up.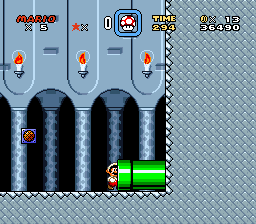 When I go into a pipe...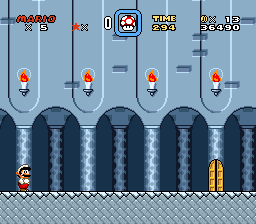 ...I should come out of a pipe.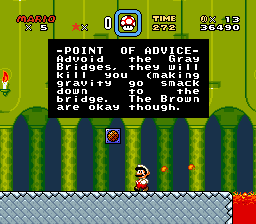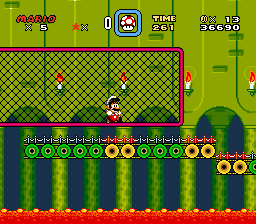 The only problem with this is that the "killer" bridge tiles aren't gray anymore, so it's a bit misleading (and the palette is still pretty...weird).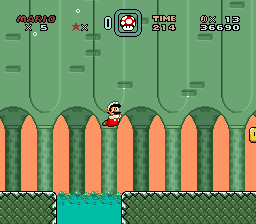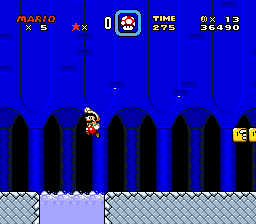 The lava colors are still just as bad as before.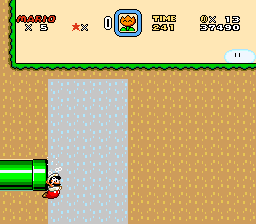 Ugh, this looks rather bad, and why is there a big chunk of water in the middle of ground anyway?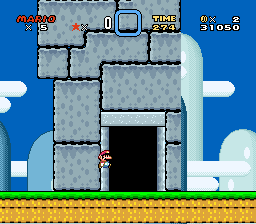 The third door led me here...not sure what should I think or do.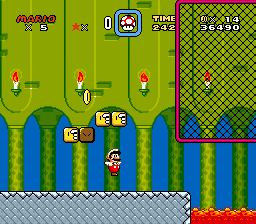 The ROM just simply stopped working at this point. The game froze and I couldn't do anything. Not sure what caused this, but I think porting the old stuff to a new ROM would solve the problem.
I also noticed that your levels were pretty short and rather flat. Try to put more enemies, obstacles in the way, and make your levels a lot longer.
And as always...
- Read
the Hack Submission Guidelines
- Watch
this video
- Read
other hack submission logs