Removed
Hack Name: Super Mario in... Sweet World Demo - 106 KB - 33 downloads.
Length: 6 levels
Author: Megabeast39 - Submitted by: Megabeast39
Description: This is a demo of my first hack. I wanted to make a hack with the difficult being easy then grows in difficult as you progress through the stroy. Which i thought i did pretty well. In this demo you get to play one level out of each SWEET WORLD, there is still more worlds you are able to explore that aren't in this demo. Btw, Super Mario Bros. House is not fully finished (do not eneter either doors) I will tell you the story as it stands...
STORY: Mario has taken a vacation to his private world (Darnanian World) which is made out of sweet candy and other sweet things of that nature. He goes there to relax. But when Bowser finds out of his Sweet World, Bowser tries to take it over and turn the once sweet land, into a sour land. Bowser sends his minions to get rid of you before you destroy his evil plot. You must travel through the Black Licorice Land and destroy the core and return Darnanian Land back into sweet.
MORE...:
Wait, WHAT? There is more? Oh yeah, duh. There are Triia challanges in some levels wich are very rewardingif you get the answer right.
Oh, i almost forgot, there are secret SWEET FLOWERS in each level (except Castles, Palaces, and Ghost Houses). Some are hidded, and some are in plain sight but hard to reach.
CONCLUSION:
Well i hope you like it please play every level and tell me what you liked and what you didnt like. Thanks
Reasons
It sounds like you have some nice ideas for this hack. I would like to see what you do with this.
Unfortunately, I could not play your hack. When I applied the IPS to a clean 512 KB SMW ROM, nothing seemed to change on the output end. Please read over
these instructions
and try submitting your hack again.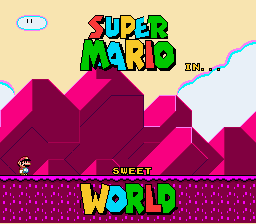 The only way by which I can judge this hack is by this screenshot. Unfortunately, if this image is any indication of what the palettes in the rest of your hack might look like, we will probably reject it. Please try to use palettes that are appealing to the eye, unless there is a very good reason for not doing so.
This hack does not meet the following
Hack Submission Guidelines
:
Originally posted by Hack Submission Guidelines
4. Avoid major graphical glitches.
Errors such as garbled sprites/FGs/BGs, message box text screwing up layer 3 items, floating/stacked/cutoff tiles, and general graphical ugliness are frowned upon. Furthermore, don't forget about glitches which involve the sprite memory - the graphics of the sprite will 'disappear', but the sprite will still be there, and can unfairly hurt Mario.
--------------------

[?] Miscellaneous Helpful Hints
If I moderated your hack, there was apparently a 90 percent chance it was rejected.