Removed
Hack Name: Super Mario: The Next Adventure (demo 1.0) Demo - 326.9 KB - 38 downloads.
Length: 6 levels
Author: zack30 - Submitted by: zack30
Description: the hack is being redone without the custom mario/sprite GFX.
this hack will slowly go from a vanilla hack to a chocolate hack!
mario will have to do whatever he can to save the princess!
GO MARIO GO!!
(note: levels are somewhat short and the 2nd requied to play level will have a cheap lanuch pipe in the middle of the level + some blocks and coins in the
"SMB throwback" level are SMW coins and blocks. i didn't get time to change it)
Reasons
Overall, this hack needs a lot of work before it will be up to SMWCentral's standard of quality. Please take the time to read over the
Tips Of The Day
. You should play through some of the site's
Featured Hacks
to get an idea of what you should be aiming for. Last but not least, replay some of the classic Super Mario games to get inspiration for good level design.
Please watch this video by cyphermur9t
-- it gives a lot of good tips for beginners and also outlines several bad habits that are commonly frowned upon by our community.
Anyway, onto specific reasons for removal:
A lot of this hack was unchanged from Super Mario World. With an early demo like this one, leaving certain things unchanged can be acceptable, although it's not necessarily ideal, especially when there is so much of it.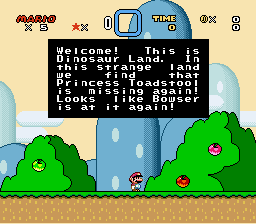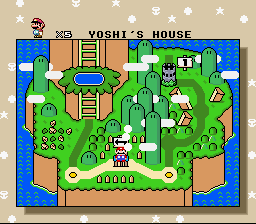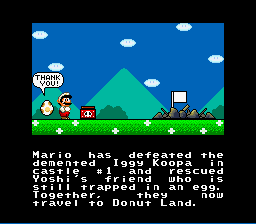 Why does this all seem so familiar?
It becomes a reason for removal, however, when you leave unedited levels accessible from the overworld.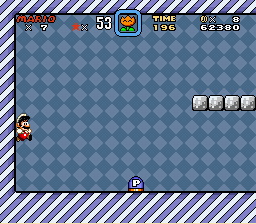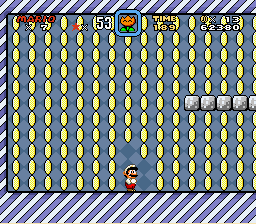 People love the original Yellow Switch Palace so much that they reuse it in their own hacks.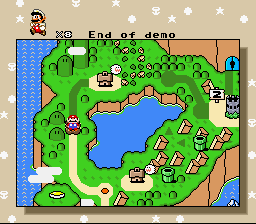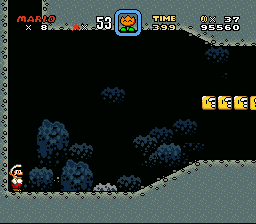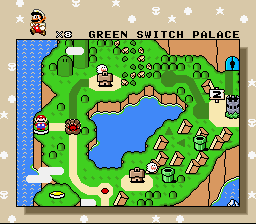 I just defeated YOUR first boss, and yet my adventure is continuing into Donut Land. What's up with that?
Anyway, make sure you edit all levels accessible from the OW and don't allow the player to play the rest of the original game after your levels are finished. Also, it would be nice to see an edited OW and intro.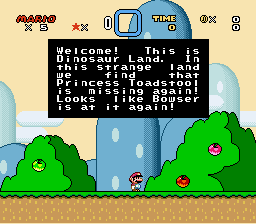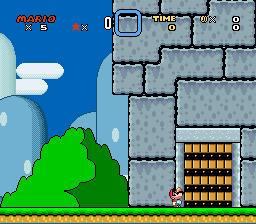 Here was another oddity. Yoshi's House is now
a completely pointless and featureless castle
. Please finish your levels before allowing the player to access them.
With the levels you did make, my main criticisms would be that they were all very short (shorter even than SMB3 levels). They were all also fairly bland. As I said above, you should really check out some other games for inspiration with level design.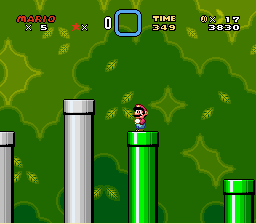 Screens like this aren't exactly thrilling.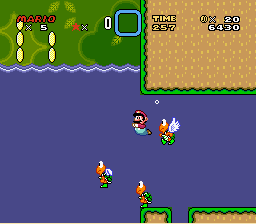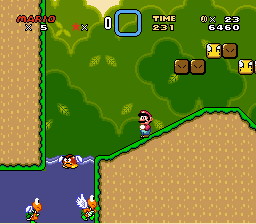 Make sure you turn on sprite buoyancy when normal sprites can be in or under water. Also, seeing these underwater was interesting -- it reminded me of some of those SMB2J levels.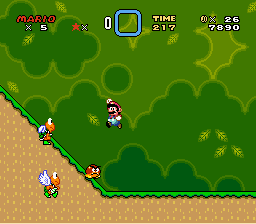 One little hinky thing with those Paratroopas, though, is that they will fly through EVERYTHING. Not a major problem, but worth being mindful of, since it looks awkward to watch them fly through water into the side of a hill and then out of the hill.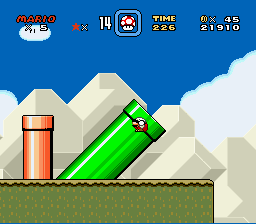 Make sure you're careful with how you set up those diagonal pipes. Look at how Level 105 did it.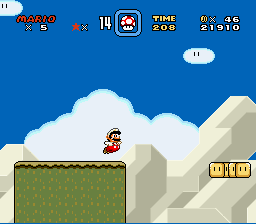 This cannon shot from the pipe is a little unfair, since the player lands right at the edge of a platform and can easily slip off. I would make the ground longer or move the ground right more, or use coins to "steer"/guide/lure the player to safety.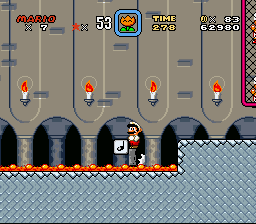 Make sure you have Note Block Bounce Block graphics in your levels with Note Blocks.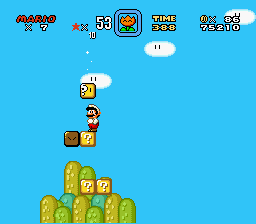 Make sure your graphics can all match one another if you are going to use graphics from different sets. Try to pick a standard.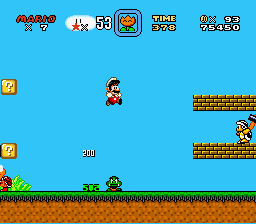 Edit GFX00 so that your Goombas will have the right smashed graphics.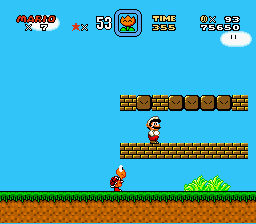 These bricks are just duds -- they turn straight into brown blocks when hit. Was that intentional?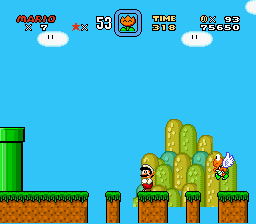 The background has several cutoff and broken edges. Please fix this up. I'm pretty sure we have a good rip of this BG somewhere on the site.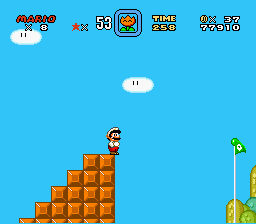 Move your flagpole topper graphics up 8 pixels by making a new Map16 block for it with the graphics at the bottom of that block as opposed to being at the top of the current block.
Before I finish this up, let me talk about a few things I did like: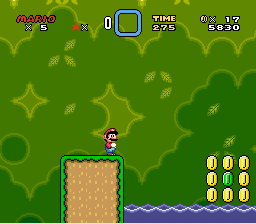 This midpoint replacement (the green coin) is pretty cool and original.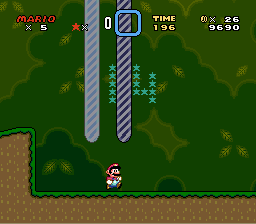 This was novel and fun.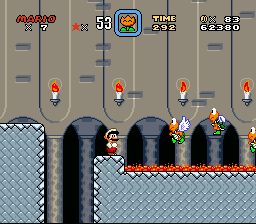 This use of lava was really cool -- the lava only hurts the player and doesn't kill them. Very original and fun. Makes for an interesting obstacle.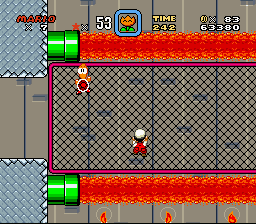 Also pretty cool and innovative.
This hack does not meet the following
Hack Submission Guidelines
:
Originally posted by Hack Submission Guidelines
2. Minor edits of existing SMW levels will not be accepted.
Use Ctrl+Del to remove old SMW levels. (104, C5, C7, and 3 are exempt from this.)
4. Avoid major graphical glitches.
Errors such as garbled sprites/FGs/BGs, message box text screwing up layer 3 items, floating/stacked/cutoff tiles, and general graphical ugliness are frowned upon. Furthermore, don't forget about glitches which involve the sprite memory - the graphics of the sprite will 'disappear', but the sprite will still be there, and can unfairly hurt Mario.
5. Your hack should be of a reasonable length.
Unless you intend to make your hack contain very long and very high quality levels, demos which are too short to provide any feedback on or be enjoyable will be subject to removal. A general rule of thumb is that the hack should feature at least one complete world with about five levels, or should feature around at least 15 minutes of game time.
9. Keep the hack at a fair difficulty.
Avoid issues such as death traps after the goal, blind jumps, forced damage, excessive enemies, places where you can get permanently stuck, excessive 3-UP moons, projectile sprites (e.g Bullet Bill) placed directly into a level instead of using the correct shooter/generator sprite, etc.
11. Have fellow users beta test your hack before submitting it.
Your hack should be as good as you can make it before you submit it to be featured in the hack database. A good way to make sure you have a quality hack is have it beta tested. Have your friends play it and give you feedback, or
recruit some beta testers
.
12. Quality level design
Your hack has a much higher chance of being accepted if the level design is fun. Conversely, if the level design is found to be lacking, then small graphical glitches may be enough to push the hack into deletion.
--------------------

[?] Miscellaneous Helpful Hints
If I moderated your hack, there was apparently a 90 percent chance it was rejected.