Before we get this started, let me apologize once again for how long this took to be moderated. D:
NAME:
Le avventure di Mario 2
AUTHOR:
Silver
DESCRIPTION:
Fixed version of my hack.
You must read the CREDIT.txt file in the zip.
Enjoy my hack!
---
REASONS FOR REMOVAL:
Tons better than your previous hack, but there's still a lot to fix.
Firstly:
you really need to get yourself some proofreaders
. It's obvious English isn't your first language, and the errors range from minor typos to "I have no idea what this message is trying to tell me". It kind of detracts from the game, and it makes the plot extremely difficult to take seriously.
Secondly: you'll also want to get some people to beta test this for you before you submit a new version. There were quite a few errors, especially near the end of the hack, that were rather obviously due to a lack of testing.
Anyway, let's move on to the screenshots, shall we?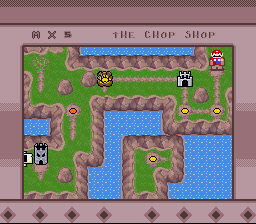 You really ought to add either events or that overworld sprite that shows arrows that tell you which directions you can go, because navigating the overworld when you can't which paths are open gets rather annoying.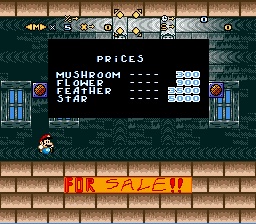 ...dear lord. With those kinds of prizes, do you really think anyone will ever use the shop other than for the secret exits that require tier-2 powerups? Paying that many coins for something that's gone after a single mistake isn't worth it at all.
It's also worth mentioning that an entire playthrough of the hack barely gave me enough coins to attempt each secret exit that requires something from the shop once. My suggestion: cut those prizes by at least half.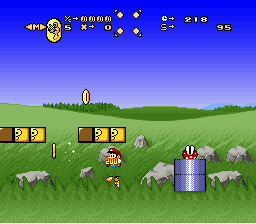 Since you've removed the last 0 from the score counter, you might want to do so for the score sprites as well; as it is, they don't match up.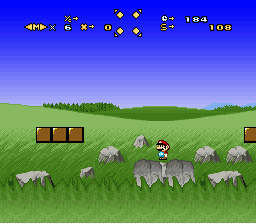 The graphics of these rocks don't really match their hitboxes all that well, leading to Mario being able to float above them like this.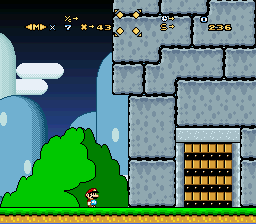 The castle entrances don't play any music at all. Is this intentional?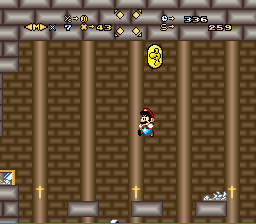 If there's any way to get that dragon coin, I couldn't find it even after jumping all around the immediate surroundings searching for invisible coin blocks. It appears to be completely unreachable.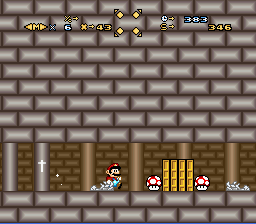 Since you disabled the item box, there's really no point to providing the player with two mushrooms, now is there?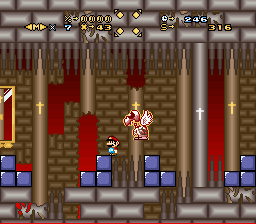 The boss keeps animating even when everything else is frozen (like during Mario's hurt animation), which looks rather odd.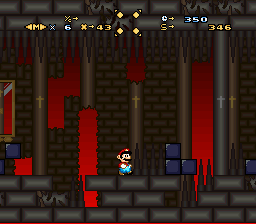 And you probably want to use the "freeze Mario in place" ending after the boss battle; the goal walk really doesn't fit.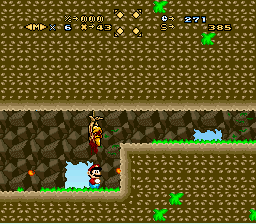 Venus Fire Traps combined with ground that has layer priority enabled makes for some rather cheap hits in this level. Also, there's some low beeping noises in the music that I don't think should be there.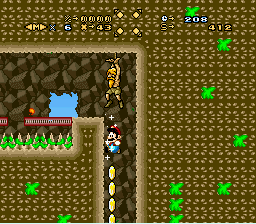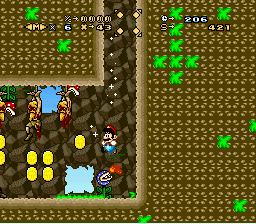 Blind falls straight into enemies are never fun.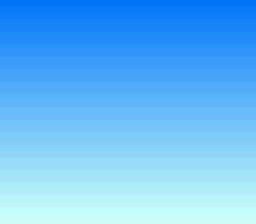 An issue that's prevalent throughout the entire hack: your HDMA gradients stay during the loading screens between levels. I'm fairly certain that the HDMA fix patch can fix this.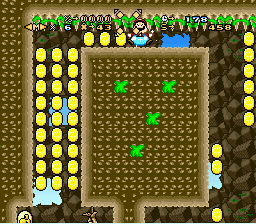 Another issue that keeps appearing throughout the hack: the spikes themselves don't actually hurt Mario, but the blocks they are attached to do. This just feels extremely odd and misleading; if you want Mario to be able to pass through the spikes, why don't just insert a hurt block with BTSD and set it to act like a blank tile?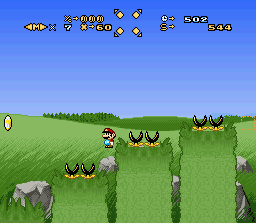 More hitbox shenanigans.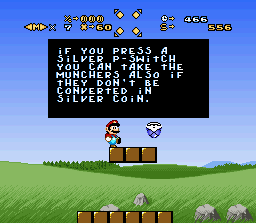 Now this is just lazy. Any particular reason why you couldn't take the extra minute to set up the animation for the muncher so that it turns into a coin properly?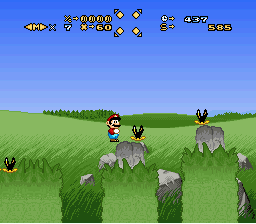 The block under it might be solid, but this muncher is floating nonetheless.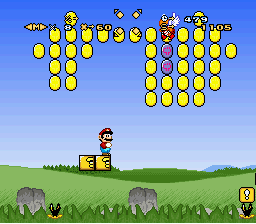 Those blue-and-pink coins look rather displeasing.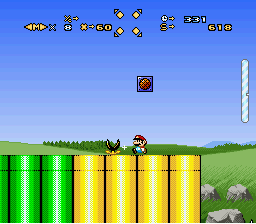 yay collectable munchers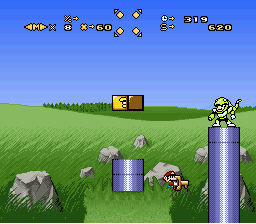 What's up with these invisible walls?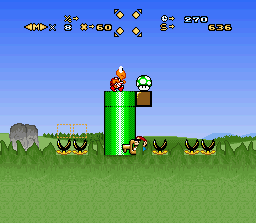 Getting into this place is obnoxious enough, but getting out is borderline impossible. Definitely not worth it for a single 1-up.
Also those munchers are cutting off the grass.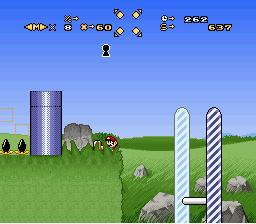 With the backtracking to get the key and the keyhole being right next to the normal goal, you have to play through most of the second half of the level at least four times. Perhaps not the best of design decision.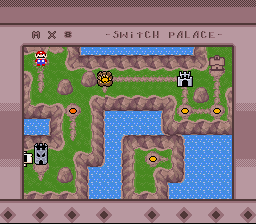 I'm not sure what exactly this level tile is, but it sure doesn't look like a switch palace. More like a pile of dust or something. You sure you didn't mess up the graphics for it somehow?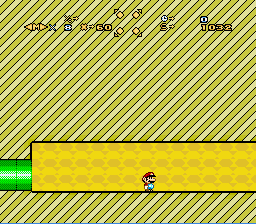 Apart from being extremely obnoxious due to the flashing, the background animation is also not synched properly.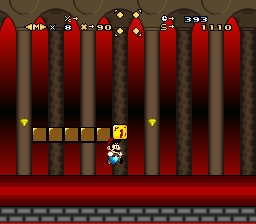 Now that is one terrible bounce sprite palette if I ever saw one.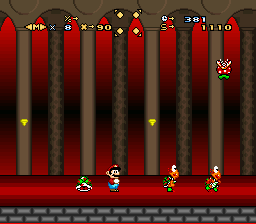 Not too sure what's going on with the sprites in this level. Why are they all covered in red spots?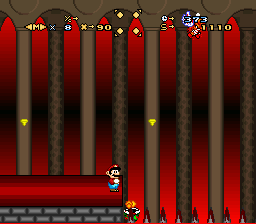 As this screenshot demonstrates, lava doesn't make for the best of instant-death spikes.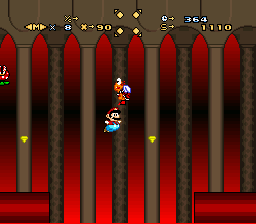 This jump appears to be physically impossible to clear without getting hurt; you absolutely need to be running at full speed and holding the jump button the entire time, which leaves you with no way whatsoever to dodge the Parakoopa.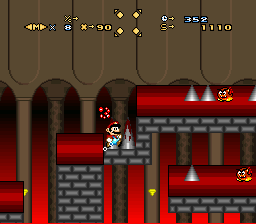 Again, lava doesn't work very well as spikes. Also, the perspective change behind the spikes is kind of jarring.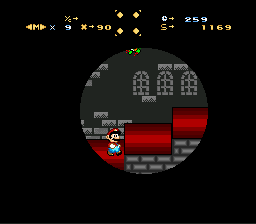 Gotta love enemies falling on top of you from off screen where you can't see them. Also the spotlight is kind of annoying in that it follows the screen rather than Mario.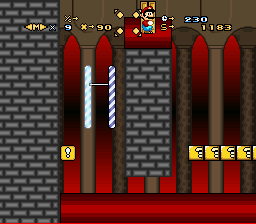 Bad camera position for this particular secondary entrance.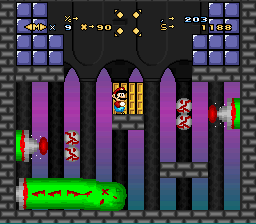 No offence meant, but those boss graphics look nothing short of absolutely terrible. Also the boss is completely trivial to defeat; it's hammers don't even reach the lowest platform, making the predictable bullet bill shooters the only thing remotely resembling a threat. And according to my count, you have to hit it 11 times, which is way too much for a battle this uninteresting.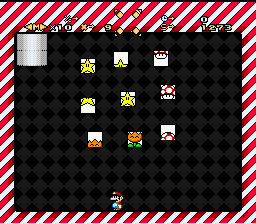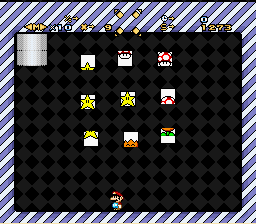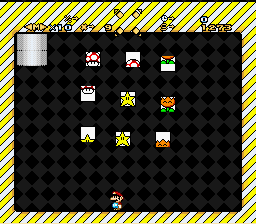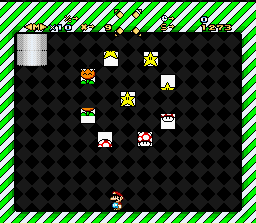 The rapid flashing of various colours in the bonus game is more than a little obnoxious.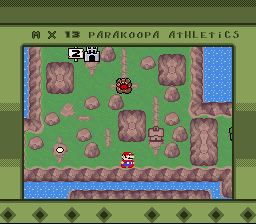 How come the ghost house doesn't get a proper outline, as opposed to all the other level tiles?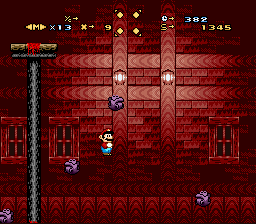 This is why making an invisible ? block just by blanking out its graphics in the Map16 editor doesn't really work.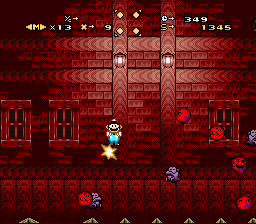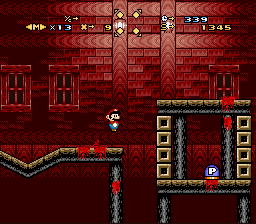 Sprite memory issues related to those Boo circles making sprites disappear.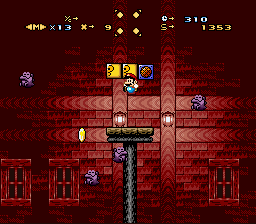 ...apparently this ? block just doesn't work?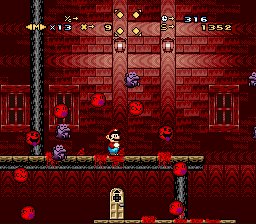 The random Eerie generator really doesn't go all that well with this kind of Boo ring setup.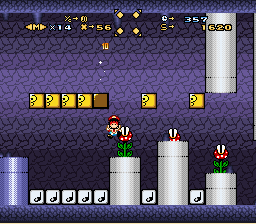 The fact that those are the multidirectional kind of note blocks makes this part way more annoying than it ought to be. Also the music is making faint beeping noises again.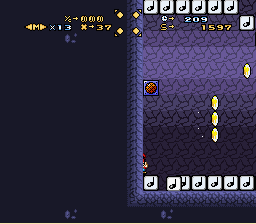 Placing note blocks next to a wall like this can easily result in the death of small Mario.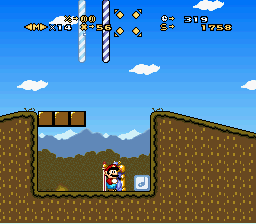 Bad palette for the note block.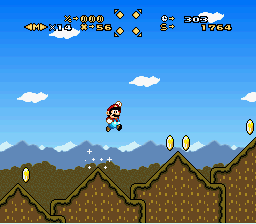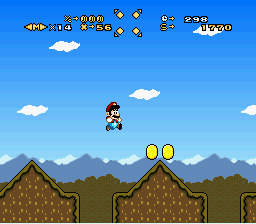 A few screens of uninteresting copypasta.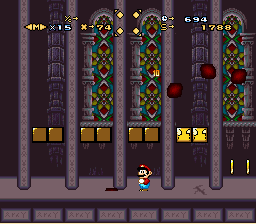 Another thing that the Eerie generator doesn't go that well with: this kind of fake-3D effect. And speaking of which: what exactly are those Eeries and Boos supposed to be? They don't look like anything in particular other than strange red blobs.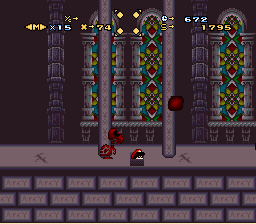 ...so the odd square on the floor was a hole. That could have been more clear. Also the layer priority is kind of odd.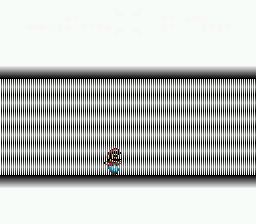 Running in one direction for X screens without the slightest threat in sight really isn't all that interesting.
Another discoloured note block; not sure how you managed to mess it up, given how this room has no colours other than black and white.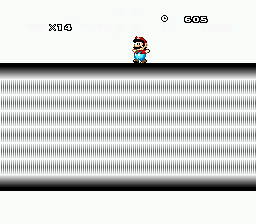 And again with the mindless running in a single direction.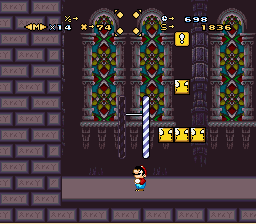 The midpoint being discoloured is a bit more understandable, but you still need to fix it.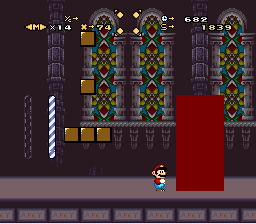 The door being a giant featureless rectangle kind of clashes with the detailed-ness of the rest of the tileset.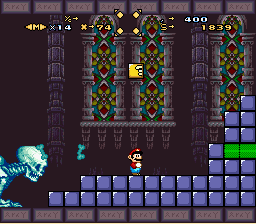 Once you enter the boss room, you have less than a second to react before getting hit in the head with a bone. And speaking of the bones, their animation is kind of messed up.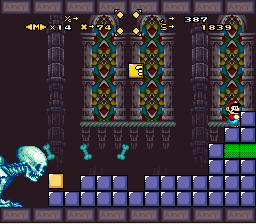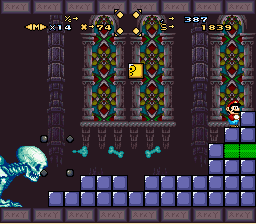 Given how you hurt the boss by throwing blocks at its head, it seems kind of unintuitive that its chin is immune to attacks.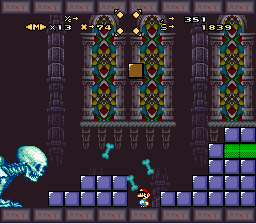 And this is another boss that ends up completely trivial, since none of its attacks can hit the bottom row of the screen. It also takes way too many hits to go down.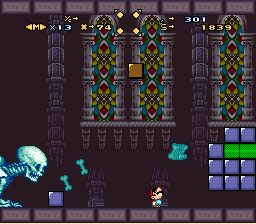 Also it starts throwing these weird and kind of pointless bone clusters when it gets low on health. Is that intentional? (also compare the number of throw blocks in this screenshot with the first one, and note that the thing still isn't dead=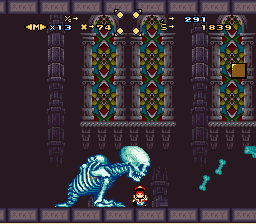 And to add to the above, its hitbox also extends quite a bit beyond its graphics,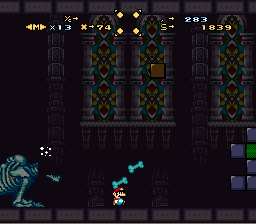 it leaves cutoffness behind when it dies,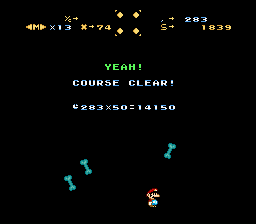 and it keeps firing bones even after you kill it. All in all, you should probably replace this boss entirely.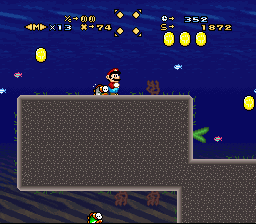 Boos and a foreground with layer priority is a combination that can easily lead to unfair hits.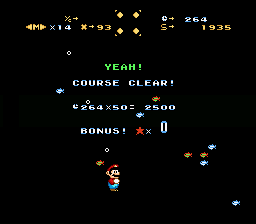 And layer 3 fish shouldn't be placed in the same sublevel as a goal tape.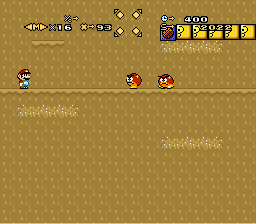 This level is filled to the brim with cutoff ledges, like the one above Mario. Also the camera position is a bit low.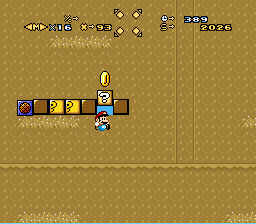 Hitting ? blocks show holes in the foreground. Since you aren't even using a background in this level, you should probably just move the dirt to layer 2.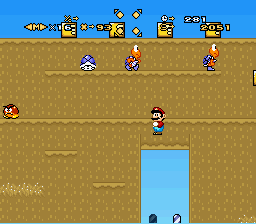 It's amazing how much sense the solidity of this tile doesn't make.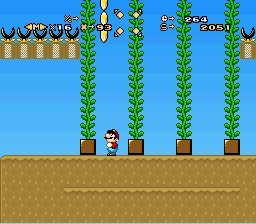 Those blocks with the munchers on them really don't look all that good.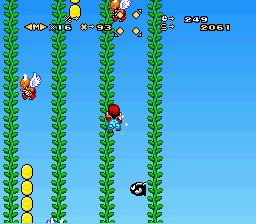 This rather uninteresting part goes on for quite a bit without any real change. Also you can easily get infinite lives from the Parakoopas.
...why does beating this level trigger the Bowser earthquake?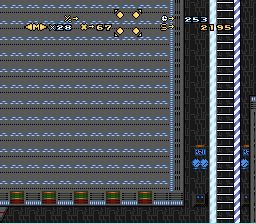 You can skip a large part of this level by running above the ceiling. Also midpoint ladder what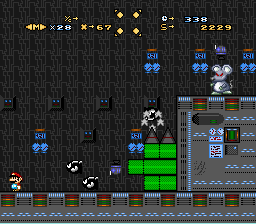 This incarnation of Mouser took me forever to beat even with massive tool abuse, since a) you can't really get close to him, b) he keeps blocking your bombs with the ones he throws, and c) you need to throw your bombs in the same jump as you catch them due to the explosion timer not resetting when you kick them.. I refuse to believe that you ever tested this battle properly, i.e. without emulator tools.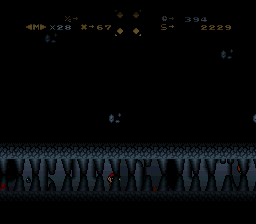 These Swoopers are completely pointless; it is physically impossible to ever get hit by them.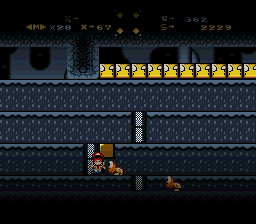 Trying to hit this block as big Mario is likely to result in death by getting crushed inside the wall.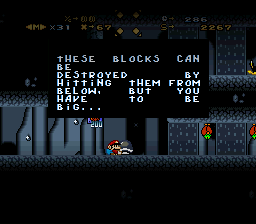 Except for the fact that you can also hit them with a shell: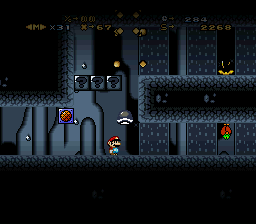 Like so.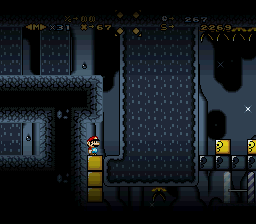 If you get hit by the muncher in the narrow passage before this point, you become unable to proceed and have to commit suicide.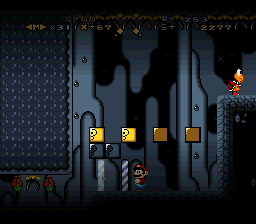 More pointless Swoopers.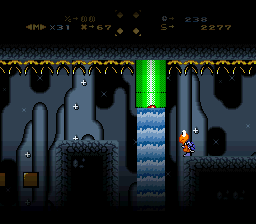 Some generic layer priority weirdness.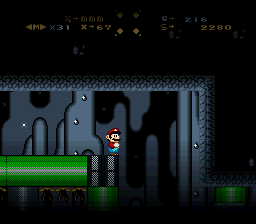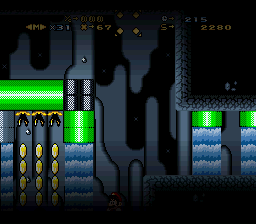 whee blind falls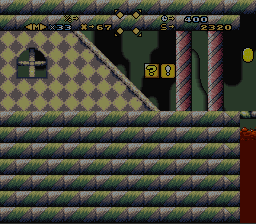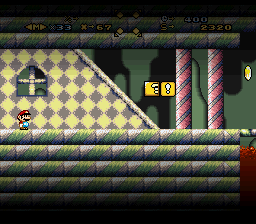 Yet another thing that appears in quite a few levels (not going to bother posting pictures of the other ones, though, since this removal log is already going to be long enough as it is; I trust that you'll be able to find them on your own): gradients not showing up until the level has finished loading. This can be easily fixed by putting your HDMA code in both levelinitcode.asm and levelcode.asm.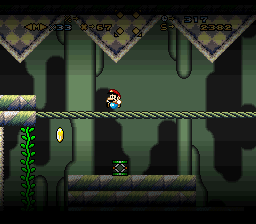 It's not intuitive at all that these ropes act like climbing nets rather than the usual platforms.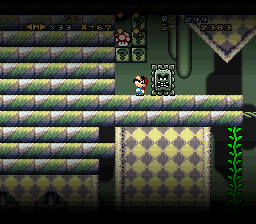 Given how the item box is disabled in this hack, there's no point to this mushroom at all, since you can only get to it if you're already big.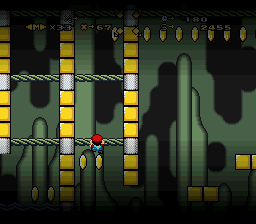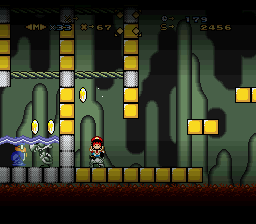 More blind falls into enemies.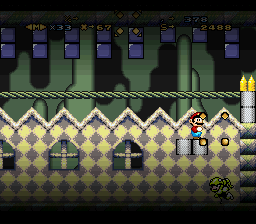 And yet another completely trivial boss: his only attack can't reach the platform I'm standing on. To go with the running theme, he also takes way too many hits. PROTIP: Giving a boss more health doesn't make it more interesting; giving it more attack patterns does.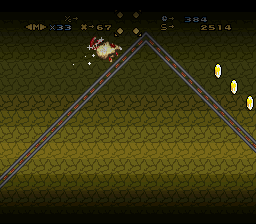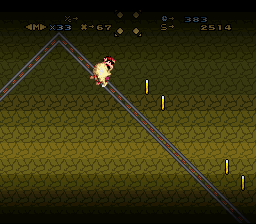 It appears that the hitbox of the skull cart sprite is quite a bit misaligned.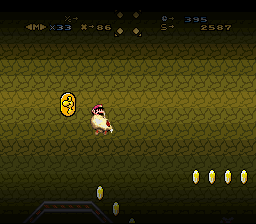 I'm fairly certain that it isn't physically possible to collect this dragon coin...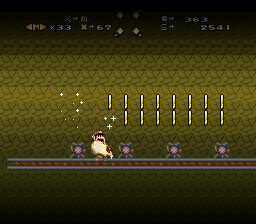 ...or to get through this part without getting hit.
Would you believe that in this screenshot Mario is going through his dying animation due to colliding with the spikes in front of him? Yeah, you really need to fix that hitbox.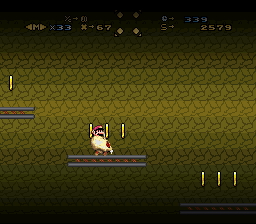 More hitbox issues, although this time of a slightly less lethal variety.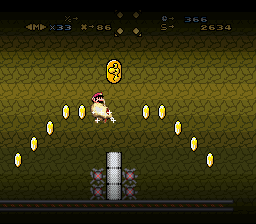 Another impossible-to-get dragon coin.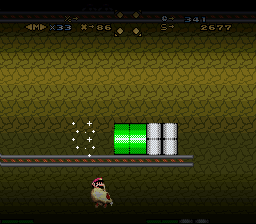 ...the exit pipe kills you unless you are holding forward to go through it? Seriously?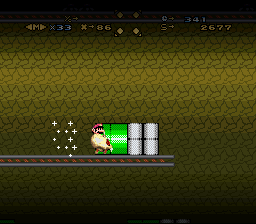 It would appear that the skull cart isn't compatible with pipes period; I'd suggest using teleport blocks instead.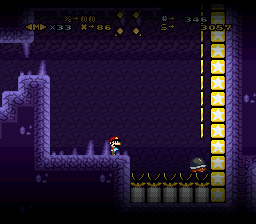 It'd be nice if there was some sort of indication that these were walljump blocks.
The layer priority ambushes strike again.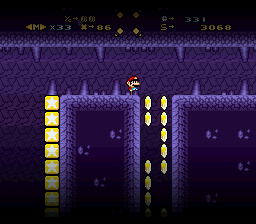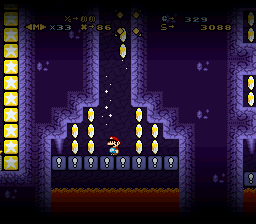 If you haven't pressed the blue switch, this innocuous-looking coin pits leads to a fiery death.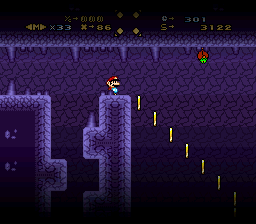 Firstly, this coin trail is placed in a way that makes it physically impossible for Mario to follow it entirely.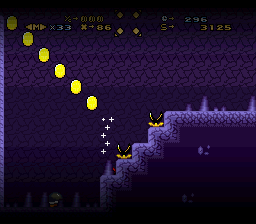 Secondly, if you try to extrapolate it to land where it ends, you end up right in a muncher. Not very nice.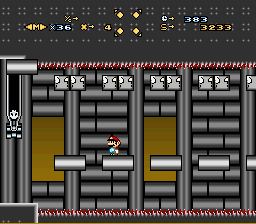 The background here is rather distracting, due to its black outlines and using almost the same colours as the foreground.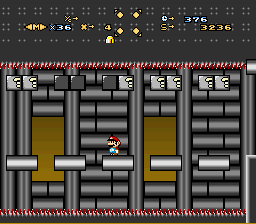 The layer priority on those odd-looking spikes cause issues with the sprite coins from the ? blocks.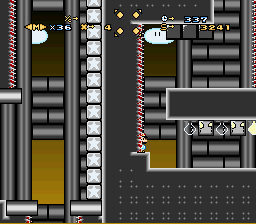 standing inside spikes is fun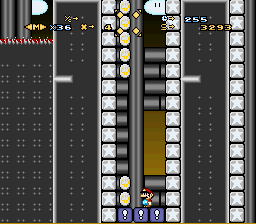 Seems like you forgot to disable the palette animation for these coins: the markings on them glow yellow, when it's obvious that you wanted them to be entirely gray.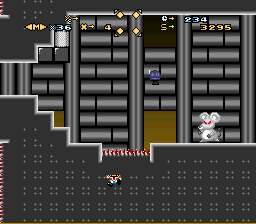 Layer priority issues again.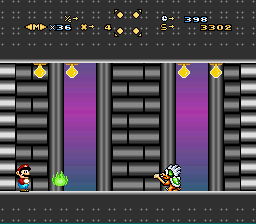 Yet another boss that really isn't all that good. The flames are fired way too fast, giving you almost no reaction time (and sometimes passing through you entirely due to their speed), Lemmy's animations consist of a whopping two frames, he doesn't even turn around when he fires behind him, and he gets hurt by stunned Goombas just lying around. Oh, and the flames can also be killed by the Goombas, but they still affect you even during their death animation.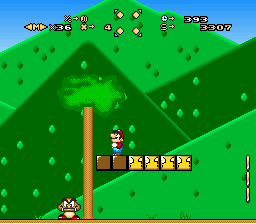 No offence, but those trees look suspiciously like you drew them in ten seconds in MS Paint.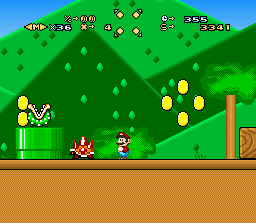 The graphics for the giant Spiny aren't all that great either; given how the rest of the giant enemies have their own graphics, having the Spiny just use a magnified version of the normal Spiny graphics feels kind of lazy.
Also the pipe looks odd without a proper outline.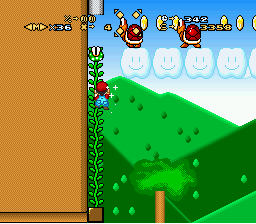 As do these clouds.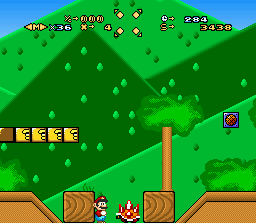 What's up with this weird non-pit?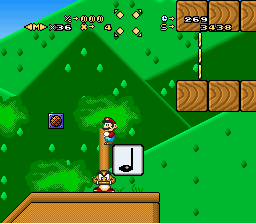 Seems like these custom blocks are missing their corner offsets; I can stand on their corners without getting bounced off.
And while I'm on the topic: the giant note block's behaviour of "left side bounces you left, right side bounces you right" is really weird, not to mention extremely annoying.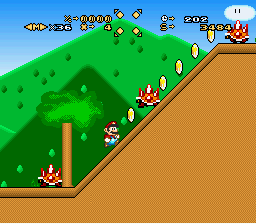 The giant Spinies appear to not like slopes very much; they treat them as staircases.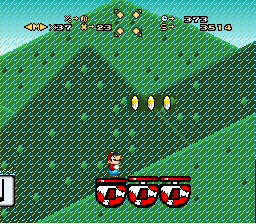 Those holes around the coins really don't look all that good.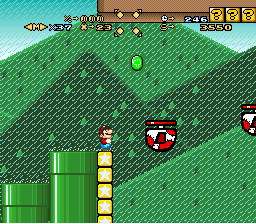 ...what's wrong with the normal midway point that you're using in the entire rest of the hack?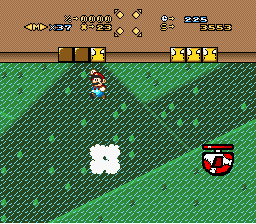 Why do you have those coin blocks there? All they do is serve as cruel traps, since if you jump to get them the platforms explode and you won't be able to proceed.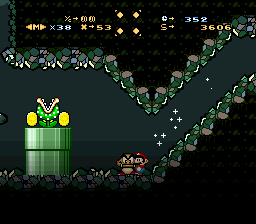 ...so you can kill the normal Goombas by sliding into them, but not the giant versions? That's not intuitive at all.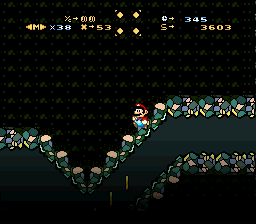 Seems like your upside down slopes aren't really working as they should.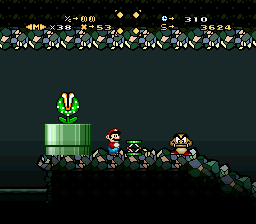 Some rather ugly-looking cutoffness between the ground and the pipe.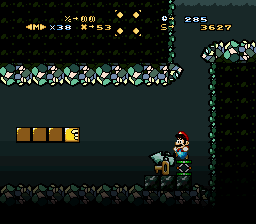 Getting the secret exit of this level features a whole bunch of annoying running back and forth, mostly because you need to transport both the key and the springboard through a sizeable part of the level.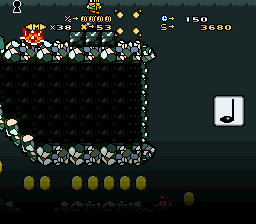 This blind drop to a completely unmarked passage is the only way to continue through the level. Not exactly fair.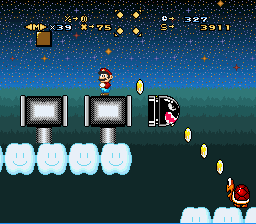 I have to say that those cannons really don't look all that good. Also cutoffness.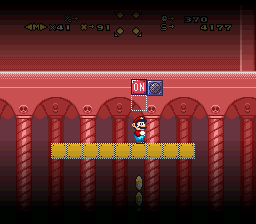 And the filled-in blocks still having the dotted outlines looks rather ugly as well. Also, those blocks are missing their corner offsets, which is always annoying and tends to lead to unfair deaths through "sliding off" the corners.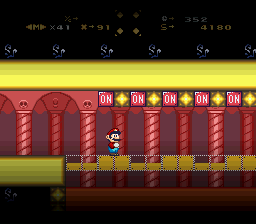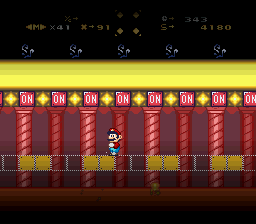 Copypasting the same part over and over does not making it more interesting.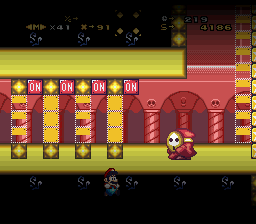 And this part is just completely pointless (not to mention that placing switches this close to the switch blocks can glitch Mario through the ground, as demonstrated)...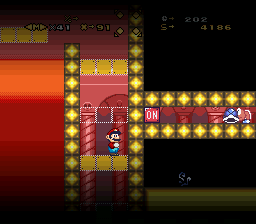 ...as is this one.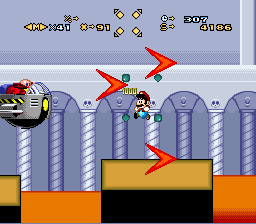 And (surprise!) yet another boss that takes way too many hits to go down, and repeats exactly one attack pattern through the entire fight. Also, any particular reason to place the throw blocks two screens away from the boss itself, other than to annoy the player?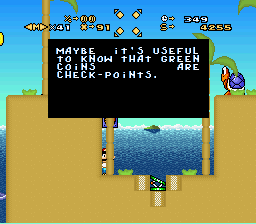 Again, what's wrong with the normal midpoints? Switching objects for a couple of worlds in the middle of the hacks is just weird.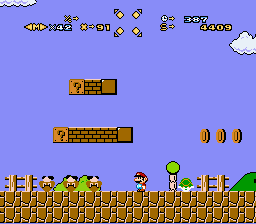 Things that can make this SMB throwback level seem more genuine:
- Use stompable Goombas instead of SMW ones
- Use a Koopa sprite that doesn't display the eye tiles while stunned
- Use the SMB used block graphics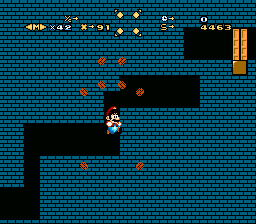 - Have the broken brick fragments in the underground part blue instead of orange
(also, this part seems kind of pointless)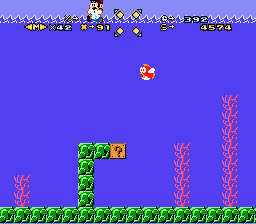 - Put the invisible roof just above the water, instead of leaving a tile in between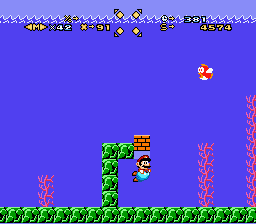 - Use the proper bounce sprite for the ? block
- Make the background dark blue behind the water, to avoid cutoff holes like in the screenshot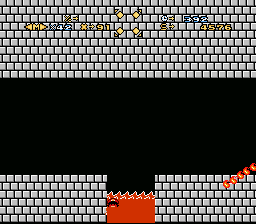 - Have the lava act like a blank tile, and disable its layer priority (which will also have the advantage of getting rid of this kind of oddities)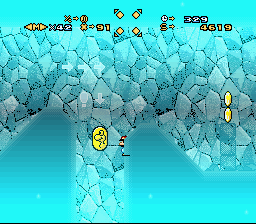 Messed up interaction for this slope connector tile. Also, I'm not entirely sure about how you're supposed to get this dragon coin without dying.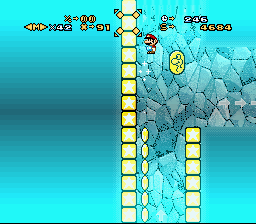 Can you see the spikes I just got hit by? Because I certainly can't.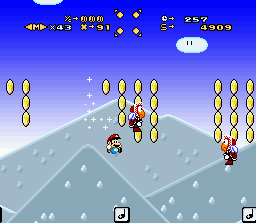 Copypasta makes its triumphant return.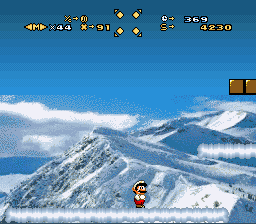 Compared to all the other graphics in your hack, this background looks incredibly out of place.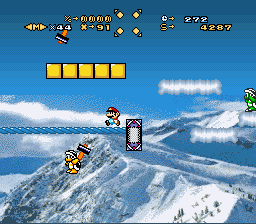 That Hammer Bro just committed suicide.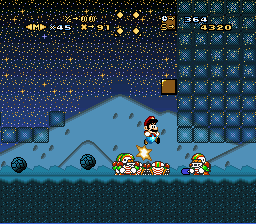 Quite a bit of slowdown here due to all the Chucks. Also the squares without stars around the background hills look rather ugly.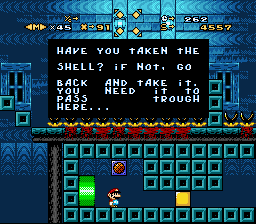 ...and why exactly is this necessary? The shell was right next to the P-Switch I needed to get in here in the first place, so all this adds is me having to go get it again and getting annoyed.
Yet another Dragon Coin I don't have the slightest idea how you're supposed to get.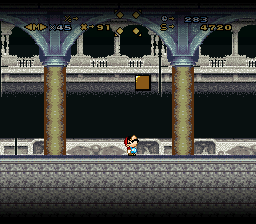 I found this by complete accident by randomly jumping around, and didn't realize the actual solution until you posted it in your hack thread. Turns out the 23 I was supposed to find is hidden just above the screen, meaning that I need to jump to be able to see it, and even then it would be hidden by both the status bar and the HDMA effect. Question:
what in the world made you think this was a good idea for hiding a secret?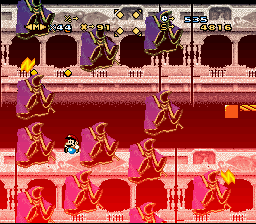 This "boss" was more annoying than anything. There's no visual indication as to which one of these things you're supposed to hit, and the only danger is a bullet bill generator. And as seems to be par for the course, it takes a ton of punishment before finally dying.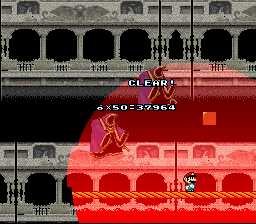 The HDMA seems to be interfering with the end-of-level iris-in, causing annoying flickering.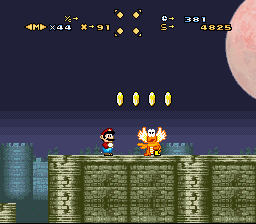 The pacing in this level is all sorts of terrible. Case in point: this level's main gimmick is the elite Koopas from SMW YEAH, and the yellow Parakoopa, the most threatening of the entire set, is the very second enemy you see in the level. It's like you expect the players to be familiar with these sprites from earlier, but this is the first times they are ever seen in the hack.
Also just about every single sound effect is broken in this level, due to the sample bank seemingly replacing just about all of the original samples with completely different ones.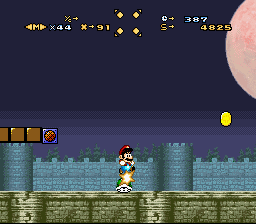 And since the elite Koopas are set to use custom sound effects which aren't inserted, you just get glitchy noises or no sound at all when you stomp them.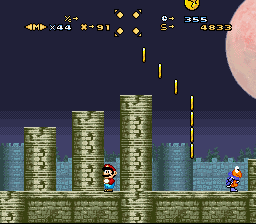 Fall down here, and you have to wait for the timer to run out. What fun.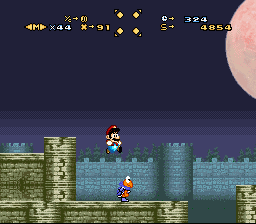 Hiding secret exits down unmarked pits is absolutely
terrible
level design and you should be ashamed of yourself for doing it.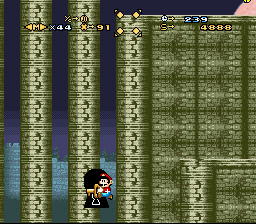 And if you fall down there after the P-Switch from earlier in the level has run out, you have to wait out the timer again.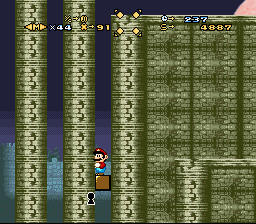 This guy, while technically impressive, is an extremely boring boss battle. Seriously, you can defeat him while standing in a corner and pressing the jump button whenever he's getting close to you. Also guess what: he has way too much health.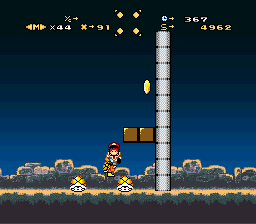 While the difficulty of this level was fine up to this point (since you could just run under all the flying Elites), trying to create a staircase out of invisible coin blocks while being assaulted by three yellow Elites at once is nothing short of ridiculous.
And again, just about all sound effects are broken in this level due to the sample bank.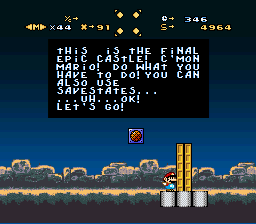 You are aware of rule 9 of the hack submission guidelines, right? You know, the one that says "keep your hack's difficulty at a fair level"?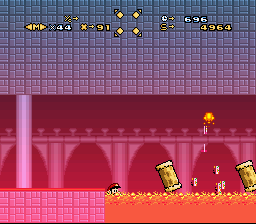 Dynamic sprites use the second half of SP4 for their graphics, and as such are not compatible with Podoboos. Did you never test this, or what?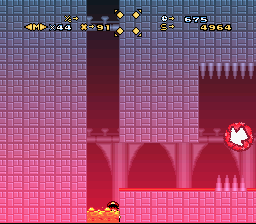 The blind falls into death return.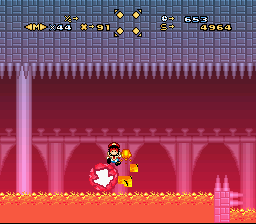 Arrow lifts, Podoboos and a spike ceiling make this section incredibly annoying to get through. Also more glitched graphics.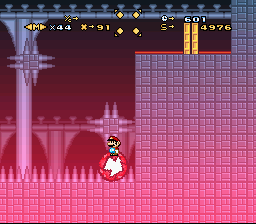 Here come the walkthrough spikes again.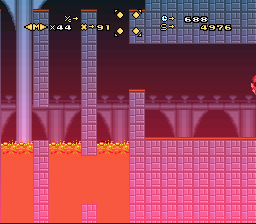 And another blind fall for good measure.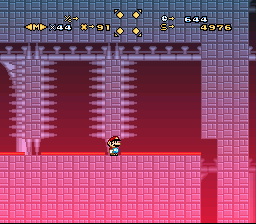 ...okay, this just doesn't make any sense at all.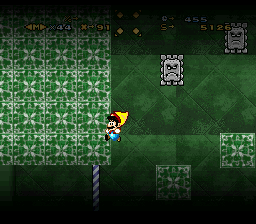 The fact that the graphics of these ledges extend a couple of pixels beyond their hitbox makes it incredibly easy to slip off them, which gets really frustrating really fast.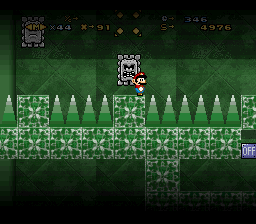 Getting past this Thwomp without getting hurt is pretty much physically impossible. And did I mention that if you get hurt once, you need to restart the entire room from the beginning?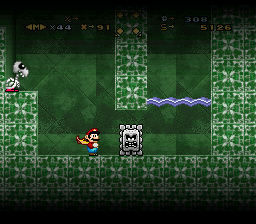 This one's pretty damn hard to get by as well.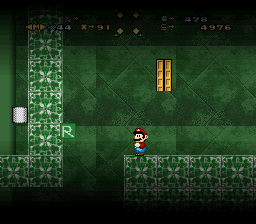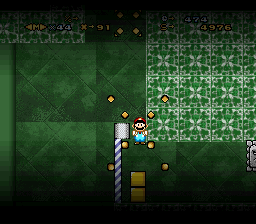 Falling down here is the only way to continue the level. Not entirely obvious in any sense of the word.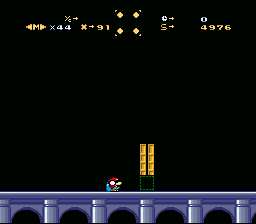 ...I'm seriously going to have to through all that a second time for another exit?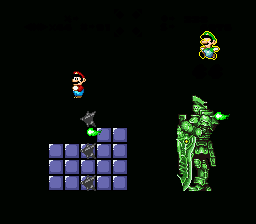 And here we have yet another boss battle that takes a ton of hits and has exactly one attack. *yawn*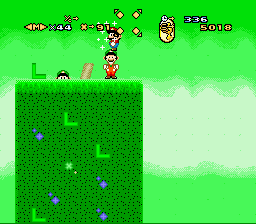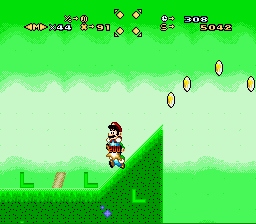 I know that they are just reskins of other enemies, but it's still odd how some Luigis are stompable and some aren't.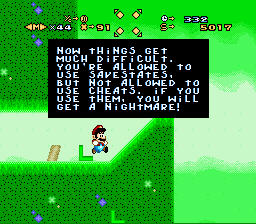 Again, rule 9. And if you have to tell the players not to use emulator cheats, chances are you're doing something very wrong.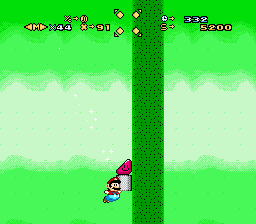 ...like this. This part is at least seven colours worth of obnoxious, and the coin trails that tell you to just run off the top of the cliffs (spoiler: if you do this, you die) don't help matters either.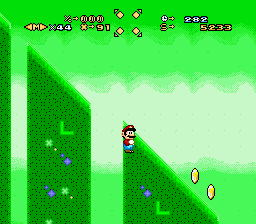 I don't think that this tile should be solid. This thing seems be rather common in the Luigi world, so make sure to check all your slope tiles in those levels.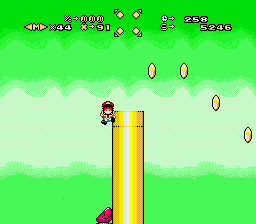 Fun fact: running up a pipe that has a Piranha Plant inside sometimes kills you. Again, didn't you test these levels?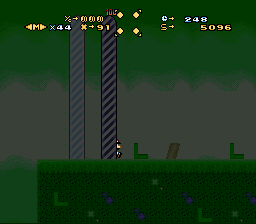 While the sound effects appear to be fine, the goal music in this level is incredibly glitchy-sounding, again due to samples.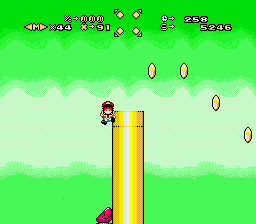 ...why is the mushroom replaced by a weird bottle thingy in these levels?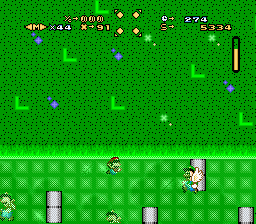 More layer priority messups.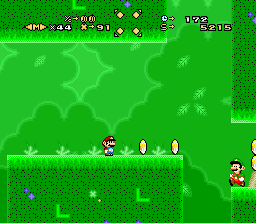 Firstly, it is not obvious at all that these crystals kill you. Secondly, this is an example of really annoying precision jumping.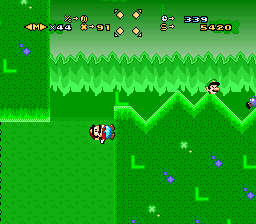 Now this is one really mean trap. You can't really drop down due to the lack of safe land below, and if you keep running, you have a fraction of a second to jump at the top before the kicked head hits you.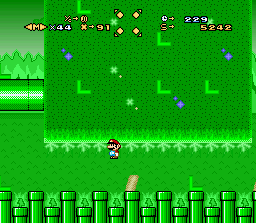 More obnoxious precision jumping, this time with a harmful ceiling!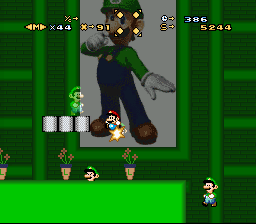 Elite Koopas without colours to distinguish them = argh. Also, the fact that some of them are transparent and some aren't looks kind of strange, given how they are using the same graphics; why are you using transparency here in the first place?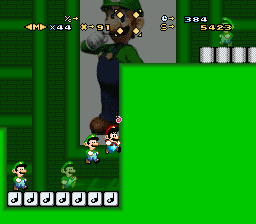 That's one messed-up fireball palette.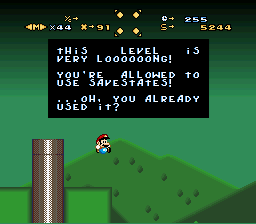 Or you could just add a few extra midpoints; we do have patches for that, you know. Beating a hard level legitimately is much more rewarding than savestate-spamming your way through it.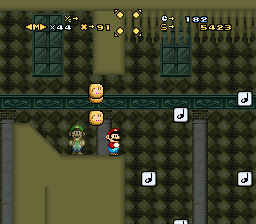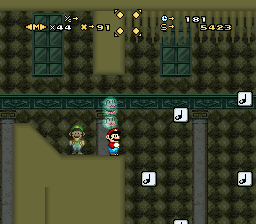 The Boo palette changes abruptly between frames. Also a suggestion: why not replace the Boos with Luigi heads?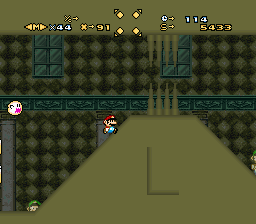 The spike hitbox thing is weird normally, but it's even stranger with these big spikes: the top tile is passthrough, while the base tile hurts you.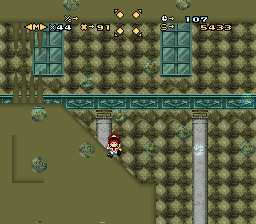 A piranha plant turned invisible due to sprite memory issues.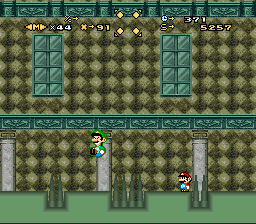 This guy again? Since the easy strategy from the last time still works, this battle is just as boring as last time.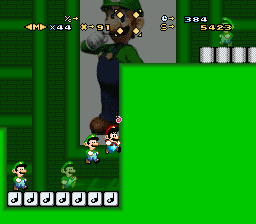 And finally, the switch palace doesn't collapse properly.
---
tl;dr:
- get beta testers
- get proofreaders
- cut shop prices
- replace all of the bosses with ones that are actually fun to fight
EDIT: yay writing posts so long that they break the site scheme! Also this removal log took almost three hours to write D:
--------------------
My YouTube channel
Get the official ASMT resource pack
here
!