Post a Photo of Yourself Here! (name128512 is a smartass)

When I actually find/make a good photo of me, I'll put it here.
No more fucking offtopic posts. The whole "TEE HEE LET'S POST A RANDOM PICTURE" joke was overused back when Internet was first released. RL photos or gtfo.

Thank you.
Naw, actually thread about peoples photos usually are rather successful.

I don't have a recent picture. I look like I'm 15 in the most recent one I have.

This is a thing that's happening, now. Achievements in old video games.
Thank you for the layout, Erik557.
Man, I wish this would've worked. Oh well.
If not for respect, but dramatic effect, take on the face of Guy Fawkes.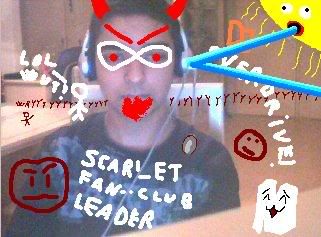 Meh, I thought this would be funny to post as an addition to my other post >.>
Flandre, you rock at making people laugh. <_<
---
My blog
. I could post stuff now and then
My
Assembly for the SNES
tutorial (it's actually finished now!)
I guess the typical stereotyping of nerds via their looks is more accurate that I thought...
Lukas should shave his moustache.
Originally posted by KPhoenix


lulz, you can see the menu from smwc on the computer

Anyway, I dont have a digital camera to take a picture with D:

---
Footer
A mean photo:
---
David B.'s site:
http://www.nintenlord.com
Join our forums:
http://www.nintenlord.com/forum
Hacks in process:
Super Mario 64 DS: Other ways to mix Test Map with another map and enemy swapping.
Mario Kart DS: Making own textures.
And for fuck sake, I am not gay.
Moderators/Administrators make fun of me.
Me and my girlfriend.
---
I play different games on Twitch, currently I speedrun Pokemon Gold or play some other shit, can also include SMW hacks. Check out
my twitch!
Exits done: 45, Overworld: 85%
Play through Taomb Demo 3
Taomb is alive again. For how long I don't know. But it's "only" four more levels to go.