Great!

I'll get to playing this at once!
EDIT:
The new save points only work on a new game, right? Cause the first level on my old save was actually so hard that I just went Game Over on it two or three times. I liked the level, but unfortunately I couldn't save afterwards (not even after the next level). Guess I'll just start a new game. It's fun enough, anyways and the fact that I died so many times (to me) just confirms that it was really worth adding more save points!

EDIT:
Wait a minute... are you sure you even uploaded the correct version? 0_o
Cause I'm already nearly up to my old save and although I deleted the old SRM I didn't get any new save points yet (I'm currently in Bramble Barrels). Plus the grammar mistakes are still there: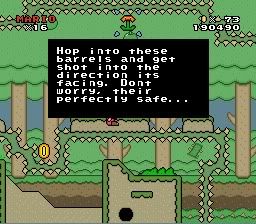 Dont -> Don't
their -> they are
EDIT:
OK, I just got my first new save point, so it does seem to be the new version. But yeah, the grammar mistakes are still there. Fix them! ;)
EDIT:
In the level "Mine Cave Menace" I can get to the castle even if I only got the secret exit (although the actual path is invisible). Also I recommend moving the save point of that level to "Bramble Barrels" instead. It's the harder one of both levels + it's weird having a save point right before the castle.
--------------------
Feel free to visit my website/blog - it's updated rarely, but it looks pretty cool!