EDIT: PLEASE REDOWNLOAD! THE ELEVATOR IS NOT ALL THERE IS IN THE DEMO! I have fixed the entrance for the very first pipe, so now you can see the rest of what I made!
So! For the past six days, I've been working hard to bring you a short proof-of-concept of sorts for an idea I had:
Extra Mario Bros. in SMW with more features.
And so I give you:
EXTRA MARIO WORLD
(or Maritroid)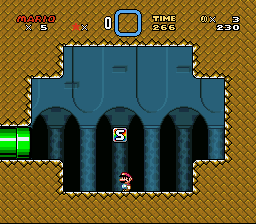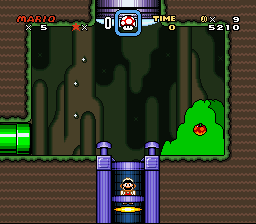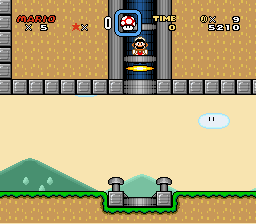 (<-- Mario's going DOWN here, not up!)
So far, Extra Mario World
(or Maritroid)
has only one powerup, Technical Fire. I was hoping I'd have enough time to get at least up to Super Fire, so people could play around with it as their end-of-demo gift, but I just didn't have the time. Making that elevator work took a lot of time out of me. But, it's finished. (Well, sorta; it glitches out when going back up after taking it down. But I'll fix that post-C3!) And hey, at least you got one powerup, right?

Also, the Save Rooms don't work; I focused all my time on the elevator and general design of the rooms. lol. Also, the demo isn't that long, hence why I call it more a proof-of-concept; it really should only take you a few minutes to get to the elevator, which is where it ends. Oh, and as for that Star Block? I don't think I have time to do what I want to do with it, which is the same as Extra Mario Bros.: you hit it and out comes your special powerup.
Now, what are my plans for the future of this? First off, we take four out of the five powerups from Extra Mario Bros. and add them here: Technical Fire, Super Fire, Ultra Fire, and Space Jump (actually a double jump). We'll also throw in some new powerups:
-Magic Spring, which would basically act like the super jump abilities from recent Castlevania games by spawning a floating springboard beneath you, but only once before you have to land.
-The TRUE Space Jump.
-Perhaps more?? (SPOILER: read the messages from the OW editor for some ideas I have)
Second, the Keys may or may not return. They'll probably mostly be rewards for beating bosses if I choose to add them. Yes! You read that right! BOSSES! There'll be one boss per Area, each will need to be defeated to reach the final area. (SPOILER: The final boss is Wart.
not really
) There may also be minibosses thrown about here and there...
Lastly, I'd like to make this hack feel Metroid-like. If people TAS it and/or break whatever sequence I put in, and people greatly enjoy it because of this, I will be happier than you could imagine!
Download from the link above!
To close up my thread, I leave this message for System and her supporters:
I DEFECT, SUCKERS! I'VE BEEN GIVING CHESTER AND HIS ARMY INFORMATION FROM THE VERY BEGINNING! HAHAHA!
--------------------
<Adam> I feel like smwc is a prostitute now, because we put up a porn ad for money