@ShadowPhoenix and Archie
Sorry, forgot to reply to you guys. Thanks a lot, I have made the clouds palette is slightly more orange.
@FlippyFlop17
Welcome to SWMC and thanks for the comment.
Ice stuff! I have made 2 ice levels the last week, both with the same tileset.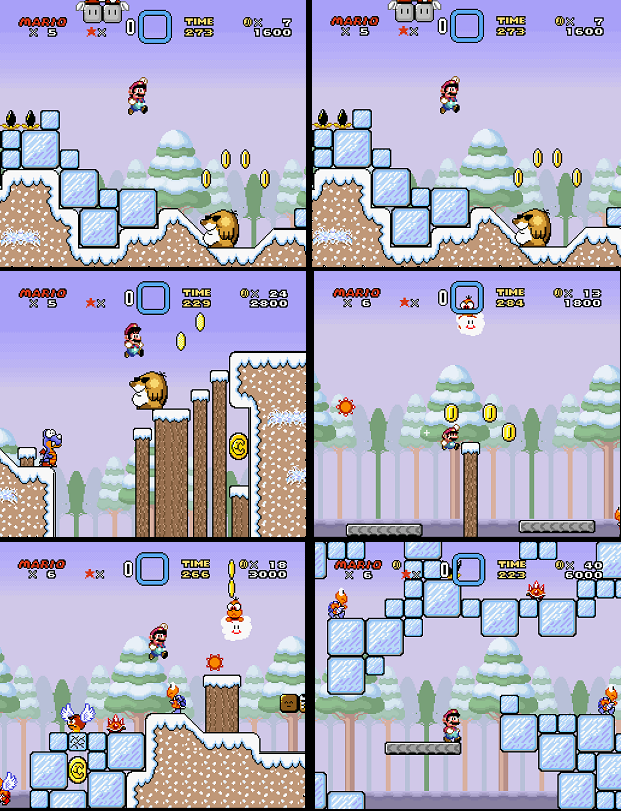 I like how the ice world levels turn out! Keep up!

Maybe you wont spoil but what is the last world theme?
Been awhile since I've commented here. (Mainly been inactive.) This hack is really turning out to be amazing overall. In the recent levels, I really like the mixture of tiles and the variety of sprites being used. It really helps add to the great level design in my opinion.
Usually I don't like ice levels for the main fact that I don't like Ice Worlds but I must say, the recent one shown (And the over all world.) is looking pretty neat so far.
--------------------
My Youtube Channel for Hacking and Gaming.
Oh, my god! The level ice-theme looks amazing!

--------------------
Amazing layout by JackTheSpades

@EvilGuy0613 and Brazilian Comic
Really appreciate these comments guys. I'm kinda lacking motivation to continue on, so it's been a hard time finishing a level. This always cheers me up (:
@xImseiken3
If I don't want to spoil a really big part of the story, I would love to tell you, but I sort of want to keep this secret until you play this.
__
Well then! Here I am with the last level of the Ice world, the ice castle. The first 2 screenshots refer to the first part, guess what happened when you enter the room with the frozen enemies for the second time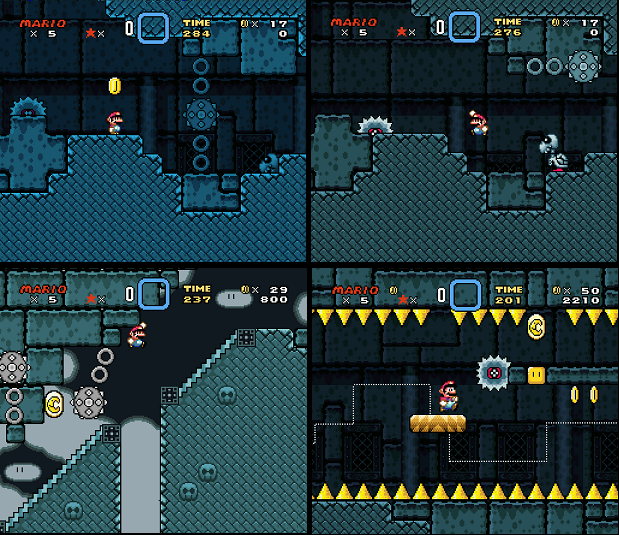 Nice to see you're working on this again!

Also, I'll suggest you to change the level mode to 1E, it will make a better look for ice in your level, but yeah, good to see more updates here, and I'm looking foward for more! :3
The ice castle looks amazing! Keep continue!

--------------------

Amazing layout by JackTheSpades

@ShadowPhoenix
While I do agree in most cases level mode 1E looks better, this castle is better without it, thanks for the suggestion and feedback anyway :>
@Brazilian Comic
Thanks!
__
Loyal Followers of this hack may have noticed the amount of levels dropped (again), this is partly because I think one big final special world level is beter than 3 smaller ones and partly because I feel this hack is slowing down so much it would take many, many extra time while I want to finally release this hack

I just finished the first level of the sky world. Screens!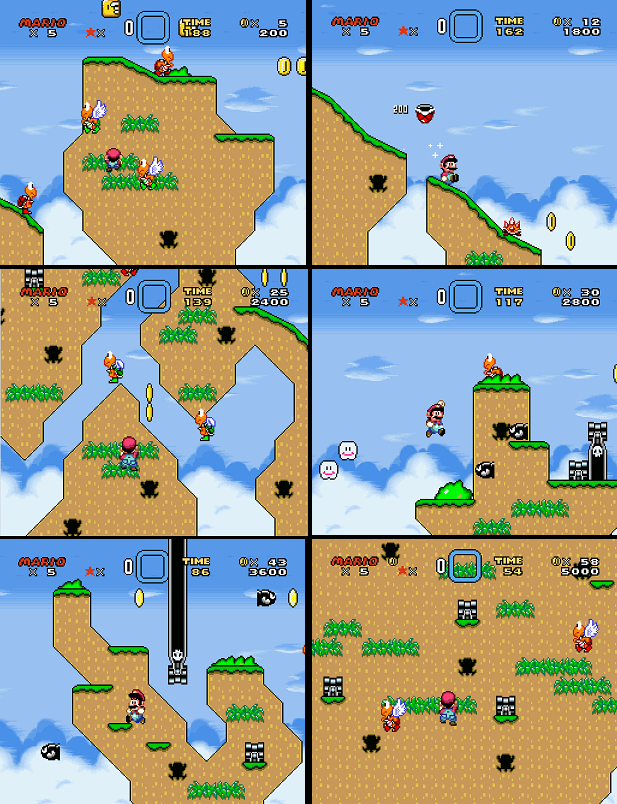 Remember that vertical level from world 1?? Probably not, but there you could grab and climb vines (like zelda) and I decided to use it again. (Don't worry, there will be a message box)
The sky BG and grass looks amazing! You are a designer levels! Keep it!

--------------------

Amazing layout by JackTheSpades

The sky level looks pretty amazing from it's graphics.

The leveldesign looks kinda uninspired from these screens though, I hope the level won't be about bullet bill + flying koopa spam and small climbing vines. But I know that you are very good at leveldesign so I don't think this will be the case ;)
@Mrdeppelman
I get your point, I think the level comes more out if I show a video of it. Here's the first half of the level.
Them video

@Brazilian Comic
Thanks a lot as always!
Yup, it's actually quite good! Still not your best work though

It's amazing!

I've never see another use of the grass decoration as a horizontal vine, the level also looks very good designed, as always you do in your hack, I'll only suggest you to try doing another palette for the foreground, nothing wrong with the original, but probably another will do a better look in your level.

Nice progress.
@MarioBros980
Thanks a lot!
@mrdeppelman
Haha, thanks, but what do you think was my best work yet? I'd like to know so I know what the average person likes the most.
@ShadowPhoenix
Thank you for the kind words. But I think this levels' point was to make a level with the original palette that looks completely different and fresh. I'll probably keep it this way, unless others think so too.
__
Last week was a busy time with school, but I was able to make some sort of bridge level. I'd love to hear your opinions.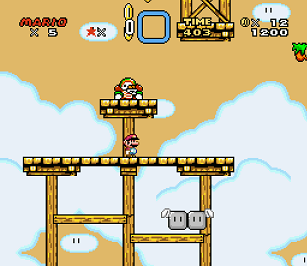 Yea, I just killed a Flying Hammer bro. The BG palette is subject to be changed.
The bridge SMW-styled looks nice!

--------------------
Amazing layout by JackTheSpades

[spoilerYou can take the man's frugo either the file or click on the music and take the Super Mario Bros. 2 - Birdo battle remix]</div></div>
The Senate
C3 2013
Looking very nice,
I just have a complain about the orange as the background color, doesn't fits too well with the clouds
.
Should be the only, the rest looks very good, as always.
PurpleRex is a sux.
@MarioBros980 and ShadowPhoenix
(PurpleRex is a sux?)
Thank you guys very much

___
I finally have enough motivation to hack again. After 2 weeks I can start off fresh, so I had made this Sky Ghost House in just 2 days. See for yourself.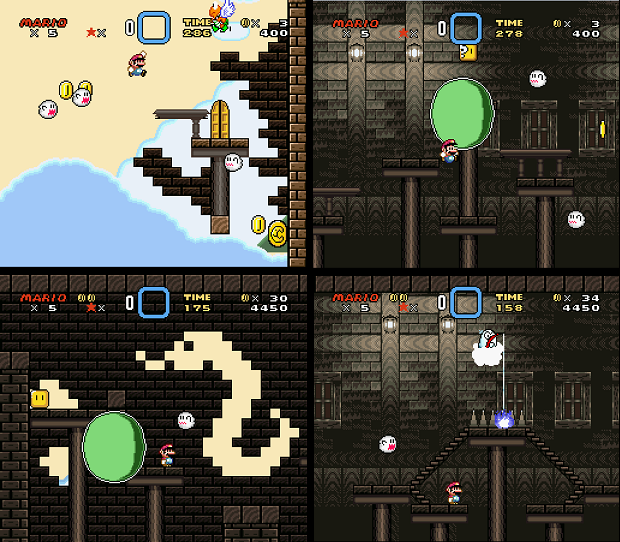 That looks very good, as always, OHN! The palettes are fine, except for the cloud FG, but I understand it must look like that because of the cloud BG. Design looks interesting (reminds me of Vanilla Ghost House). Also, I think the green bubbles would look better if you make them transparent like in the original SMW (if it's possible in this situation, of course). Also, that snake. ;D
Wow! The ghost house looks great, The BG Clouds and clouds tile look really awesome!!!

--------------------
Amazing layout by JackTheSpades

Forum Index - SMW Hacking - Works in Progress - The Senate ~ Released!