It's been... a month. Yay.
This will probably be my last update before the C3. Of course I have to show some new stuff there otherwise it wouldn't make any sense. And yes, I posted this exactly a month after my last progress post and yes, I did that on purpose.
Originally posted by EvilGuy0613
Well normally I would hate somebody for this, but this level is actually looking really nice! (Joking of course but it looks fair either way.) I really like the combination of the cloud in cave tiles. (Actually don't see those two sets used together often at all.)

Looking forward to seeing more!
Originally posted by MarioBros980
Oh, my god!!! The sky and cave looks amazing!
Originally posted by xImseiken3
Oooh those fishes...DAMN! I love the level! LOL! Nice graphics but yeah I hate those fishes tough a level is a level and this is an Idea so even If I hate those....What the hell am I just saying Just forgot.

As always I find your levels cool!

Keep up the hack! Closer and closer!
Thanks guys! It's very nice to hear that. Really glad by the way the hack is almost finished,
because I can't wait to start with my new project.
Originally posted by EvilGuy0613
For a moment though, I thought the FG cloud set was apart of the background. Maybe you can slightly edit the palettes so it's easier to tell though it's not too big of a deal.
Originally posted by ShadowPhoenix
I guess you could change the palette of the clouds (FG) because they aren't fitting well with the background one, this will give a better look for the level too, as for the rest, everything is damn great as always.
I sort of thought that too. I changed the BG palette to make more fitting.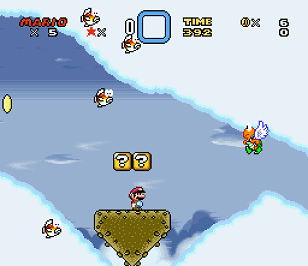 Originally posted by Minuy600
Nice level, OHN. But it seems really hard. Is it possible to complete?
PS: :3
Originally posted by Oh Hell No
Thanks, you're Dutch too? N01ce ;P
The level is challenging, but definitely not impossible. The trick to avoid most of the fishes is to take things slowly, so the fishes will always jump over you.
_____
But, progress!
The Sky Castle, it will probably be called "The Capitol", how original. The reason it took me so long is that I wanted to make sure this level doesn't have any dull aspects in it and it shows my design as good as possible.
There are both inside and outside sections, and it's fairly long, I guess about 4/5 minutes if you do it really fast and do not die.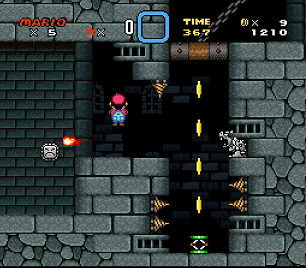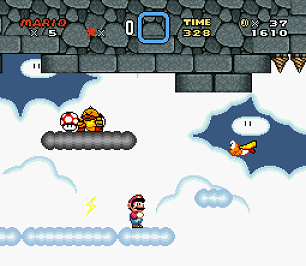 Thanks for reading and I'll see you guys at C3!