@Realmariogamer
Thanks, I'm glad you like the Yoshi Coin reskin.
@Shadowphoenix
I don't think the FG looks bad, but you're right about the clash with the BG (this also counts for EvilGuy0613). I'll look into it.
@Evilguy0613
Thanks a bunch, loyal follower

! I hope you'll enjoy the hack when it's completed.
+-+-+-+ (random border)
It's been a while, as usual. My parents won't let me do computer stuff because I've been ill for a long time. I missed a lot of school tests and I still need to catch up some of them. Also I'll go on holiday next week, so progress will be slow the upcoming two weeks.
Anyway, levels.
Some of you may have seen this level in SS&V thread, the Castle of World 6. Bring in the screens!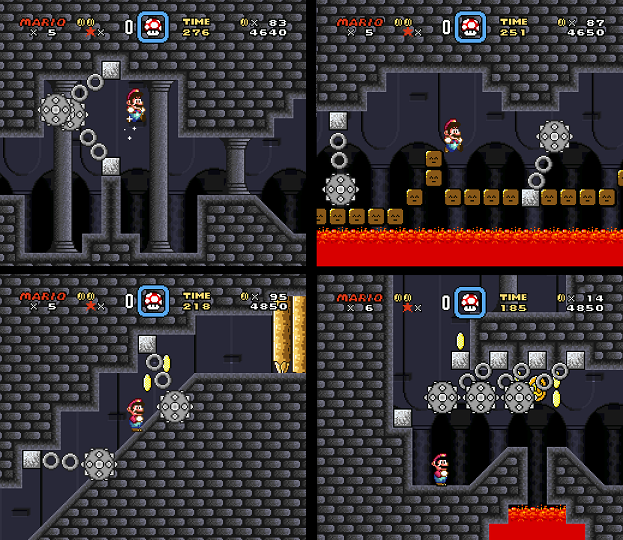 This is the level after the midway point, featuring; mind-cofusing constructions of both pendulum and normal ball and chains, running on a P-switch bridge while dodging more ball and chains and many more. Also Daizo (Not sure if it was him, but I'll look it up) suggested a black outline for the FG, as a solution I removed the black outline from the sprites. Please tell me if it still looks clashy, I'll just draw one in YYCHR.
Ow, and here's the first half of the level on video.
A wild level appeared!
For the last mountain level (which means I only have to insert a boss for the castle and the fortress and it's done), I made a line-guided vertical AND horizontal level (wow!, did you see that, that's amazing, tha... *shot*).
A video preview!
(music is likely to be changed, also the BG palette has slightly been changed, check the SSs)
A screenshot! (yes, its actually just one picture)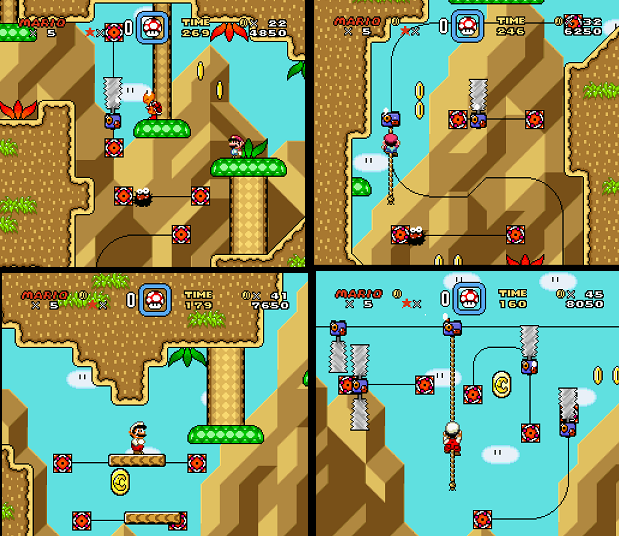 Pretty much a kind of choconilla level, although it's just tileset mixing. You'll find yourself jumping on upside down mushrooms, avoiding fuzzys and more spiky things. And what would a line guided level be without crazy ropes and avoiding chainsaws on lines?
What do you think?