Welcome to my hack thread! This hack is all about Super Mario Bros. 3 - The Secret Place (or SMB3TSP for short).
Contents:
Status:
Slow progress
Working on:
World 5 Castle maybe
Latest work:
Here
If anyone can beta test my hack on any other emulators out there and point out some bugs, I would appreciate it.
I'm making another hack again... Let's see if I can handle this one better...
I would like to call this hack ... SMB3TSP (see thread title).
Screenshots: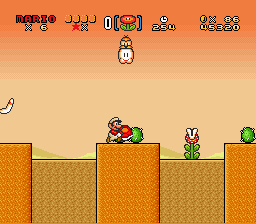 I tested Demo 0.2 on ZSNES, so I don't know if there are any problems on other emulators. Expect a stable version when Demo 0.3 comes out.
Credit to anyone who needs to be credited (because no readme). Well, that's all for now and have a good day testing!
Story:
- Mario fell on a strange island and rumors said that the only way out is to find this "Secret Place", but what is this Secret Place all about? Can Mario make his way on finding it?
World Listing:
(hover over the world themes to see its world name)
- World 1:
Grassland
- World 2:
Desert
- World 3:
Seaside
- World 4:
Rock
/
Forest
- World 5:
Ice
- World 6:
Graveyard
- World 7:
Factory
- World 8:
Lava
(more soon)
(please report here if you find one)
When you're going on a different level when there's a gradient, the gradient will display for a few moments then it will disappear, going to the next level. (Fixed, but still disappears when entering a door)
When you are digging a sand block while there are many enemies, the game might freeze. I do not know the cause but we'll fix it later.
Anyone can have a test. Any questions and suggestions are welcome.
Userbar Codes
Red - &lta href="http://www.smwcentral.net/?p=viewthread&t=58203"&gt&ltimg src="https://hina.k3fka.net/Images/Userbars/smb3tsp_supporter_userbar1.png"/&gt&lt/a&gt

Orange - &lta href="http://www.smwcentral.net/?p=viewthread&t=58203"&gt&ltimg src="https://hina.k3fka.net/Images/Userbars/smb3tsp_supporter_userbar2.png"/&gt&lt/a&gt

Yellow - &lta href="http://www.smwcentral.net/?p=viewthread&t=58203"&gt&ltimg src="https://hina.k3fka.net/Images/Userbars/smb3tsp_supporter_userbar3.png"/&gt&lt/a&gt

Green - &lta href="http://www.smwcentral.net/?p=viewthread&t=58203"&gt&ltimg src="https://hina.k3fka.net/Images/Userbars/smb3tsp_supporter_userbar4.png"/&gt&lt/a&gt

Blue - &lta href="http://www.smwcentral.net/?p=viewthread&t=58203"&gt&ltimg src="https://hina.k3fka.net/Images/Userbars/smb3tsp_supporter_userbar5.png"/&gt&lt/a&gt

Violet - &lta href="http://www.smwcentral.net/?p=viewthread&t=58203"&gt&ltimg src="https://hina.k3fka.net/Images/Userbars/smb3tsp_supporter_userbar6.png"/&gt&lt/a&gt

A very good hack is this one. I just finished world 1 and it's ok.Don't give up.

And how have you make that larry boss?
I'm playing through this as I post and will list whatever bugs I notice as I play through the demo.

1.) The Yoshi Coin in the title screen level has glitched graphics. This could be because you haven't made a new title screen yet. The level itself appears unedited aside from the graphics change.

2.) The music in Level 1-2 breaks in SNES9X 1.53. I don't know what AddMusic you're using, but I recommend HuFlungDu's. The songs you're using will be compatible since they appear to be from MidiGuy's SMAS pack. If you used Romi's AddMusic, just download HFD's AddMusic from the tools section, redownload the SMAS soundtrack from the music section, and reinsert the songs you're using with the new tool. You'll also need to insert HFD's MORE.bin. Just type in "AddMusic.exe YourROMNameHere.smc -se" If you were using any other AddMusic, you'll need to port to a new ROM.

After this point, I will be testing in ZSNES.

3.) When the level fades out after hitting the Goal Star, you can see a blank screen with nothing but the level's HDMA gradient for a second before going to the Overworld.

4.) Sprite placement seemed hit-and-miss. Sometimes, it seems like you just placed random sprites in groups. An example would be having a Goomba, a Porcupo, and a Shy Guy in a line. There was often a large number of different enemy types in a single level. I'd say you should use no more than 5, maybe 6. Sprite "lines" should only consist of several instances of the same sprite, or one "leading" sprite with some followers. The sprite generators that were used in a couple levels felt completely unnecessary and just added fake difficulty. My final tip is to not place a sprite that can't be jumped on on a platform shorter than 3 blocks. Case in point: No Hotfoots on top of pipes when the pipe is the only platform the player can stand on.

5.) End your demo with an "End of Demo" level. This is a single-screen level with Side Exit enabled and a Message Block that says the demo is over. Don't just use an unedited level.

--------------------
Quintesson Judge: Silence, or you will be held in contempt of this court!
Hot Rod: I have nothing but contempt for this court!
- Transformers the Movie (1986)
@xImseiken3: That would be a secret for now... Wait for the right moment or PM.
@Gamma V: Thank you for pointing out some bugs.
1. The Yoshi Coin graphics is glitched because its tilemap is on BG2, in which my level C7 doesn't have the required graphics. I'll edit the title screen when I got an idea (moving or not).
2. Might be mior's. But I'll switch or make a snss9x compatible version for anyone or something.
3. I think I can only encounter this when you're going on a new level (Level 2 -> 27) or something. I'll patch some asm afterwards.
4.
Quote
it seems like you just placed random sprites in groups.
What do you suggest on this one? What part of level?
Quote
No Hotfoots on top of pipes
I'm planning to use SML sprites on that one since it was originally planned before I made the level, but I don't know the names of those enemies.
5. I probably forgot to change that because I was kind of rushing to make a patch. Oh, and thanks for pointing that one.
By the way, here's some world 6 design that came into my mind:
How's it? Oh, and I'd like to hear more feedbacks on my hack as well. Thanks!
That looks awesome man! I would like such SMB3 OW for my hack to!

That is pretty new to me!
That's a very nice-looking graveyard-themed submap, and I'm liking the rest of the screenshots as well. I've always liked seeing SMAS (and YI) graphics in SMW, so I'm really liking what I'm seeing.

I'll see about giving the demo a shot soon, but either way, I'll keep an eye out for this hack. :)
Layout by Mirann <3

I'm probably retired tbh

Thanks for the comments, I'm sure I can keep this up.
Minor Updates:
Mainly graphical updates and some sprite replacements (welcome, SML sprites!!)
World 3-1. What would you like to see?
Suggestions? Comments?
Well, what I would like to see in 3-1 is a lack of Boss Bass. Seriously, BOSSSSSSS BASSSSSSSSS!11!1!

Anyway, It's looking pretty nice. There are not a lot of SMB3 themed games out there, and this is certainly looking like a cross between SMW and SMB3. Keep it up.

- BlackMageMario
In this level I would like to see bass to!

Keep up! And don't give up just because no one comments!


DON'T GIVE UP!
In that level, I'm going to feature Blowhard.. (might add Boss Bass too)

Well, I'm just having two problems, so I can't create world 3-1.

>When I edited layer 3 on terra stripe, the image becomes one hella big trash.
>I can't insert yiblowhard because I actually forgot how to insert the graphics.. It's been almost 2 years since I inserted this on my hack.

edit: Anyway, got to try making it again.
Nice ROM hack HyperMario! I've always tried to get those SMB3 OW graphics, but I don't want them anymore. I also like your anime layout

Try making something tricky or a puzzle. That's an idea!
Apparently, I can't show any progress on World 3-1 because of some problems (
see here
). Once it's fixed, the hack would probably go in-progress again.
Sorry for the long delay.
Hey, this looks pretty good. I generally like SMB3 (or SMAS)-styled hacks. For 3-1, why not use the SMB3 water instead? It would look much better. Just PLEASE don't use Boss Bass...I hated that sprite in SMB3, and I hate him just as much or more in SMW hacks (at least you could temporarily kill him in SMB3...). I've never seen a level with Boss Bass that I liked.
----------------
I'm working on a hack! Check it out
here
.
I already planned not to use a Boss Bass in the first (or the whole world) because this would be a remake of my old level.
I'm going to feature Blowhards, but configuring them is... ugh.
(Same with Layer 3).
Bump!
Back from hacking, but not that super active ... there's still plenty of stuffs in here.
Anyway, I've finished World 3-1:
Yeah, I'm not going to use Layer 3 Tide. I'll be using it on a new level that I've been planning on.
More:
Comments are welcome. Suggestions, too.
Will be releasing a demo 0.3 after I'm done with world 3.
looks pretty good this level! keep up the hack.
Wow! You do hacks too? LOL
I saw some screens, and I think that this is going to be a nice hack to play. I haven't noticed nothing wrong with the screens, except this:
AIJNDASKHDBNKWE CUTOOOOOOFFF!!!
You should fix those cutoff. I'm talking about 2 cutoffs: the one between ground and water, and the one between water and that waterfall.
The first one shouldn't be too difficult to fix, but for the second one...meh, try to fix it. Or maybe you can leave it like that: it is animated, I guess, so I can only imagine the effect.
Beside this whole stuff, your hack seems very interesting. Mind if I join looking ya images?

Keep up!
oh may gawd cutoffs

Oh well, nice levels You have here, and seems have a nice level design, nothing much to say, keep it up!
Man, I have to say: this looks
amazing
. I've never seen somebody using the SMB3 graphics so well. I also like those YI spikeball spiting things, they seem to suit very well. The waterfall cutoff also bothered me a little, but that's minor really.
Keep it up, I can't wait to play it!

Originally posted by several people
cutoff
Solution:
Combination of SMB2 and SMB3's waterfall graphics.
Hope you like it.
Originally posted by Koopster
Keep it up, I can't wait to play it!

Want to give 0.2 a try?
:P
---
Next up: A certain water level (I sux at making water levels, but I'll try my best), similar to SMB1.
Comments? Suggestions?
Forum Index - SMW Hacking - Works in Progress - Super Mario Bros. 3 - The Secret Place / SMB3TSP (World 5 stuff)