This is a hack featuring Wario and Waluigi. It has a character selection and both of them have different abilities, and you can access different areas with each character.
Plot
Wario and Waluigi are on a hunt for there money, it was stolen. The bros. don't know who stole it, but they are out to find it.
Length
Well, it is going to be about 17 to 20 levels long, enough so I can make it fun but not repetitive and boring. The world structure I don't know about yet, but we'll see.
Progress
Bros. House
Level 1
As you can see, the player select is in the house, and the first level is grassland. The yellow
W
blocks are only passable by Wario, and the purple
Ⴈ
blocks are only passable by Waluigi. I plan to use a lot of them through the hack to make it more interesting.
I drew the FG, BG and edited the SMW sprite graphics to give them more 'depth' so they don't clash with my desired graphics style for the hack.
I have plans to edit the status bar, so I have a different-ish one to the SMW one, so please ignore that for now.
Final Word
This is all I have done so far, what do you think? I will make a Userbar at some point and other stuff, but for now, this.
Ahhh this is something new! looking forward it! 20 levels is ok I am with you that sometimes long hacks can be boring!

Looking forward!

EDIT: I hope you will not cancel this like Ogg!
That looks pretty good! I would suggest giving a bit of shading to the goomba, it looks a little odd.
Also, I feel that small Wario looks like a mouse

I'm liking the look of this so far. Do you plan to use Wario Land series music? I think that'd be a good idea.

--------------------
Quintesson Judge: Silence, or you will be held in contempt of this court!
Hot Rod: I have nothing but contempt for this court!
- Transformers the Movie (1986)
level 1 looks like good eye candy, styled from the lost lands. Your purple L blocks need to be x-flipped, to match Waluigi's L.

Bros. House looks bad in brown scale, add some other colors to the palette/the brown floor tiles.

--------------------
I wonder what a HFD opcode would do in ASM...
That Looks Amazing TOS', and finally a hack with the Wario Brothers, Keep it Up!
Looking nice, TOS. I'm not a big fan of those Wario Bros. graphics, though; I personally prefer
these ones
, though I suppose they might clash with the other graphics.
Originally posted by TLMB
Your purple L blocks need to be x-flipped, to match Waluigi's L.
No, they don't
. They're correct in the screenshots.
@xImseiken3 > I will be sure not to cancel it! Thanks

@Egadd > Thanks, I ran out of palette space on the Goombas, but eh.
@Gamma V > No, I do not. I plan to compose the entire soundtrack to this hack, so it feels more unique.
@TLMB > Thanks, it's sort of the same graphics style to The Lost Land 3 yeah, but I added a bit more detail and plan to make this hack
more
chocolate

@Blizzard Man > Thanks, I wanted to make something different to all the Mario/Luigi hacks in the hack database

@Luigi-San > The graphics are a bit icky yeah - I'm going to play around with them more, give them a reshade, black outlines etc so they look more original and unique. I don't really like them graphics to be honest, they look more 'nasty' if you know what I mean. I'll fix up SuperLuigiBros Wario/Waluigi GFX later

I bring you an update. I started a cave FG earlier this morning, I just need to draw a couple more decorations and then it'll be done. So, here is a WIP area of what I have done so far:
I need to add sprites and a BG, yeah, I know

But just focus on the FG for now. It's a Waluigi bonus room, only accessible by Waluigi, hence the large and high jump at the start! What do you think?
Have you also noticed I have various different coloured cement blocks as well?

Gemstone Style, i liked it! And the Bg, is not ready?
Looks very cool! You got a nice plot (pretty much as you always do) and awesome graphics (I can recognise some of them from your older hacks

). The only thing I don't like at all is the window GFX and palettes from the house. Presonally I don't know how you could improve it though, perhaps make them a bit blue? Other than that it's very nice.
Keep it up! Seriously, don't cancel this hack as you have been doing since you finished TLL3. :P
Originally posted by The Oncoming Storm
Have you also noticed I have various different coloured cement blocks as well?

Um? Where?

--------------------
Originally posted by Austin
Originally posted by The Oncoming Storm
Have you also noticed I have various different coloured cement blocks as well?

Um? Where?

The yellow and blue cement blocks. If you were joking, then I'm an idiot. If you weren't, well.

Anyway, this hack looks good, of all hacks with Wario, this will be probably the best one.
--------------------
Twitter
@Blizzard Man > No, I need to make the BG soon.
@Austin > There are similiar graphics from Ogg and TLL3, but nothing is copied. Thanks though. And yes, I
WILL
finish this hack.*
@miguel21450 > Is there any other Wario hacks for this hack to go against?

This is the checkpoint flag, touch the flag and yeah.
Opinions?
The flag is ok, but the C is too close to the borders in my oppinion. Why don't you move it one tile left?
--------------------
Originally posted by The Oncoming Storm
I think the jewels could use a bit more shading, but other than that, the tileset looks great.
I also have to disgree when it comes to using
these player graphics that were suggested a few posts back
. The graphics you're using fit the style better IMO.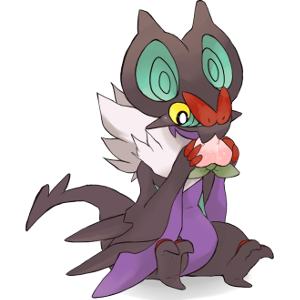 @Austin > I will move the C leftwards

@TRS > They're not jewels as such, more colourful rocks

And the player graphics, I think I might change them to them TBH, maybe they would fit better. But thanks

This is a double update... yay...
"I'm gonna finish you off!"
Each level will end like SMB2 does, a boss of some sort. And I am using SMB2 bosses in this hack because they're the best bosses IMO. First screen
should/will
have HDMA soon.
Cave BG
Not too complex, but works, here it is:
And yes, the Ninji's are red because they look cooler when red

So, what do you all think?
Hm... Good Screenshots, and I need to agree with you, Red Ninjis is Better.
One word: AWESOME! I like the cave graphics and your graphics in overall! Want to see more of your hack!
I like the idea of using something based on the FG with a brighter color as a BG. Also, even if SMB2 bosses are overused, I think you can make a good use of them.

Red ninjis FTW.
--------------------
This is coming along well. I love the graphics!
Small Issue, but maybe Wario can make that large jump in the cave with the help of that ninji, have you tested that?
As much I did like Ogg, I like this hack, please don't cancel it ;D.
Forum Index - SMW Hacking - Works in Progress - Super Wario Bros. - The Money Thief > /I replied to your comments/