*whoa, tons of posts during my absence*
*also ninji'd*
One thing per time... let's go:
Originally posted by Theonesuperx
Oh, yeah... what people said. Kinda looks plain, and there are perspective errors. I've also expected the palette to be changed. The way it's right now, looks too cave-ish. It's supposed to be an external submap. Give it another try and I'll see what I can do after that.
Originally posted by Daizo, Egadd, Theonesuperx, DarkBones
*title ideas and comments*
As superx replied, 'Dark Side of the Kingdom' is a nice one. We'll stick with this one. By the way, thanks to the rest of you guys for the ideas. You deserve credits for the help given.
Originally posted by Oh Hell No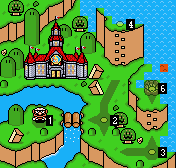 Looks extremely awesome! Can't wait to see it finished.
Originally posted by Theonesuperx
for Daisy's Kingdom, maybe we can make Daisy's Castle the real last level of the hack. It is just an idea
Hmm... The idea is not bad, but I was thinking about the last level being an Airship. Don't know how to implement a plot for it, though...
Originally posted by cheat-master30
1. You could try this patch for 32 x 32 player graphics and collision detection:
Link
While it would be nice, it would be considered "fancy/evasive" for our hack. Since we have decided it to be Choconilla and keep the SMW feel, I think the way Wario and other graphics are now are perfectly fine and fitting.
Originally posted by cheat-master30
2. Try to vary up the graphics a bit for levels.
Almost same as stated above. We will use custom GFX, and we can even use some more detailed tilesets as long things don't clash. But as already said, the SMW feel.
I appreciate your constructive suggestions. Consider credits given.
------------------------------
Also YAY! More progress!
My level, Honey Secret 1 (017) has been finished. I'm extremely grateful to the guy above who let me use his amazing forest corner edge in the level. Man, you surely deserve a pack of cookies and a honeypot!
Also, as Oh Hell No suggested, I've redrawn the Bee's sting and made it a little smaller.
Here's the screenie of the level (click to watch the video)
If the level passes, I'll claim the Honey Forest submap. Waiting on you, Theonesuperx.
Apart from the new level, the
updated Base ROM
got the Yoshi Coin Fix patch inserted, the Bee sprite and the Hurt Block used for the beehives in 017 and a few other things. Other files were added within the base, so, when you open the ROM in Lunar Magic, you'll easily find the new resources applied for custom use.
Ah, again:
Originally posted by Blind Devil
@Theonesuperx: Edit your first post a little better - delete the first version of the Intro and replace it with the new. Don't keep both. People will get confused.
Whoa, hope everything was covered.
--------------------