Removed
Hack Name: Vanilla World (Demo) Demo - 69 KB - 28 downloads.
Length: 3 levels
Author: TheNewbRadar - Submitted by: TheNewbRadar
Description: This is a vanilla hack. Hence, "Vanilla World". Sometimes sfx glitches up. I have no idea how to fix that. PM if you do.
Reasons
In and of itself, this hack really wasn't that bad. I think with a few more days worth of work, this could be a nice vanilla hack.
That said the major issues with this have less to do with what is here than what is not. For one thing, this is only three levels long; typically, we ask hackers to shoot for about one world (five or six levels) before submitting their hack. Also, while there are substantial edits here, there are still some vestiges of say, 105, here, as I think can be seen in the screenshots below.
In any event, I'll run through some minor criticisms here, but the biggest is that this just simply isn't very long or very distinct from the original levels yet. I think with some work, you're on the right track; I did see some good potential here.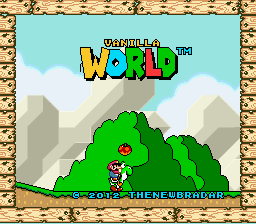 The title screen could use some more fanciness. I see you're using vanilla elements, but you could always use some ExGFX to fix up, say, that
'V
'W thing. Anyway, are you just reluctant to try ExGFX because you're new to it, or is it a stylistic choice? That's something for you to decide.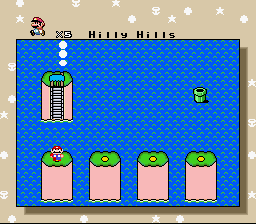 Not a huge deal, but the perspective on these platforms is a little off (e.g. they have curving tops but run straight into the water). Also, the overworld's a little boring -- try sprucing it up with details. The paths are also a little iffy.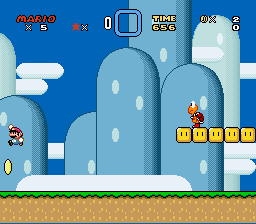 This coin is unattainable.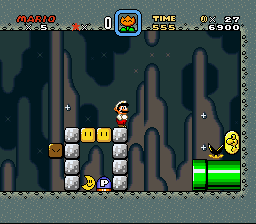 This is pretty clearly an edit of YI1's underground area. Also, it's generally frowned upon to give out 3-Ups like candy.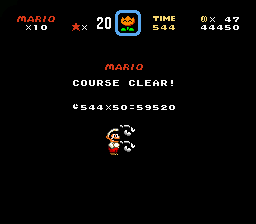 Do these Bullet Bills need to be here?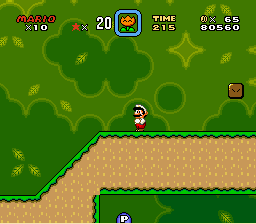 No big deal, but this corner has some missing graphics.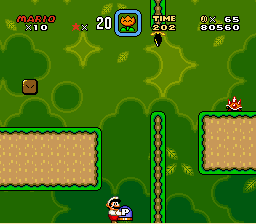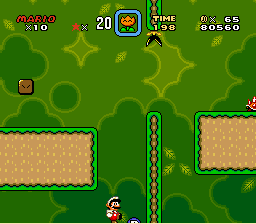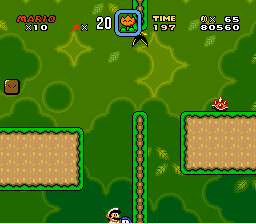 Remember that the bottom row of tiles in LM is not visible in-game. Something like this is kind of cool, in my book, but if you can die without realizing it (as I can here), it's not so cool.
So yeah, you're off to a good start -- you just need some more work. Please take the time to read over the
Tips Of The Day
. You should play through some of the site's
Featured Hacks
to get an idea of what you should be aiming for. Last but not least, replay some of the classic Super Mario games to get inspiration for good level design.
This hack does not meet the following
Hack Submission Guidelines
:
Originally posted by Hack Submission Guidelines
2. Minor edits of existing SMW levels will not be accepted.
Use Ctrl+Del to remove old SMW levels. (104, C5, C7, and 3 are exempt from this.)
4. Avoid major graphical glitches.
Errors such as garbled sprites/FGs/BGs, message box text screwing up layer 3 items, floating/stacked/cutoff tiles, and general graphical ugliness are frowned upon. Furthermore, don't forget about glitches which involve the sprite memory - the graphics of the sprite will 'disappear', but the sprite will still be there, and can unfairly hurt Mario.
5. Your hack should be of a reasonable length.
Unless you intend to make your hack contain very long and very high quality levels, demos which are too short to provide any feedback on or be enjoyable will be subject to removal. A general rule of thumb is that the hack should feature at least one complete world with about five levels, or should feature around at least 15 minutes of game time.
9. Keep the hack at a fair difficulty.
Avoid issues such as death traps after the goal, blind jumps, forced damage, excessive enemies, places where you can get permanently stuck, excessive 3-UP moons, projectile sprites (e.g Bullet Bill) placed directly into a level instead of using the correct shooter/generator sprite, etc.
11. Have fellow users beta test your hack before submitting it.
Your hack should be as good as you can make it before you submit it to be featured in the hack database. A good way to make sure you have a quality hack is have it beta tested. Have your friends play it and give you feedback, or
recruit some beta testers
.
--------------------

[?] Miscellaneous Helpful Hints
If I moderated your hack, there was apparently a 90 percent chance it was rejected.