Originally posted by Lui37
Pretty easily, you can use this patch (unless the routine was bypassed):
Originally posted by patch.asm
lorom
header

; locations of the timer digits in the status bar
!Hundreds = $0F2C
!Tens = !Hundreds+1
!Ones = !Tens+1

org $008E6F

LDA $0F31
STA !Hundreds
LDA $0F32
STA !Tens
LDA $0F33
STA !Ones
Refer to
this status bar map
if you want to poke the values I used.
I was able to move the timer but blank the tiles are still uploading as blank images and cutting off the second row of my custom P meter,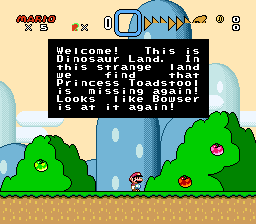 I don't know how to prevent what you see in the screenshot from happening, I was told to set the addresses that are uploading the blank images to NOP, and I have no idea how to do that
--------------------
"Reluctance gets you nowhere, if you never ask for help you won't ever receive help. if you never try you may never fail but you'll never succeed either"
--Falkenheart
http://www.smwcentral.net/?p=post&do=reply&t=62550
finishing up my first patch any help is appreciated