Parker Poltergeist Gets his Groove Back!
Hey everyone! Tis been quite the long time since I've made a thread here. I figured I might never be back at this website, due to general uninterest and lack of time. It's great to see many of the strides you guys have made. I forgot a lot about hacking, but it didn't take me long to figure it out with such an awesome community as this one.
Without any further ado, let's get to the hack.
--------------------------
Plot:
Parker is a brand new recruit to the Koopa faction of Bowser's army. His inability to do things on time has cost him dearly. As the Mushroom Military pushes into the King Koopa fort, Parker's squad is assigned to set up an explosive trap for the shroomies. The squad, led by Lt. Crude, gets restless waiting for Parker to arrive, and sets up the trap without him. Unknowingly, Parker falls into the trap set by his own men, and suffers an explosive fate.
Waking up in the Incorporeal World, Parker is now a ghost. He will make friends and foes as he tries to figure out the mysterious environment. Of course, it's a chilling world where the dead live, and many dangers may he come across in search of a way to revive himself...
--------------------------
The hack has only been in development for about a week, so much is still to be done. Here's some general screenshots: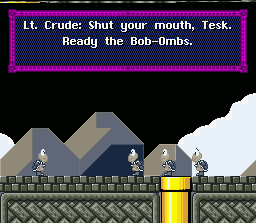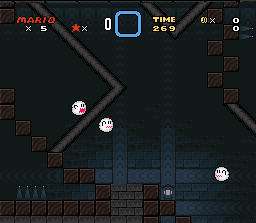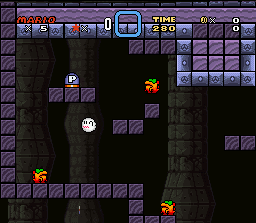 I like to call those orange guys "Spearies" as they're just Eerie's with feet that throw spears at you (used the Snifit sprite).
As you can see above, there's two new items. PolterJuice, which is a mushroom replacement that will fuel you once I add the new health system, and the Spectral Secretion, which allows you to shoot straight fireballs at enemies.
The hack will be a puzzler, and the gameplay will consist of a lot of switches and custom block interaction. An example would be there's a block that the player, being a ghost, can move through, while living creatures can not. At the same time, it feels quite adventurous. It will have many cutscenes elaborating the many interesting characters I've planned for the hack, and I've already began scripting some of these characters. I plan on having a balanced mix of custom graphics that I've made on my own, ExGFX from the site, and some of the original graphics.
There's some things I still need done for this hack that I couldn't figure out; for instance, all I did to give the player the movement of a ghost was set the levels as water levels. I'd rather have a more controlled system of movement

Any thoughts? There's quite a bit to be done and if anyone has any good ideas it would be much appreciated!
--------------------
Hey, I'm Riot. I used to use this website a lot but it has been quite a while since I've been a part of it. Help me out with any of the changes; it'd be much appreciated.