It's been quite a awhile since I've posted progress about my hacks but in effort to be more active I decided to not only to create a thread of my new hack but also announce that
Super Yoshi Land: The Rescue Mission
is getting a sequel. I'm aware that it is probably a bit early for a sequel being that the hack hasn't been moderated yet. (Nor will it be for a long awhile I assume.). That and there's a few errors I want to fix along with and update telling more about the plot and an alternate final level. It's just after I spend a long time testing a hack, I get really burnt out on it and don't want to come back to it for awhile. The update will probably come before the year is over but for now I just want to move on to other hacks I have in mind. Anyways as usual when it comes creating a new hack I want to try out a different style. This hack will be pretty different from the prequel in quite a few ways and here's how.
Plans for this hack.
1.
If I was labeling this hack It would be a vanilla hack with custom elements but I'm not going to label it a vanilla hack. I still plan on mainly using resources that are within the game but It's not going to be limited to just that.
2.
Dragon Coins have been replaced with Star Coins and there are 3 in each level accept fortress levels which only have 1. Also, the game now saves how many Star Coins you have collected so there will be no getting an extra life after all 3 are collected.....sadly. Now collecting those coins will actually be useful however as you'd need to collect a certain amount to access certain areas.
3.
This one is just a minor detail but the goal bar has been replaced with a goal star which means there are not bonus games at the end.
4.
The SMB2 health system is still here but there won't be as many collectible hearts this time around. The only reason for that though is because having a certain amount would cause it to conflict with the Yoshi coin counter.
5.
Now for the last but most important detail to this hack. This hack just like the last one will have 6 worlds and one final world. This hack also has a doubles theme going on and if you aren't sure what I mean by that is that there a two versions of enemies (Most of them.) and two versions of each world accept the final world. The different version of the enemies will have something different about them compare to the normal version, rather it's speed or how it can be killed. As for the different versions of the worlds, the theme of the world would be different. Now despite how that may sound, I don't plan on making blatant edits. (Of course there would be resembles here and there however.)
Anyways, I think I've explained all I needed to explain. Now to show off the first two levels of the hack that I managed to complete.
1-1: Aqua Fields
(Video)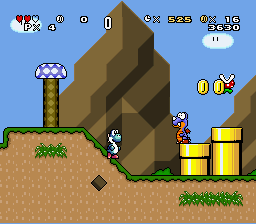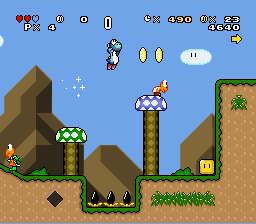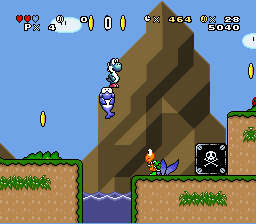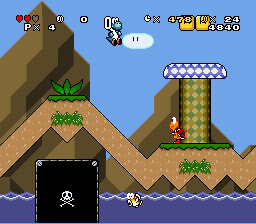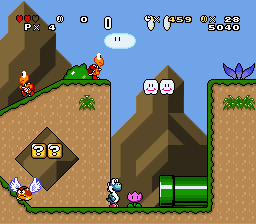 1-2: Water Stream Plains
(Video)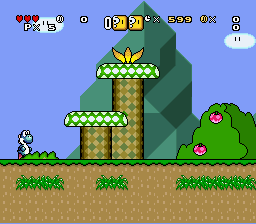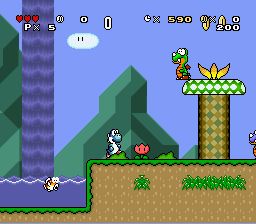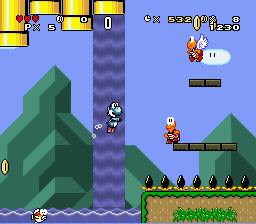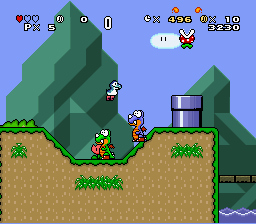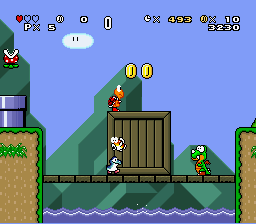 The first different enemy is introduced within the second level and it's the green rex. The difference between the green rex and the blue rex is that it moves noticeably faster. Well this is all I have to show so for now. So far things are flowing together pretty well but it is still a bit early so that can change. (Hopefully it doesn't though.) Anyways comments and feedback are always welcomed and appreciated.
---
My Youtube Channel for Hacking and Gaming.