Name:
P-switch...
Author:
Daizo Dee Von
Submitted by:
Daizo Dee Von
Demo:
No
Description:
Hello everyone! I've been working on this hack for a year and a half. As you can see in the screenshots, the concept of this hack is about Mario in The Legendary P-switch Void.

This hack contains:
-Lots of Custom Graphics
-A whole Soundtrack
-Lots of Easter Eggs, Cameos, and Secrets

Please read the Readme for more details, as well as some Optional Objectives you can accomplish. They aren't required though, its just something to do if you're bored.

This hack is only compatible with ZSNES. I know that you'll probably get mad at me for not making it compatible with other accurate Emulators, but I have no idea how to fix these songs, which they actually came from SMW's Music Section.
Removal reasons:
I really enjoy the idea for this hack, but there were three major issues that held it back:
First thing first, we do not accept hacks that are not compatible with all major emulators, but I do know where you're coming from though, music can be a pain in the neck to work with at times. However, there is this
awesome forum
that you can go to if you have any music related troubles. The people over there are more then willing to give you a hand.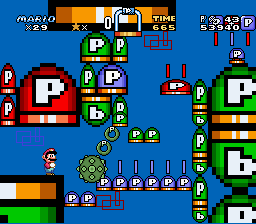 Second, the room with the changing background was a total pain to deal with, because of the fact that the red/blue switches don't change with the background visually, but they do game-play wise.
Personally, I recommend you use the exanimating tool that is included in lunar magic to fix the issue. The tool in question looks like this

; which is located in the lunar magic toolbar, and if you have any trouble using the tool in question, just ask
here
.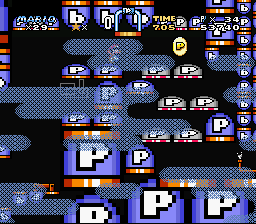 Lastly, the second section was hard to do because of the layer 3 fog. I highly recommend you to either change the fog where the player can see easily, or just remove it although.
Just fix the things I listed and you be good to go. If you have any questions or concerns, you are more then willing to ask.
However, there is one thing that I want to bring up is that the intro doesn't have any music. It's not a removal reason, just something I wanted to bring up is all.