About time I finally got started on this. La-Mulana has been eating up way too much of my time these last few weeks :V
Anyway, this is a fairly standard athletic level, except it takes place hanging from the ceiling of a cave rather than in the skies. I never really was one for overly fancy mixings of vanilla graphics, so you'll have to be content with a standard cave tileset with ghost house platforms. Hopefully the level design will make up for the lack of graphical fanciness.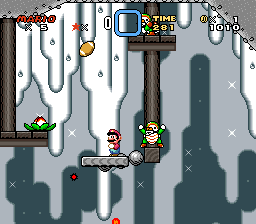 This screenshot shows off the sprite theme of the level fairly well: chucks, volcano lotuses and platforms. It's a pity the pitching chuck doesn't mix with the rotating platforms.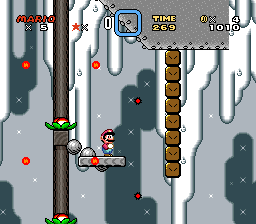 A gimmick I'm experimenting with where you have to dodge things on a rotating platform until the P-switch runs out. This particular setup turned out rather difficult, so it will probably have to be moved to near the end of the level.
...maybe I should have gotten more screenshots before making a thread. Oh well, this will do for now. :V
--------------------
My YouTube channel
Get the official ASMT resource pack
here
!