Link to submission.
I was genuinely surprised by the great quality of this hack! I really had a lot of fun playing the levels. The game had a great variety of level themes and elements, but maybe a bit "clunky" regarding the order of these themes (sometimes random future levels between grasslands, though I understand this had to do something with the game's plot). Overall, I'm pretty much satisfied with the hack.
About the levels: most of them are simple, designed to be straight forward, but I liked that aspect. The first and maybe even the second world reminded me of NSMB(W), so the original Mario-ish level design feeling was definitely there. Then your affection towards the Megaman games started to show up (and there's nothing wrong with that), as more and more levels started to look like Megaman levels. These are kind of "blocky" compared to the earlier ones, but they still were enjoyable, thanks to the great variety of enemies and little gimmicks you used. There were very few two levels which were alike.
I thought the difficulty curve of the game was pretty great too, though there are a few "gaps" where the difficulty suddenly got higher than the average (especially in those "EM Wave" levels). But it's not that bad actually. Perhaps the order of bosses could've been made better: some bosses in later worlds were far easier than earlier ones.
Graphics, custom music is totally fine. One little nitpick I had about music is that I think one of the boss themes sounds awful compared to the other songs (e.g. when you fight Iggy (or Larry?) in the very first castle).
Another smaller problem in the hack is grammar and spelling... yeah, I know it can be hard for foreign hackers (like it was for me too), but bad grammar can be a big letdown in a game. Not all of the text boxes, but most of them had some smaller error. I highly recommend you to get a beta tester/spell checker guy who will fix your errors.
For example: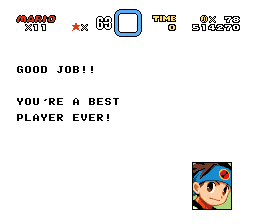 Here, it should be "You're the best player ever!".
Other smaller problems: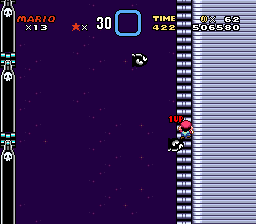 Unfortunately, you made the typical "infinite lives with Bullet Bills" trick possible here.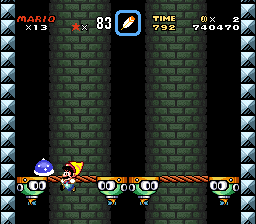 I didn't expect this rope to be a part of the decoration.

So, overall, I found the hack very nice, though it has some little errors here and there. I wouldn't necessarily vote for removal just because of these, though. I'm rather leaning towards approving it, it's clearly visible that you put a lot of effort in making the hack. I'm curious what other reviewers will say.

+1s:
this
Wakana
Everest
---
Mirann-edit:
Link to review for the updated version of the hack:
http://smwc.me/1131677