Permanent link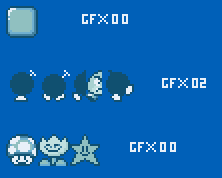 This is not how we format our GFX files. You should send in full GFX files that are insert ready.
Also, like the last removal, these graphics have trivial edits that can be done quickly. The happy stuff is admitably cute but the Bob-omb's face removal is probably more of an undesirable downgrade than anything else. I like the simple block, though, if it were a 'used' block... but that alone isn't enough to warrant a new GFX submission.
---
Just look above you...
If it's something that can be stopped, then just try to stop it!