Originally posted by Skewer
StrikeForcer approves


Yes I do. Any blood planned as décor for the previous level you shown again?
As for your city screenshots, as much as I like the graphics, I honestly think that the foreground buildings aren't very diverse. See...with city foregrounds, id normally assume that they would be of different colors and textures like with any given city background, I guess you do want to keep them simple if that is the case.
--------------------
On Pixel Art Requests: I generally
do not
accept work unless I either have the time, if I see your project worth my time to contribute towards, and that is usually me doing the approaching to you on that.
-I also do not accept speculative work as I do have various art I made on-hand with me.
-I am more receptive to equivalent exchange of resources in which case, you can DM me wherever I have an active presence on for the details.
-Other times I'm availible for your project is C3 request threads I may run.
It's cool that you're redrawing more sprites, I guess you can say you're remastering them, ha, ha, ha.
The tileset looks good to me, with broken buildings and the level's grayish palette reminding me that Sicari is passing through a seized city.
needs more anna
Today I will show off Sparkle Falls, which is a remake of the level of the same name from the first hack.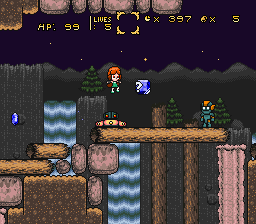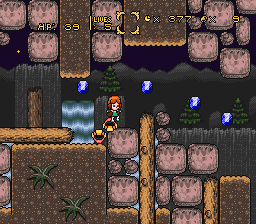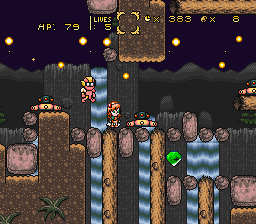 Something I'll start doing from now, is showing comparing some screenshots to the original hack, so here you go: Sicari on the left, and Sicari Remastered on the right, though you're smart enough to figure that out.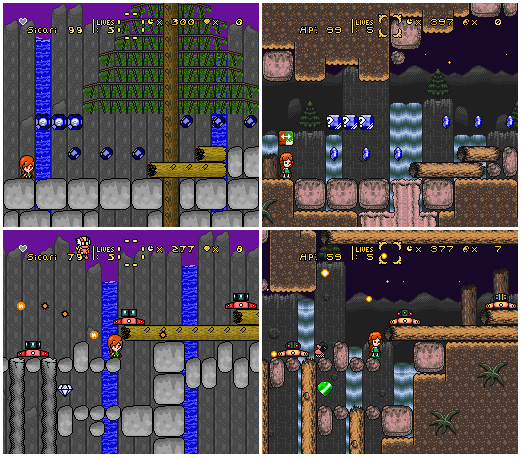 As usual, tell me what ya think. Look forward to this C3 where I plan to drop one last trailer.
Uh, wow. Showing the old screenshots it's like night and day with just how much it's improved. And I assume the background is animated? I bet it looks even better in motion.
The new tileset looks MUCH better than the previous one mostly because it was pretty repetitive (literally just stones and trunks lol) but the new one not only looks better but has much more variety compared to the old tileset.
I agree with Suika-chan here, your new tileset looks better, the colours are really pretty here. To be honest, you made a marvelous job here. Kudos!

Wow, this is amazing!! The effects you gave to the enviroment feel natural and cool. The natural style the place has, as well as the textures and the shadings, makes it look quite realistic. And the landscape looks as a thing that would exist, not like if is floating and stuff. And is not repetitive like before.

Really amazing job!!

--------------------

Oh WOW!

that looks real nice compared with the old one lol
that would make someone cry bcuz of the awesomeness ;w;
It's very well improved, and also gives the feel of a pacific travel
that if there was no monsters around

I hope to see the trailer in C3 (I also hope to have internet to be around in C3 this year too lol)
well then, to finish this post as always...
Keeep Working, #Peace

-The Dark Mario Bros.-
Send PM
My Profile
The Dark Mario Bros Youtube
Forum Português/Brasileiro
Learning more about Touhou...
Posting vids is a good idea! They'll be entertaining to watch, I'm sure.
The one you just posted is, actually. The soundtrack you chose matches the level perfectly, just listening to it reminds me of night.
You know, this level (and, by extension, most of this hack's levels) isn't that linear. I mean, it doesn't get boring, it keeps the player alert, so it's a good linear level.
the stage looks nice but, spoilers TwT

well, looks pretty descent pretty oriental I dare to say.
well, with that the boss must be an assassin

also the song fit well with the stage, hope to see more soon

Keep working #peace
Send PM
My Profile
The Dark Mario Bros Youtube
Forum Português/Brasileiro
Learning more about Touhou...
hoi hoi, here's a double update, since it's been a while lol.
First level I'm showing off is a brand new level, called "Redfang Yard." If anyone remembers Scarlet's battleship, the Redfang from K-16 - Story of Steel, this is where it was constructed, intended for use by Niscura's minions to instil fear upon Paradia. This is one of the later levels.
The other level I will show, while still a new level, was teased back in the trailer. This level is part of the Void of Illusion, and is called "Game Jammed." The level involves Sicari and K-16 being transported into the totally original Wintendo Game girl. There is even a border to help simulate the smaller dimensions of the handheld!
So yeah, bigger than my usual updates, so I hope you liked. Be sure to tell me what you think <3
Definitely really digging the background in the first level shown here. Also Wintendo Game Girl is a classic.
Definitely one of my favorite tilesets in the game so far. Looks sweet and possibilities for a nice well design are infinite.
Mayonnai: this music in the screenshot looks too loud
Also, out of curiosity, what is this, exactly?
Also LOL Wintendo gamegirl
Hey Vee, these images looks awesome! I love this tileset. Also, the Game Girl images... Pure awesomeness! XD

Keep the lovely work, Vee!
Heh heh heh... what a nice update you have done!!

The design of the shipyard is really nice, and does give a big sense of construct site on it. The design of the tileset is amazing too, and I like conveyor belts. It feels like it will be a great level to play.

And the GameGirl? This is just really ingenious!! the graphics AND the tilesets look just like the gb, and even the level's structure is reminiscent of that era. The grid looks nice and is a good detail too. Just give it 8-bit music and sfx and we are platinum.

Amazing job like always Vee. This will be the hack to end all hacks ;).

--------------------

Nice~

It's been a long time indeed, now to the review
industrial themed stage looks nice, since they are working to build something
which in this case is a space ship that appears in K-16's game
the background gives the fog feeling, which sounds like its kinda abandoned, the crate grapichs very well detailed, good job eevee

and then, the classic Gamegirl, by Wintendo... nothing much to say, but I dont remember they released the Super Gamegirl cartridge for snes, but yay, atleast you can play some nice games like, Sicari land >w>
well the grapichs looks amazing, keep up with the good job eevee #peace -DMB

Send PM
My Profile
The Dark Mario Bros Youtube
Forum Português/Brasileiro
Learning more about Touhou...
Lovely screens and all. I wonder if you could find a workaround with the status bar in the gameboy-styled level: I feel like it kinda ruins the atmosphere right now, so maybe you can hide it, or maybe rearrange it for this specific level.
It's probably not really worth the effort, but it would be amazing if you manage to make it look better.
Forum Index - SMW Hacking - Full Hack Releases - Sicari Remastered - Coming this C3 (for real this time!)