The contrast in the palette for the castle is best on the right, definitely, but it seems to me as the main fill color is slightly too blue as well, which I think should be changed to something more gray - that'd look better.
For the grass palette, I'd say the one on the left is too pastel-colored for my taste, so the one on the right seems better to me. Maybe, just maybe, it'd be better a little darker and a little more saturation, so try that out, perhaps?
--------------------
aran - Graces of Heaven
I'll leave the details to everyone else; I just wanted to say I like the tone of this one much better, because it feels more celebratory, bright, and simple. With the original title screen, I never understood why Mario and co. were posed the way they were, plus Mario looked kind of... downcast, I guess?
I did like the stage ambiance the original had, with the curtains and everything, but I don't mind leaving that behind. Nice work on this.
--------------------
Youtube (Main)
|
Youtube (Alt)
|
Bandcamp
|
DeviantART
Originally posted by AxemJinx
plus Mario looked kind of... downcast, I guess?
I thought he looked like a puppet, which I found interesting, stylistically.
I also just realized how appropriate it is that Luigi is holding a p-switch. Myah.
Originally posted by HuFlungDu
I also just realized how appropriate it is that Luigi is holding a p-switch. Myah.
How unfortunate that Yoshi was only in like...four levels? Not sure on the exact number, but it was less than ten.
Not sure if this would help much or anything, but just for reference, since it seems that no one has done this yet, I have provided a screenshot of the old title screen: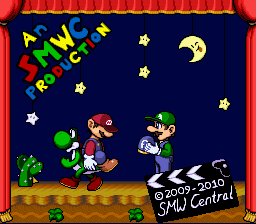 Anyways, as much as I think the old one looks nice, this new one that Counterfeit is making is looking quite promising. Interesting to see how it will look in the final release.
Looks great! Though, in my opinion, I feel that the foreground is a bit too bright. Maybe tone it down a bit more.
--------------------
Click here to enter the world of mediocre!
More saturation, slightly darker. Come to think of it, my other palettes would've probably looked better on GBA - this one looks pretty SNES now.
Will absolutely NOT go greyer because the whole point of this is to not look 'gloomy' or 'depressing'. So if it's still too bright for you, I dare you to step outside mid-day tomorrow.
Antialiasing the title is a definite maybe but I'm in between a 9 hour shift and an 8 hour shift with only 6 hours in between and I'd rather get whatever sleep I can before I do this.
@leod: They're layer 1, and I've got other stuff on layer 1 so I'm pretty sure this could cause conflicts. I think the best idea would be for someone who cares enough to turn the balloons into a sprite and make a generator for them kind of like the balloon generator in Yoshi's Island.
---
Just look above you...
If it's something that can be stopped, then just try to stop it!
That's what I meant, yes.
And I do care enough, so if you want, move them off of layer 1, whip up some animation frames for the balloons (the tails and some wobbly or whatever) and send them my way (along with a few palettes).
edit: also come to think of it, I think the star blocks in the corners might look a bit better if they were, like, a little larger than the rest of the border, as if the border went inside/behind them.
Like
except better
--------------------
Your layout has been removed.
Yeah, the new palette looks more SNES-like. Very nice.

The balloons looks nice, but if sprites won't work well with the title screen, we can leave it as it is, just with the strings changed a little, so every balloon won't look the same.
There should definitely be a 1.5 in the title. Or Final Mix. Or something.

This will technically be a very different hack to before and something should reflect that. Its not just a bugfix. And it has already been said the old one will remain around.
Originally posted by Counterfeit
| | |
| --- | --- |
| original | "slightly darker" |
I don't see any changes. could you point that out?
Counterfeit already explained the difference. The second one is a bit darker. Look closely and you'll be able to tell.
damn, it'd be cool if those balloons were actually made from a gusty generator that generated slow moving vertical gusty's that floated to the top.

--------------------
Your layout has been removed.
They will be, except I have no idea what a gusty is.

--------------------
Your layout has been removed.
Yes, don't forget to use contraceptives.

--------------------
Your layout has been removed.
Forum Index - Sunken Ghost Ship - Old Contests & Events - SMW Central Production 1.5 - New title screen