I am working on a System for Dynamic Z and Dyzen to separate dynamic sprites in sections, for example this sprite: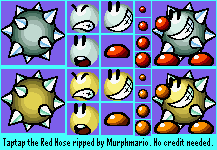 Can be separated in 4 sections, body, face, foots and nose, and each section have its own dynamic routine. Why do this? because there are sections that do their dynamic routine with very few frecuency and others that change more ofter, then in some sprites you can save a lot of cycles and reduce slowdown separating the sprite in sections.
Also the main reason to do this is because when a sprite is separate in sections can have more frames using less space on the ROM.
In this example body and face must be rotated in 24 differents degrees, the body requires like 24 frames and is 64x64, if the body is not separate of the face, it requires 24 frames for each diferent face, then it requires 72 frames of 64x64 Total 148kb. if face and body are separate it requires 24 frames of 64x64 for body and 72 of 32x32 for the face then it requires 87kb of space or even less.
Other Reason to do this is because without separate sections some sprites requires thousand of frames for example look this sprite sheet:
https://www.spriters-resource.com/resources/sheets/30/32522.gif
That sprite sheet doesn't separate sections and have like 4000 frames.
Other Example is this:
The wheel have only 4 frames and the Gnawty have 8, without separate it in 2 sections (one for Gnawty and other for the wheel) in the worst case require 24 frames of the size of the wheel (each frame requires 3kb Total 110kb), separating in sections require 4 of 3kb and 8 of 512 b Total 17kb.
------------------------------------------------------
Patreon
Youtube
Twitter
SMWControlLibX GitHub
My Discord Server