Indie Game Screenshot/Video Thread
Nothing really interesting, but for the sake of showing it: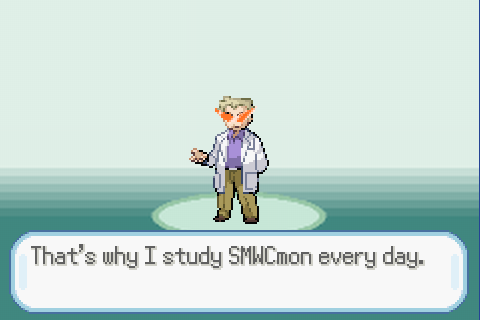 Because SNES homebrew is almost dead.
---
-
-
-
-
-
-
-
-
>
Don't follow "Find Roy's Dignity",
my hack
. Because it's pretty outdated.
<
-
-
-
-
-
-
-
-
Interest is well and truly sparked. Although I do seem to remember it from some time back.
@Yoshi-Fan GM: huh, nice. I like the Yoshi's Island ones the best. Did you create the engines?
These are videos of some old fangames I made back in 2008(before I hacked

). They are unfinished, and I have no intention of finishing them.
1. Some crappy generic Mario fangame.
2. Some decent custom enemies/etc. I made with the limited coding knowledge I had. Mostly made for fun tbh XD
3. Another crappy Mario fangame, this time Christmas themed.
4. Clips of a Kirby fangame I was making.
5. tbh you should watch this instead. It shows 1-1, 1-2, and some level in world 4. 1-1 is a Green Greens remake btw :3
6. Custom music(my very first track) I made that was going to be for a Cave Story mod. I hacked it into CS as well.
7. Another sad attempt at making a Mario fan game(featuring shitty quality from using Fraps X(
8. A level from a Kirby themed game I was making.
9. Another level of the same game.
Note that each game was based on an engine by someone(which I modified). The Mario fangame engines made by Hello and Ultimario, and I forget for either of the Kirby fangames XD
---
Your layout has been removed.
@Spud Alpha: Yes, I made the engine myself :3
And I've never seen before a good Kirby Fan game, it looks great!

http://www.youtube.com/watch?v=94YJy6kjH6k

A little project of mine.
Message of the week: I'm going to be inactive, except for the Third Earth story posts. So I'll be on here once a week.

World's saga is on the fourth chapter.
Game progress is still on chapter one.
Character progress: 11 of 18.
Bug fixing: Initiated.

Ahah, is looking pretty cool RPG Hacker! You choose a name for this project? I'm being interessed to know.
---
My hack thread
So far it's simply called "Zed", although I'm not 100% sure whether we will stick to that. However, the project has already gone through several renames, so this will probably be it.
Anyways, in the end the game won't have more than one, probably two levels. Most of the artists in my team want to work on a 3D project next semester and personally, I want to work on a different project, too, so while I'm acutally quite satisfied with how everything turned I guess the game will be a rather short one. However, hard difficulty and "achievements" should expand the game time a bit. The project will end in about two and a half weeks, so maybe I'll put up a download then or maybe I'll wait until C3 this year so that I have something to show. But I'll definitely put up a video within the next three weeks.
---
Feel free to visit my website/blog - it's updated rarely, but it looks pretty cool!
I'm doing a small test game in UDK (Unreal Development Kit),
here are some images
(images are large so I made an album on Imgur)
Not good at all this, but it's a start
Warning: I am still creating the level
Say what you think =3
---
bless
Originally posted by RPG Hacker
Well, it looks OK for a first level. Though not really much to see yet.
Well, I have to work hard at this level, I still have to do the script and the main menu, if this game becomes a big project, I will make a game like Portal, where you have to escape from where you are
---
bless
Originally posted by RPG Hacker
Probably aiming a bit high for a one-man-project, but good luck, anyways!
Thanks, I think this is take 2/3 years (or no), I only need help with music...
---
bless