The cutscenes are cool, but the background of them is bland. Try to make it look like a piece of paper, like notebook paper, because I'm guessing that's what a note is written on.
--------------------
FUCK KILL STEAL SHIT
Ah, much better.
--------------------
FUCK KILL STEAL SHIT
Some minor updates again.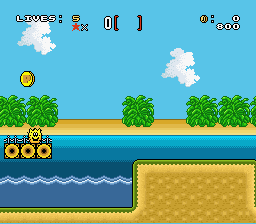 I added clouds to my oasis BG.
I slightly changed Fire Pokey's palette.
Also, I can't seem to find HyperBuu's newest desert BG. Where is it? >_> Or didn't he upload it yet?
However, I'll probably not use the BG anyway, since it uses both BG1 and FG2. (If FG2 only has the Pokey GFX, then I'll use it.)
--------------------

*Takes a deep breath*
OH GOD, I WANT TO PLAY THIS SO BAD! OMFGLMAOWTFLOL!
Now since that's out of my system, I've got to say this hack is looking pretty good so far. I'm looking forward to the demo of this hack.
New Screens of Secret Oasis:
New palette, and NPC sprite. Also, I added a SMB3 cactus for the sake of decoration.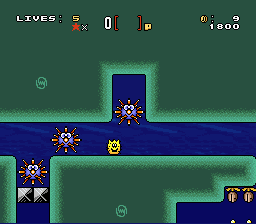 Being followed by an urchin while avoiding two other ones... how tough!

A P-Switch puzzle again? Yeah, but this time you're not alone...
(Also, I still can't draw good swimming GFX. I officially need help.)
Yay, outside again!
Two reasons why you should be big.
That's it for now. I need to stop posting so many screens, I'm almost revealing the whole level here...
--------------------


Good screenshots. The only issue is on the 3rd SS, there's a small problem with the light parts of your ground... Not a big one, but that's a issue. I don't know how to explain exactly... I hope you can understand it.

It's looking good... I hope you can draw a good swimming GFX for the pokey... =)

--------------------


I think the initial step to solving this problem would be to first determine how, precisely, a cactus might swim in the first place, considering that it lacks any sort of appendages.

Of course, an even more basic question is whether a cactus actually ought to be able to swim at all, or whether it would perhaps respond to large expanses of water in a different manner entirely...
First, another oasis update.
SMB3 palm, and bedouin GFX for the NPC sprite. (No, he's not naked. That's supposed to be a white mantle. Thank you.)
@Shinnok: I think I know what you mean. This is how I fixed it: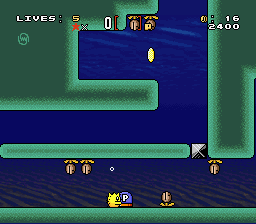 @Rameau's Nephew: I've already got an idea of how swimming Pokey will look like.
Originally posted by Rameau's Nephew
considering that it lacks any sort of appendages.
In the hack, Pokey has got arms while carrying something. I don't think that's a big problem though, since the whole Mario universe is not always realistic. That's also a reason Pokey can swim.
--------------------

This gave me the idea:
Rameau's Nephew: "a cactus might swim in the first place". Why don't you add in the air meter Mikey_k made? You can find it on his blog.

Also, those three urchins make it look impossible to get through.
Originally posted by WhiteYoshiEgg
One thing that bugs me here is that Bowser would never admit to anyone that he's lacking or weak. Have you played SMRPG by any chance?
So maybe make him say "A whelp like you will never defeat them!" And move the Ha Ha Ha behind the welcome home.
@uNkNowN5642: I thought of adding the air meter as well, but how about water levels? It would be strange if Pokey could stay in water levels as long as he wants, but he died after staying too long in a small pool of water.
@Waweegee: Yes, but why would Bowser kidnap Pokey's brothers then? Just for kicks? I think he should have a reason...
Also, I'll remove the "Ha Ha Ha".
--------------------

Perhaps he wanted somebody to torture? Also, I think you might want to take that text out and retype it. Sometimes these things are funny like that. Maybe it's the green text at the bottom. Notice how the "word" "Bowser" is straight? Since I don't know anything about this stuff that was all I could think of. For the toad, he probably should have a more yellow, garb. Also, perhaps you ought to put a few bright-ish spots on it.
--------------------
Well. I quite fancy playing as other SMW characters. Mario gets "old" (though still fun,) but old. We've got what..3? Hacks being made for alternative characters, and already 2 in the submission. [Bob-omb, Ninji]

I hope this becomes a fad, and more of these types of games come out. Good luck making it, as I quite like the way this is turning out.

--------------------
Your layout has been removed.
Don't worry about Pokey dying. Why don't you try adding some air pockets? That way, Pokey could swim up and find a hole with air in it. The only problem is the background, though...
I don't know, I rather like the story. I don't see anything odd aboutBowser admitting to one minion that he's not quite sure if another minion (or group thereof) is up to snuff, especially if it's a tried and tested minion vs. a group of unproven recruits. It's surely better for his pride than sending a bunch of utterly incompetent dopes out against Mario, only to have them fail miserably and completely embarass the Koopa name. Give the man some credit.

Also, do cactuses really need to breathe? Well, I guess they sort of do, but not quite in the same way as animals (i.e. no lungs and the like). Then again, Pokey is a succulent, so it's possibly he could absorb too much water too quickly and split open or something...
Not a major update, but definitely noteworthy.
I finally figured out how to fix the 2nd cutscene!
Also, I'm going on vacation tomorrow (until Friday), and there's still pretty much work to do (the 2nd half of the last level, a bonus level and
some
many fixes), so don't expect the demo to be out today or tomorrow.
But hey, it's better than playing the demo now and finding it's full of bugs, glitches and unfinished levels.
--------------------

I don't know why, but I liked the text jumbled up. I guess it's because it looked sinister though. Well, either way it looks good so far. Can't wait for the demo to come out.
Thanks! The text being kinda messy was always bugging me, and I think it's a lot better now.
Also, New Screens!
Way better FG palette for Monty's Domain... in my opinion, anyway.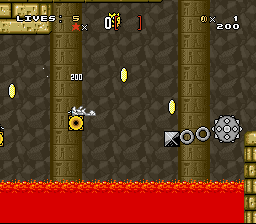 The last level in the demo (apart from the small bonus level), Iggy's Tower.
I wonder if there's something up there...
Another "Use your enemies to get things safely" part.
You have to hit that block...
...to get a P-Switch!
Here's why.
A vertical area. Munchers make the climbing pretty hard.
--------------------

All of them are okay in my opinion. The only thing that is bugging me are the cement blocks with their black-to-gray palette. Lower the contrast on them. Also:

Originally posted by WhiteYoshiEgg

Another "Use your enemies to get things safely" part.

It's a nice idea and all, but the idea of jumping out of that tight space sounds like a ridiculous task. Remove a few of the ceiling blocks in that little alcove to make the jump more fair.

---

AS IF I KNOW WHAT TO PUT HERE.



Hack Status: Cat Adventure Deluxe
-100% Undone
Derp.
Since 2006
Forum Index - SMW Hacking - Works in Progress - Pokey's Adventure (New story)