We decided on making this contest seasonal. A new one is hosted every three months. This one is the Autumn contest. It's been three months since I posted Level Contest 8 so you could say that was the Summer contest.
The sign-up/submission period starts
now
and will last till the judging period, which begins in a month, October 13th. Submit your level due that date, and don't forget to post in this topic if you're planning to participate (Or you can just send me your level, you'll be in anyway)!
[size=100]How it will be run</span>
You'll submit a level (that meets the criteria stated under Rules) before the deadline, and after that the judges will take a week or so reviewing them. Each level will have a score on a scale of 0.00-10.00 and will be given a short review from all the judges. To make sure everyone gets the same amount of reviews, I will act as a back-up judge who will judge the levels that one of the judges can't review for some reason. The development of Tower of Biased 8, the episode that connects every submission, will also have started at this point. The prize? Fame and glory for now. I know that's been enough for most of you so far anyway. You may donate a prize if you want!
[size=100]
How to submit a level
</span>
[list][*] Put your level in a ZIP along with the optional custom graphics folder and custom music.
[*] Please don't put the files in another folder before archiving because I will have to move them out afterwards and that's more unnecessary work for me.
[*] You may include a readme with tips, credits etc. if you want.
[list]
LIKE THIS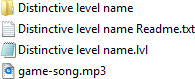 →

[*]Archive your level as shown above. Don't put the level, music or the possible readme inside the custom graphics folder as I have to move it out and it slows down the process unnecessarily. Make sure the custom graphics folder and the level have the exact same name as otherwise the custom graphics won't display in the level.
[*]Give your level a unique name. Don't name it "Level" or "Contest" as that just makes organizing the levels a pain and at worst levels will get overwritten because they have the same names.
[*]Name the custom music as shown above. Here's an example. If it's the desert theme from New Super Mario Bros. Wii, don't name it "Desert" or "Custom music" because it could overwrite an existing custom music with the same name when I pack the levels for the judges. Renaming songs and then making sure they still work in the correct levels is
extremely time-consuming.
So do this instead: name it nsmbw-desert.mp3. That's a great way to prevent overwrites, and if somebody happens to use the same music, the overwrite is actually beneficial as the double song will be eliminated and the package size will be reduced.
[*]Don't name your readme just "Readme" either because, again, that'll definitely cause overwrites. Put the name of your level in the beginning of the name as shown above.
[*]Please name the .zip after the level, too.[/list]
[*] Don't put your name on any of the files.
[*] Send your level to me in a Private Message. I will direct them to the judges.[/list]
[size=100]The deadline</span>
October 13th
, 22:00 GMT/UTC.
[size=100]
Rules
</span>
[list][*] You may only submit one level.
[*] You must submit the level before the deadline.
[*] It has to be made by you and you alone.
[*] The level must be complete and completeable.
[*] The level has to end with a Star (or the exit can be anything but a Star must be obtained in order to reach it). It can have an additional secret star
but no more than two stars in total.
This is for our convenience when we build Tower of Biased.
[*] The level can't end the game.
[*] Do not use music that goes beyond 6 minutes.
[*] Please make sure none of the NPC codes have decimal values. They cause problems and slow down the judging/TOB progress significantly.
[*] You may not reveal
any
details about the level to the public before the judges are done judging all the levels.
This includes showing screenshots of the level prior to this announcement. You may not submit a level that you've posted screenshots of, or videos for that matter.
[*] LunaDLL isn't allowed as it's still a bit too complicated to the majority and those who know how it works would be in an advantage.
[*] By submitting a level you agree that it will be in Tower of Biased 8.[/list]
And yes, as long as the level meets these criteria, you may submit a level that you prepared earlier. Participants who fail to obey these rules will be disqualified.
[size=100]Judges</span>
Will bold those who have submitted their reviews.
[list][*]Chad
[*]Bomber57
[*]Quill
[*]TNTtimelord
[*]zlakerboy357[/list]
[size=100]Participants</span>
Valtteri
Bomber57
Chad
Quill
TNTtimelord
zlakerboy357
Darkonius64
castlewars
Frozen
GLuigiX
KoolKat
GLD4
DimitrisPowerSeven
Christian07
Nien
Ragont
Little Boo
SuperMario7
TheUltimativeKyogre
ap3jmpt
SnifitGuy
fireflowerhour
Mudkip
The Wizard of Off
moemoe02
SuperYoshiRex64
Murphmario
Kep
MECHDRAGON777
Mask_Of_Hope
Ignoritus
sezixor
Knux
Blueoak
Natsu
Radishl
mariogeek2
GameClip477
Epoch
Pivot40Channel
qig
ElTipsta
Super Maks 64
Zupermariobros
Valtries the Fox
pokota
Shinbison-Kof
8flight
Vinyl Scratch
Mista Epic
Thetoxicminecrafter1
HarrisonTheKitsune
RarePairGaming
Dragonmaster146
TheTurnipLord
MrCrackerpants
Schm2000
Dollarluigi
Devixicus
DarkMatt
Those who submitted are
bolded.