This is a level that will be built in 3 parts. The first part is currently done, and the second part is under construction.
Please look at my latest post for the newest version.
New Demo:
Download
Screenshots:
Changelog:
-added coins
-redesigned some sections
-fixed floating tree
-added cave section
Good job so far. I like the use of spinning logs and piranhas in the first section. I just encountered some camera issues up here:
Just let the camera scroll into the adiacent screens by putting some invisible tiles in them. It's also a bit wonky if you fall back down, but that probably isn't a big issue.
Also, there could be something here but that's up to you anyway.
As for the underground section, the falling shy guys might be too hard to react to, but at the same time I'm just assuming you're going to include covered spots like the mushroom there to avoid getting hit, which could actually be fairly clever if done properly.
My thoughts are pretty much the exact same as Lui's, even down to the Shy Guys. Unless you make them fall slower and/or provide an indication as to where they're coming from like during the Bowser fight, it's too random and frustrating to not get hit.

Good stuff otherwise. I like the "broken" line guide at the end of the first area .. neat touch.
woof! small update this time because of stuff (tf2 halloween). with this update i want to show more of my intentions with the cave section.
Download IPS
Changelog:
-fixed the weird camera scrolling Lui37 mentioned
-added stuff to make otherwise useless areas useful (secrets, enemies)
-extended cave area
-added more cover to early cave areas so the shy guys are less likely to hit the player in frustrating ways.
I still think you need to offer more indication. Either a sound cue or some sort of graphical marker of where/when they're going to fall would be so much more helpful. Even with the additional cover you provided, trying to dodge the falling Shy Guys and work with the mutt in such a tight space proved to be too much to handle.

I like the gimmick, I just want to see it built on slightly so it's fair for the player.
Updated the level again, sorry its been a while but I've been very busy playing video games.
The new part of the cave is subject to change, the pipe leads nowhere yet, and I have yet to distribute coins in the level.
Download IPS
Changelog:
-lowered floor in certain areas
-finished cave section
The only issue I noticed is that right before the pipe, the camera scrolls down and obscures the entire playing field such that you can't see anything (you did test this, right? Seems like a pretty major thing to miss).
last section is at night, quick screenshot. I'll finish the level up tomorrow or the day after tomorrow (add coins, flowers and stuff) and put up an IPS
mod edit: nuked table stretch.
one or two days was valve in time
download ips
final version
tell me if there's any bugs and bad things
Thanks, I'll test this out tomorrow or Sunday and get back to you.
--------------------
wiki
Cool stage, some problems I noticed:
-
http://i.imgur.com/rGnkAvG.png
-graphical glitch on pipe entrance during autoscroll w/ poochy (yoshi isn't shown while going up)
-lag problems in 4 shy guy wheel w/ pokey shooters
-raining poochies were LOL but did cause some lag with the pokey dudes (those guys are just so laggy wtf lol), may want to remove a couple
--------------------
wiki
I like the level, but I think there's a couple more things you should look into.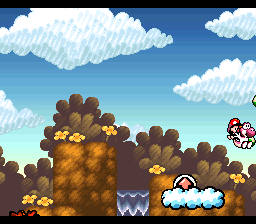 Camera is awkward when you fall from above here.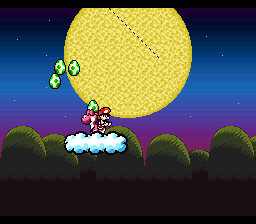 That stuff is at the top left of the 3rd section. I'm not sure why it's there, but since you can get there, maybe add a little secret reward (1up or something).
Not pictured, but the part where you ride the red platform downwards is unnecessarily brutal, due to the instakill spikes which you have barely any time to react to, despite the coins. Not to mention that, if you die (which you are likely to the first time), you have to restart from the end of the 1st section, since there are no other midrings.
Also, I would add some coins to anticipate the last flower, so you actually have a fair chance to get it the first time.
11/10 for falling poochies tho
I completely forgot to post this but lui reminded me
ok sorry
When I try to apply the patch with FLIPS it says "this patch is not intended for this ROM" both for headered and unheadered.

Why are you using a bps anyway? It's too small of a patch to benefit from bps.
Same, can you please retry the patch or just use IPS? Thanks.
--------------------
wiki
Patch must be broken, idunno, it's not a problem with the format.

I actually encourage people here to use BPS though, because it works on both headered and unheadered.
Well, I was thinking maybe FLIPS just doesn't work well with bps, but I doubt that. Patch just needs to be redone, idc bout format.
--------------------
wiki
| | |
| --- | --- |
| Pages: 1 2 | |
Forum Index - Events - Collaboration Projects - SMWC Island - [C] 6-2: Please Don't Eat PoochyZ